Read an Excerpt From Mary Louise Wilson's New Memoir, My First Hundred Years in Show Business
Oh, does Mary Louise Wilson have stories to tell. The Tony Award-winning star of Grey Gardens has been working on Broadway since 1963…and she has a lot to say about it. She's written a new memoir with the Overlook Press, humbly titled My First Hundred Years in Show Business.
You can read an excerpt from the tell-all here:
---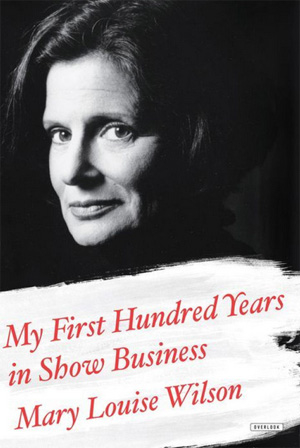 1989
I was sitting around a table with the rest of the cast on the first day of rehearsals for Macbeth at the Public Theater when the director rose from his chair, turned to me, and said, "First Witch? I'm giving your chestnut speech to the younger, prettier witch." Now, I wasn't crazy about playing this witch; let's face it, it's a generic crone role! But I hadn't worked on the New York stage in a long time.
For the past few years the only parts I was getting called to read for were washroom attendants and bag ladies on television. I had gone from featured roles on Broadway to playing parts labeled "Woman" with lines like "Hello." So now I was telling myself well at least I'm first witch. Then this director took away the one thing that made me first: the chestnut speech.
I was shocked. I thought the best thing about performing a dead playwright's work was that your lines couldn't be cut. A director could make me wear a hat that covered my face or a farthingale that wouldn't fit through doors, but nobody was going to fiddle with my words. Especially not Shakespeare's. Not that I had a clue what the chestnut speech was about, but it had lovely, tongue-rolling phrases like "aroint thee" and "rump-fed runyon" and "mounched and mounched and mounched." And now this guy was stripping me of my epaulettes in front of the whole damned company. To make matters worse, the witch he gave it to really was young and pretty, so he was not only rewriting Shakespeare, he was having a cheap laugh on me. This wasn't a career I was having, it was an exercise in humiliation.
How the hell did I end up here? I felt it was my fault, that I had caused or allowed it to happen. At the same time, I certainly didn't feel like I belonged down here.
There's an old refrain about the five stages of an actor's life:
1. Who is Mary Louise Wilson?
2. Get Me Mary Louise Wilson.
3. Get me a Mary Louise Wilson type.
4. Get me a young Mary Louise Wilson.
5. Who is Mary Louise Wilson?
I was somewhere between stages four and five. I was dimly conscious of my own culpability, but at the same time I bristled at being taken for, mistaken for, a modest talent only suitable for maid parts.