Outsiders and Gun Violence in This Flat Earth
Nine schoolchildren have been murdered in a mass shooting. That sentence is no longer gasp-worthy in America, but we pretend that it is. A young survivor asks, "If this has happened before, why would everybody be acting so shocked?" It's a good question, one that Lindsey Ferrentino never fully gets around to answering in This Flat Earth, her sensitive yet unfocused new drama at Playwrights Horizons.
The aforementioned questioner is 13-year-old Julie (Ella Kennedy Davis), who was prompted by the word "another" printed in a newspaper — as in "Another Mass Shooting." Improbably, Julie was hitherto unaware that this is a recurring problem, leading her friend-who-would-be-boyfriend Zander (a charmingly awkward Ian Saint-Germain) to respond for all of us, "Duh." Her ignorance is even more surprising considering that Julie has been remarkably blasé about the tragedy she has just endured, leading us to assume that her chill attitude is a defense mechanism, or (more alarmingly) that she is so desensitized that the killing spree has failed to resonate.
The story of an obliviously self-centered tween is not particularly outlandish, especially as conveyed by Davis's whiny, callow performance. She shrieks at her father, drawing blood with her barbs about his job and the fact he's not as rich as the other parents. Dad Dan (a raspy and sympathetic Lucas Papaelias) is a former stand-up comic who works for the water department. His apartment on a hill overlooking a wealthy New England seaside enclave is not actually in the school district, but Dan wanted his daughter to get the best public education. This becomes a problem when concerned parent Lisa (Cassie Beck), who is grieving the loss of her murdered daughter, finds out and reports them as a security threat.
Anyone who has seen Ferrentino's witty and insightful Amy and the Orphans knows that she is a talented dramatist, and there are signs of that in this lesser work: It shows admirable gumption to cast a grieving mother as the villain. "I will fight," Lisa tearfully declares, "until every last person who doesn't belong is out." She's a shallow vessel for the nativist fear and greed that swept Donald Trump to victory, but I loathed her bourgeois martyrdom all the same. Here, Ferrentino raises the most challenging question of the play: Why is it acceptable that, in the name of local control, rich neighborhoods get rich public schools while poor neighborhoods get poor public schools?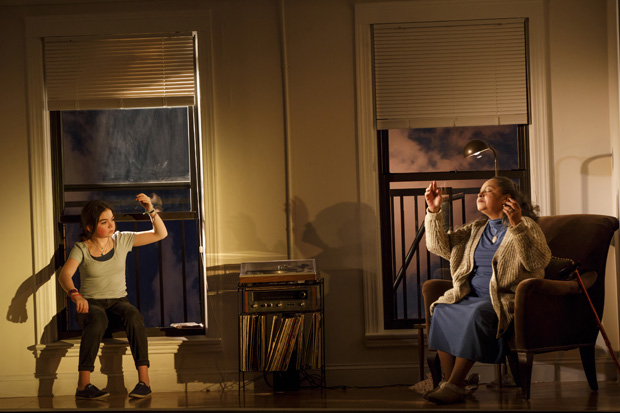 As if that weren't enough for one play, Ferrentino literally adds another layer with Cloris (Lynda Gravátt, consistently snappy in her delivery). She's the retired cellist who lives in the apartment above. She doesn't like kids, but Julie is inexorably drawn up the fire escape when she hears her beautiful cello recordings. "Now you're supposed to teach me cello, and what happens next is we develop a life-long friendship. I make you nicer while you teach me the art of music," Julie suggests, and we all have a hearty chuckle before the sketch of a kindly old black woman works her magic for Julie in a completely unearned coda. Ferrentino recognizes that she's engaging in a trope, which doesn't actually excuse the fact that she's still doing it.
Director Rebecca Taichman attempts to herd Ferrentino's tonal and thematic cats into a coherent production, landing on one that at least looks professional. Dane Laffrey's impressive two-story set visualizes the paper-thin walls of the apartment, while Christopher Akerlind's naturalistic lighting captures the uneven way dusk hits a midsize building. Paloma Young subtly conveys generational differences with her casual costumes (Julie refers to her 1990s skort as "vintage").
The most memorable element of the production is the live music: Seated in the house, cellist Christine H. Kim performs whenever Cloris puts on one of her records. Her playing is rich, heartfelt, and much more satisfying than a recording. Still, the selection of Bach's Cello Suite, while beautifully interpreted by Kim, smacks of a first choice in a play that feels unfinished, unedited, and rushed to production.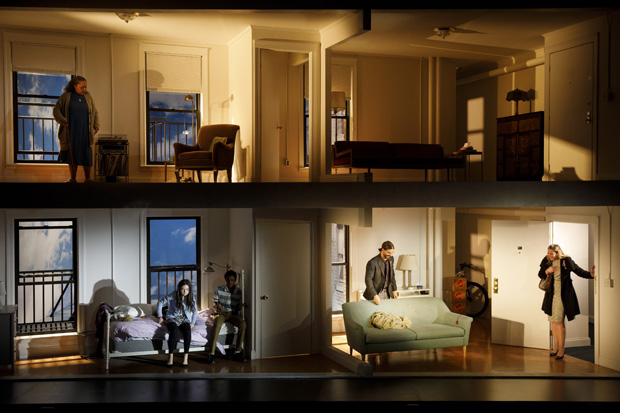 This is primarily evident in Ferrentino's scattershot dramaturgy: At just 90 minutes, This Flat Earth is about gun violence, recovery, class antagonism, intergenerational friendship, and realizing that adults don't know much more than you (they're just better at hiding it). As soon as it seems like Ferrentino is about to hit pay dirt with one of these topics, she frustratingly digs a new hole. There are at least two (maybe three or four) great plays in This Flat Earth, but crammed together like house plants in a dim apartment, they are unable to thrive.