Oprah Winfrey in Talks for Broadway Debut Opposite Audra McDonald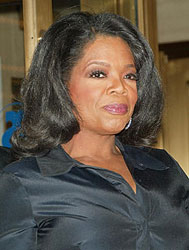 Oprah Winfrey may be preparing to make her grand entrance on the Great White Way. According to The New York Times, the television host is in talks to join a potential revival production of Marsha Norman's Pulitzer Prize-winning play, 'night, Mother, opposite five-time Tony winner Audra McDonald (The Gershwins' Porgy and Bess). Winfrey would take on the role of the widowed Thelma "Mama" Cates, with McDonald in the role of her suicidal daughter, Jessie Cates.
Lead producer Scott Sanders confirmed his communication with Winfrey about creating a vehicle for her Broadway debut, but he declined to identify the play or discuss additional details about the project. However, the Times cited two theater executives who confirmed that Winfrey and McDonald read 'night, Mother together last year in Sanders' apartment with Tony-winning director George C. Wolfe (Lucky Guy) present. According to the two executives, the production is currently eyeing a 2015-16 run.
Winfrey's film credits include the 2013 film Lee Daniels' The Butler, the 1998 film Beloved, and her Oscar-nominated role in the 1985 film The Color Purple. She later produced the Broadway musical adaptation of The Color Purple, featuring a book written by '''night, Mother'' playwright Marsha Norman.