Oliver Chris and Lydia Wilson Channel William and Kate in King Charles III
"We don't do impressions," Oliver Chris says over coffee and pastry. "We don't know who these people are. We've never met them." And yet, it feels like everyone in the world is intimately acquainted with the people in question, William and Catherine, Britain's Duke and Duchess of Cambridge.
In Mike Bartlett's Shakespearean "future history play" King Charles III at the Music Box Theatre, Chris plays William, with Lydia Wilson, who sits beside him, as the woman the world still familiarly calls "Kate Middleton." They view themselves as the upright characters of the drama (which takes place in a world where Prince Charles has become King and unwittingly destroys the country's governing system), and will gladly defend that point as hard as they can.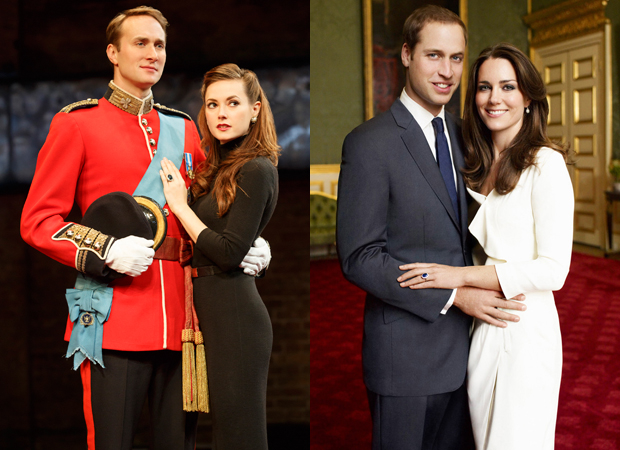 King Charles III is written like a five-act Shakespearean history play. Was it treated as such in rehearsal?
Lydia Wilson: Happenstance would have it that Mike [Bartlett] couldn't be in rehearsal. He had just had his son. And he said, "I'm actually kind of happy about that, because I want you guys to treat it like a found text, as you would a hundreds-of-years-old Shakespeare play, and innovate in the same way." Which is why a director like Rupert [Goold], who likes to innovate Shakespeare is a really good director for Mike's play.
Oliver Chris: Rupert's stuff is [usually] full of bells and whistles and concepts and excitement, but this play is so stripped back. It was so interesting working with him, knowing his work. It's a completely different approach. We basically have an empty stage and a load of people wearing black and white costumes.
Do you look at your versions of William and Catherine as real people or characters?
Lydia: They're our own creation.
Oliver: When we started rehearsing it, I tried to be respectful of Prince William. We don't know who these people are, and Mike doesn't either. But I think the William character is probably one of the truest to his public perceptions. Plus, he's quite an honorable, dutiful guy, and that's how he comes across. I tried to stick with that. But as the play's gone on, truth is, I think less and less about the real Prince William. I don't think I'm playing Prince William; I'm playing a character in a play.
Lydia: Like King George in Hamilton.
Oliver: Seriously, though, it's a bit of a shock when people remind me I'm playing this royal person everybody knows. I even forget we're representing the real Royal Family.
Do you think you look like them?
Lydia: Not at all. But then, when you put the right makeup on and do your hair in the right way, you do. It's so weird. I look like a little mouse, but then you blow dry [your hair] and apparently you start looking like them. You look a bit like William, when he was really hot and young.
Oliver: Thanks. One of the great things about theater is the suspension of disbelief. On the other hand, I do look a lot like Prince William. Everyone has told me I look like Prince William since I was a kid. The only reason I got this job was because I was the best actor who looked the most like Prince William who happened to be available when we were rehearsing and performing this play. [laughs]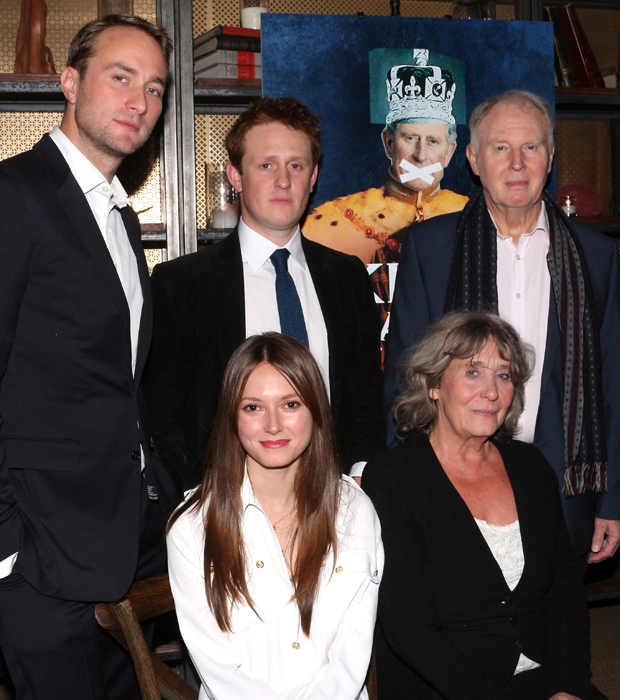 William and Catherine are made out to be the villains of the piece. What is it like to be on the dark side?
Oliver: I got sick of people telling me how evil I was. I think William is the most upright character in the play.
Lydia: I'm sick of that, too.
Oliver: It's one of the quirks of the play, which from our point of view is really annoying, but from every other point of view is great. It's Charles' story. In real life, if he did what he does in the play he'd get…He steps so far outside the bounds of his role, and he behaves so unbelievably badly, that everyone would be calling for his head. But because this play follows him and his journey, you don't see this guy that's bringing the country to its knees, you see an old guy sticking up for his beliefs. You see the man sticking it to the man and you're like, "We love you." And then you have these young upstarts going, "You can't do this, you killed my mum," and everyone's like, "These ungrateful horrible children, he's just sticking up for his principle." No. He's destroying the monarch and the country. We're really reasonable. We are the modern age. In the way this play is written, we look like a couple of bastards.
Lydia: Kate is not bad. I'm playing her now as Joan of Arc, a fundamentalist, the outsider who truly believes in the royal family. She's got the vision, because she's from the outside. She's a freedom fighter. The badness is so there dramatically. I have to cling on to the ideas and reasons why she isn't bad at all. It's true what you say. With the focus of the play, we've been put in the villain corner of the stage, which is really exciting for the audience but really frustrating for us because we do think they have such a point.
What will you miss most about these characters when the run ends?
Lydia: On a personal level, she's been like my big sister. I love her. I used to play scrappy young people who usually get killed. This is the first woman I've played who's a survivor. It's been nice to just stand up straight and do that. I think some of it's rubbed off on me, so I think I'm a bit more confident.
Oliver: I don't know if I'll miss him. I love doing this play. I think I'll miss that more. I probably did get a lot from the character, but these things are more like when the dust settles, you realize what stuck and what you loved. It's wonderful being under the umbrella of a really successful, brilliant play. They don't often go together. But being in a play that is successful, and at the same time is so full of integrity and creative brilliance. When that umbrella closes and we'll step outside it, I think we're gonna get rained on.