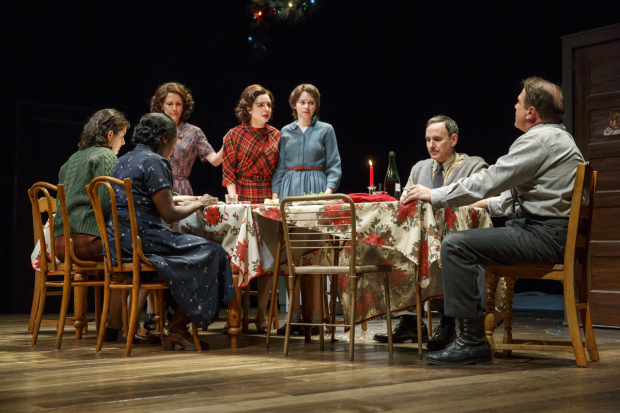 Napoli, Brooklyn is a strange play. That's not necessarily a bad thing. In fact, Meghan Kennedy's script might benefit from a warmer embrace of its weirdness. This is especially true of its most unexpected element, which is now blindsiding audiences at the Laura Pels Theatre, where the play is making its world premiere with the Roundabout Theatre Company.
The year is 1960: Luda (Alyssa Bresnahan) and Nic Muscolino (Michael Rispoli) are two Italian immigrants raising their three American daughters in Brooklyn's Park Slope neighborhood. Eldest daughter Tina (Lilli Kay) works at a tile factory with Celia Jones (Shirine Babb), a bookish black woman who encourages her to get an education. Middle daughter Vita (Elise Kibler) has been sent away to live in a convent after getting in a physical altercation with dad (she has the bruises to show for it). Youngest daughter Francesca (Jordyn DiNatale) is carrying on a clandestine lesbian affair with Connie Duffy (Juliet Brett), daughter of Luda's favorite Irish butcher (Erik Lochtefeld). The daughters' American notions of the pursuit of happiness clash with Nic's traditional values, making the play feel a lot like the Neapolitan version of Fiddler on the Roof, but after Tevye settles in the States.
We enjoy the first act of director Gordon Edelstein's production about as much as one would a music-free Fiddler, our interest waxing and waning with the slack in each scene. Eugene Lee's set depicts the Muscolino family apartment, while hanging elements (a sign for the butcher's shop, a giant full-color crucifix) signify a change of scenery when illuminated by Ben Stanton's serviceable lighting. Jane Greenwood's costumes easily evoke the period when presented with Tom Watson's absolutely fabulous hair and wig design. It all results in an earnest, somewhat boring slice of life seemingly meant to satisfy the nostalgia of a sizable tristate demographic. Then, without warning, a shocking event closes the first act and completely changes everything. Patrons suffering from heart conditions, beware.
Cynical playgoers might dismiss this as Kennedy's way of waking up her audience. If so, Edelstein and his designers wildly succeed, injecting the play with a shot of adrenaline that carries it through to the end. While the conflicts in the first act persist in the second, we wonder just what difference this random, catastrophic event has on their resolution. Does it influence the characters' decisions, or does it merely hasten the inevitable? That's a discussion to be had over post-show drinks, but it is hard to deny the efficacy of Kennedy's introduction of the fate versus free will debate into her story.
That's not to say the performances are uniformly snooze-worthy up to that point. This first-rate cast does its best with the sleepy, somewhat clichéd writing. Bresnahan prevents Luda from slipping into caricature with an earthy, relatable performance (even when she has to talk to an onion, her surrogate for God, with whom she is not speaking). Kibler is plucky and fresh as the smart-mouthed Vita. As Nic, Rispoli embodies a frighteningly realistic Italian patriarch, complete with bursts of anger and delusions of grandeur.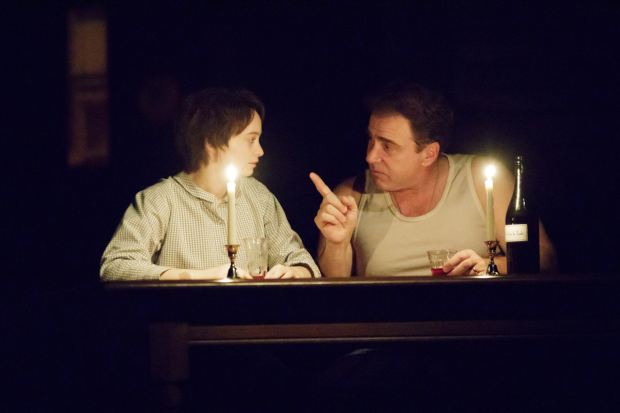 If Edelstein's staging occasionally seems clunky, with characters squeezed into corners of the proscenium, it is only because he is saving up his magic for the best part. That deus ex machina is really the most compelling reason to see the show. Seriously, it's incredible.
Of course, Kennedy has a lot to say about the immigrant experience, the tension between old and new, and the violence that derives from an insecure patriarchy — but that's not what you're going to remember about Napoli, Brooklyn. You're going to remember your heart jumping into your throat, mercifully right before intermission.