Musicals Tonight!'s New York Premiere of Calamity Jane Will Be Its Last Show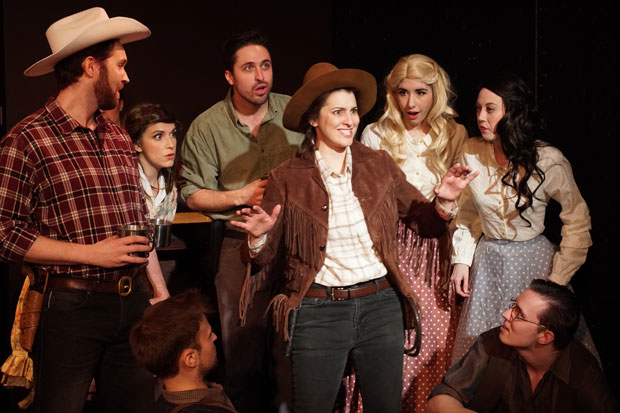 Musicals Tonight!'s New York premiere of Calamity Jane — which started on March 13 and will run through March 25 at the Lion Theatre at Theatre Row — is the company's 100th revival. It will also be its final production.
"It has been a wonderful 20 years with 100 shows and a million happy memories," said Musicals Tonight! founder Mel Miller in a statement. "I had the pleasure of working with the late George S. Irving and the honor to be permitted to revive shows by Cole Porter, George & Ira Gershwin, Rodgers & Hart, Jerome Kern, and Irving Berlin. We revived deliriously silly shows that were brought back to life one last time — Chee-Chee; Theodore & Co; That's the Ticket; Shinbone Alley; and Whoopee. The shows that still bring a tear to my eye are King of Hearts; Cabin in the Sky; Irma La Douce; Three Wishes for Jamie; and Carnival. I will always be grateful to the actors — over 1,500 of them — who were and are so devoted to their craft. I also want to thank our audiences of over 100,000 who shared your joy and generosity with one another and with Musicals Tonight! It's been a great ride."
First produced in 1961, Calamity Jane, adapted by Ronald Hammer and Phil Park from the stage play by Charles K. Freeman, is, according to a press release, "based on the historical figure of the actual frontierswoman. The non-historical, and farcical plot involves the authentic Calamity Jane's professional associate Wild Bill Hickok and their stormy relationship that ultimately proves to be a facade for mutually amorous feelings." Musicals Tonight!'s production will feature songs from the 1953 movie starring Doris Day.
The cast includes Sam Beasley, Jordan Bell, Christian Brown, Rosalie Burke, Caitlin Evans, Peter Gosik, Brandon Grimes, Abby Hart, Alexis Kinney, Brian Klimowski, Emily Larger, Bart Mather, Alison McCartan, Jimmy Nicholas, Dallas Padoven, and Kristin Wetherington. Devin Vogel directs, with musical direction by Nevada Lozano.