Much Ado About Nothing in the Black Suburbs of Atlanta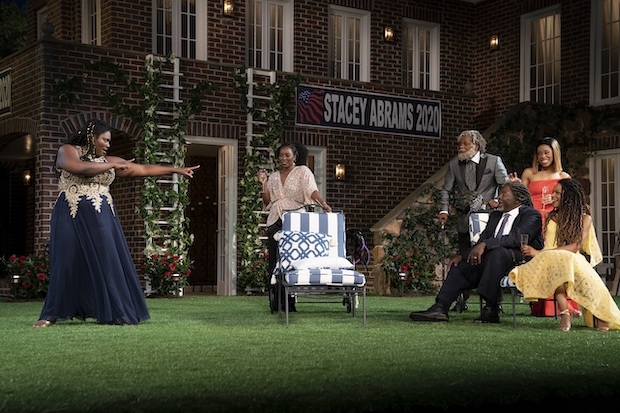 Much Ado About Nothing is my favorite Shakespeare comedy: It has some of the wittiest dialogue and most outlandish contrivances. In the hands of a great director and performers, it soars. That is the case more often than not with Kenny Leon's production for Shakespeare in the Park, which transposes this story of high jinks in Renaissance Sicily to modern America. Leon has set his production on the eve of the 2020 presidential election in suburban Atlanta, the stronghold of America's black bourgeoisie. It's a setting that provides for a lot of delightful sights and sounds, even if it doesn't always make total sense for the story.
Which is the tale of Don Pedro of Aragon (Billy Eugene Jones) and his troops arriving in Messina fresh from battle (here depicted as a political protest). As Benedick (Grantham Coleman) leaves this hot war, he takes up arms in the significantly hotter war of words with Beatrice (Danielle Brooks). Both are strong personalities who have sworn off love, which is why everyone else spends a significant amount of the play trying to hook them up.
It's much easier with the young lovers, Claudio (Jeremie Harris) and Hero (Margarette Odette), daughter of Governor Leonato (a weary Chuck Cooper). They set a wedding date for before the intermission, but Pedro's evil (and illegitimate) brother, John (a robotic Hubert Point-Du Jour), plots to derail the festivities by spreading false rumors of Hero's promiscuity.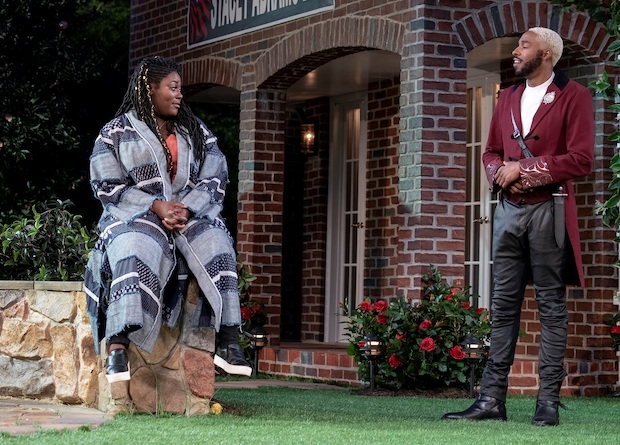 The backbone of any good production of Much Ado is a strong Beatrice-Benedick pairing, and Leon has it in Brooks and Coleman. He captures the right combination of swagger and silliness, which she ridicules from their very first interaction when she expectorates his name and lingers on the last syllable. Despite their hard exteriors, they exhibit remarkable vulnerability in their soliloquies. And when they get close to one another, we can sense the electricity. I walked away from the Delacorte certain that this is a couple that will thrive through mutual struggle and stimulation, which is more than I can say for the bride and groom.
Claudio's ungallant treatment of Hero at their abortive wedding becomes more inexcusable each time I witness it, and this production is no exception. Harris's boorish performance elicits little sympathy, but Odette's genuine tears do. Rather than plotting ways to win Claudio back, Hero's father and girlfriends ought to tell her that any man who would believe such flimsy lies, become so irrationally jealous, and embarrass her so thoroughly at the altar was only going to do worse once they were legally bound — so she dodged a bullet. Of course, Shakespeare's defenders might point out that Much Ado was written in a time of very different sexual politics, obsessed with honor and (female) chastity. And that makes Leon's production that much more confounding, surrounded as Hero is by Stacey Abrams supporters who would never tolerate such unbridled misogyny.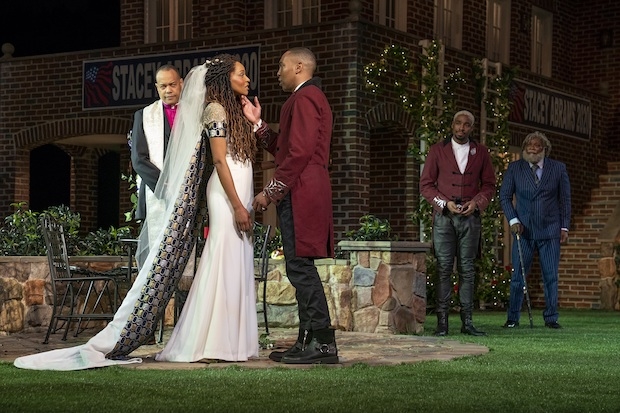 We know their politics because scenic designer Beowulf Boritt festoons the upstairs veranda of their imitation Tudor mansion (a visual marriage of Shakespeare to the suburban South) with a campaign banner. Georgia peaches grow in Leonato's perfectly manicured yard, with fancy lawn furniture tastefully dotting the estate. Costume designer Emilio Sosa further synthesizes the original setting and this new one with his handsome costumes: burgundy martial frocks over vibrant shirts, all of which are individually styled to suit the personalities of the soldiers. Peter Kaczorowski's lighting effectively captures the giddy excitement of the masquerade (and the reflective calm of the morning after). Jessica Paz's sound design aids a delightful musical soundscape.
The most memorable aspects of this production are undoubtedly Jason Michael Webb's catchy original compositions and Camille A. Brown's irresistible choreography. A recent Tony and Drama Desk winner, Webb writes the kind of radio-ready songs that make you think you somehow missed a chart-topping hit (I spent several minutes googling the phrase "We Make the Magic" hoping to find the number used in the masquerade scene, before realizing that it is a Webb original). Brown employs both modern party dance and traditional West African dance to create a starburst of black joy onstage. We know little about the specifics of the war they are fighting, but we know that this is a society worth defending.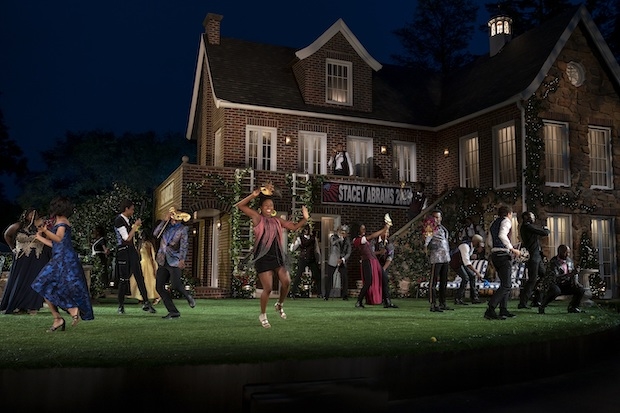 A more charitable interpretation of Leon's production would contend that joy and patriarchy coexist in this world, and that just because the characters in Much Ado support progressive politicians doesn't mean that they hold all of their values in their hearts. That's probably so, in which case I'm glad this comedy ends when it does, before we have to witness the tragedy of Claudio and Hero's unhappy marriage. If there were an Aragonese Andy Cohen, he would be salivating at the prospect of The Real Housewives of Messina.