Marilu Henner Is Gettin' Back to Broadway
April 10, 2014. That was the day that Marilu Henner, beloved for playing Elaine Nardo on Taxi and one of only about 60 people in the world who has a Highly Superior Autobiographical Memory (HSAM), first read the script for Gettin' the Band Back Together.
March 24, 2014, was the date Ken Davenport, the book writer and producer of this musical about a fortysomething who reunites with his old high-school bandmates, spotted Henner across a crowded room at the opening of the Terrence McNally play Mothers and Sons. Something struck him about Henner; she was perfect for the role of Sharon Papadopolous, the rock-and-roll mother of main character Mitch. "Ken called me the next day and said, 'let's go to lunch,'" Henner remembers. "I met him in Los Angeles and that was it."
August 13, 2018 is when Gettin' the Band Back Together, will open on Broadway at the Belasco Theatre. It's Henner's seventh Broadway show, the latest stop in an eclectic career that began in her own garage in Chicago. Over dinner at Café Un Deux Trois next door to her new theatrical home, Henner took us on a tour of her career highlights, dates and all.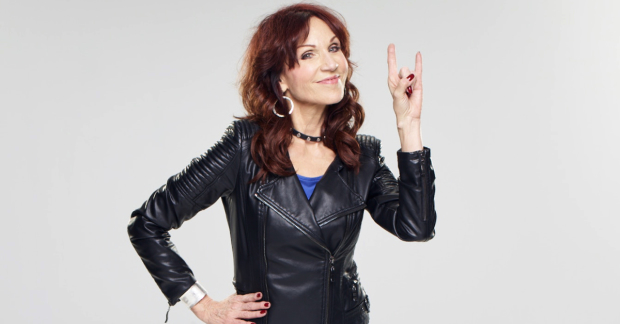 How does it feel to be gettin' back to Broadway?
It's been so much fun creating this character. I did the workshop four years ago, and I loved it then, but now I really love it. Ken made the character Greek, because I'm Greek, and I just adore Mitch Jarvis, who plays my son. We have a real familiar connection. The part is a blast. I play somebody who has all of these rock roots and hung out with Aerosmith.
Did you always want to be a performer?
I grew up performing. My mother created this cultural center in the middle of Logan Square in Chicago. We had this crazy dancing school in our fake garage, with 200 students between the ages of 2 and 80. I was in a lot of community theater productions and also studying dance and voice. A friend of mine, somebody I knew from community theater who was quite a bit older, called and said, "I've written this show. It may never get off the ground, but we're going to perform it in a converted trolley barn. I wrote it about the people I went to high school with, and it's called Grease."
Before it became a cultural phenomenon.
It was very gritty. My mother didn't come to see it because I said "f**k you" seven times. The songs were really [different] compared to what they are now. Instead of "Summer Nights," it was called "Foster Beach." Patty Simcox had a song called "Yuck." In Chicago, "All Choked Up," which became "You're the One That I Want," was, "Kiss it and make it better / ain't you sorry that I made you sore." It was such a Chicago show.
When it was going to Broadway, some people were asked to audition for it but I didn't want to. My father had passed away; I had scholarships to go to the University of Chicago; and truthfully, I didn't think it was going to be a hit. But people like Tom Moore and Jim Jacobs and Ken [Waissman] and Maxine [Fox] knew how to structure it and make it Grease.
You went on tour with it later.
The last day of auditions for the national company, Jim called me and said, "Henner, we haven't cast your part yet. I saved it for you. But you have to come and audition today." I had two papers due, so I started walking to the library, and my car was parked in front. I thought it was kind of a sign, so I threw my books in the car, went to the airport, flew student standby, and got the part. I was a college student one day, and signed my Equity card the next.
You and the Taxi cast are still very close. Was there an indication early on that the show was going to be a hit?
We knew. We knew because there was no pilot; it was [automatically] picked up. Before I even auditioned for it, I saw the name Taxi in print and something jumped off the page for me. Some weird feeling made me think I would be connected to the show. I didn't think I was right for Elaine Nardo at all. They wanted a 33-year-old Italian New Yorker; I was 25 and from Chicago. But they liked me and kept bringing me back. I walked in for a callback and I said, "You guys better decide, because I'm running out of clothes."
With your Highly Superior Autobiographical Memory, can you look at a script once and have it memorized? Or does it work differently?
It's very different. That's two-dimensional. Mine is three-dimensional. It's more…"What does it remind me of in my life?" "What day did I read it for the first time?" "What was the weather like?" "What was I wearing?" It's experiential. I've had it my whole life, so I didn't know it was that unusual. With scripts, it'll take me a couple times and then I can have it, because I tested very high in that two-dimensional range.
With that in mind…in the spirit of Gettin' the Band Back Together, what was the first concert you ever attended? What day was it, who were the bands, and who did you go with?
I haven't thought about this for a while! I was in Chicago, I was just starting high school. It was Sunday, October 3. No, sorry. October 2. Yes. Sunday, October 2. The Box Tops opened for the Beach Boys. Somebody that was madly in love with my mother, because everyone was madly in love with my mother, worked in the ticket office and he got us incredible seats, third row on the aisle. I went with my girlfriend, Irene, who I still see and I'm still close to.
You were on Celebrity Apprentice twice, a show hosted by Donald Trump. What was he like when you were on the show, and how does it compare to the way he presents himself as president?
You can't even compare it to what's going on right now. Celebrity Apprentice was a lot more fun than what's going on with the country. If someone had told me, almost four years to the day after I was fired from a fake job on a fake show by a fake boss, that that person was going to be President of the United States? It's shocking.
But I met people there who will always be a part of my life, like Trace Adkins and Lisa Rinna and Penn Jillette. It was hardcore, but it was a lot of fun.
Which is why escapist shows like Gettin' the Band Back Together exist.
It also takes people back to a time they forgot. And there's something for everyone in this show. There are two 16-year-old kids in the cast who are unbelievable. So the kids are there, I've got my Taxi fans and the baby boomers, and then there are the guys. It's funny, that theme of "being with the guys" has followed me my whole life. We were doing [a scene] and I said, "This feels like Taxi!"