Living Life in the Fast Lane in Plano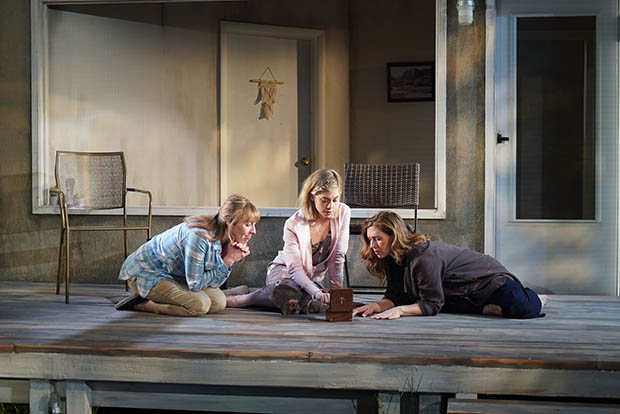 Does it ever feel like your life is playing out in fast-forward? The inhabitants of Will Arbery's Plano might feel that way, if they were ever able to stop long enough to contemplate their lives. In the opening scene, Arbery shows us three sisters energetically chatting on a porch: Isabel (Susannah Flood), the youngest and most religious of the three; judgmental middle sibling Genevieve (Miriam Silverman); and eldest sister Anne (Crystal Finn), who is newly pregnant. Her two sisters are thrilled and ask to meet the father. "OK, I'll introduce him later. It's later, here he is," she says as John (Cesar J. Rosado) approaches the porch. Over the next two minutes, John is fired from his job, Anne decides to marry him (then decides not to), and Isabel announces she is moving to Chicago.
The announcement of "it's later" to move the story forward happens several times throughout the play. At first, I assumed this was just a clever way to blast through the exposition before reaching the heart of the drama. Astoundingly, this whirlwind production from Clubbed Thumb at the Connelly Theater maintains its fevered pace to the very end. More plot unfolds in the 75 minutes of Plano than appears in many novels. The sisters move, deal with slug infestations and slug-like husbands, and experience various forms of emotional breakdown, always reconvening to discuss. In his stylized, often hilarious, and just as often tragic way, Arbery presents a vision of life that is just a series of expository scenes — slow down or blink, and you'll miss big parts of it.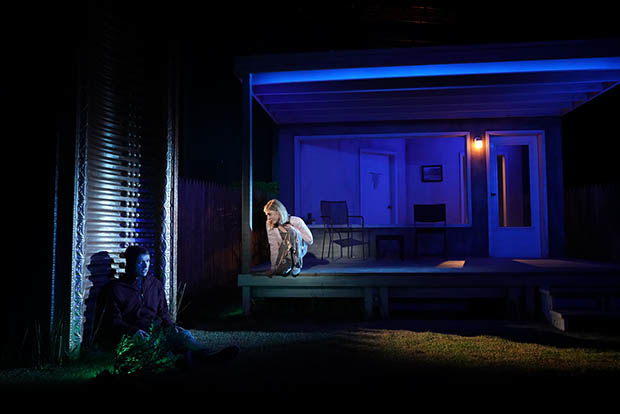 The considerable action of the play mostly does not take place in Plano, a strange city none of the three sisters have any interest in visiting (it is decidedly not their Moscow). "Plano is like Dallas's synthetic ghost," Genevieve observes. Still, it is a place to which John likes to disappear, and in which Genevieve's husband, Steve (Ryan King), accidentally finds himself. Or is he actually just in her bathroom? She can't figure it out since Steve split in two, as if by mitosis. And who is the strange, faceless man (a totally creepy Brendan Dalton) lurking around the corner of the house?
Director Taylor Reynolds gives equal weight to both the magical and realistic aspects of Arbery's script, resulting in a highly experimental but completely accessible night at the theater. She sacrifices nothing in terms of clarity, which is ideal since Arbery's playfulness with language makes Plano a joy to hear. "I'm in a play, no, it's about my odyssey back from Plano," Steve says, slumped over on the side of the stage. This dismay in King's face seems to covey the unspoken knowledge we all share: This is not at all Steve's play.
Under Reynolds's careful guidance, the cast executes Arbery's verbal gymnastics as if they were Olympic medalists. This is especially true of Mary Shultz, who plays the mother of the three sisters. Walking a balance beam between courtesy and terror, she seems to aspirate a "shhhh" where she ought to be taking a breath, silencing her daughters as if by reflex.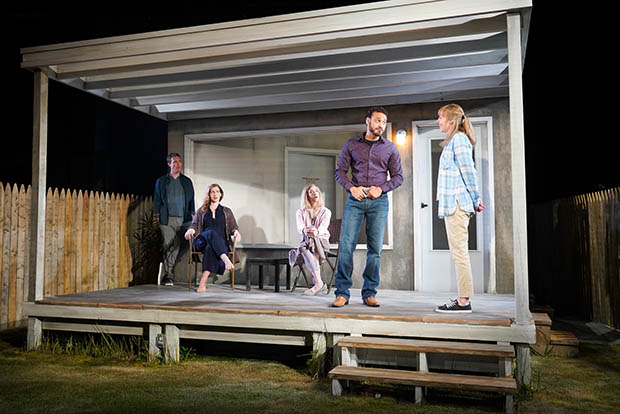 The other actors ground Arbery's dark fantasy in genuine emotional stakes: Rosado brings an alluring smile and natural warmth to the jovial and elusive John. As Ann, Finn's low din of anxiety is exquisite. Flood's Isabel is terrifyingly earnest, while Silverman's Genevieve radiates disapproval. There is a genuine air of sisterhood between the three women, which serves as a powerful emotional core for the play.
Dying crab grass spills over the edge of the stage in Daniel Zimmerman's evocative set. Depicting a barren shack with ugly blue walls, it spotlights the front porch as the venue for all of the most important scenes in the play. Even when we think we've grasped the internal logic of this space, Zimmerman unveils some new surprise to astound us. Isabella Byrd has designed beautiful, slightly scary lighting for this place in which time is ever-shifting. Tyler Kieffer's sneaky sound design does the rest. It all adds up to a play that is unsettling, witty, and completely enthralling. With Plano, Arbery introduces himself as an exciting new voice on the New York stage and a name to look out for.