Life Takes Center Stage in 33 to Nothing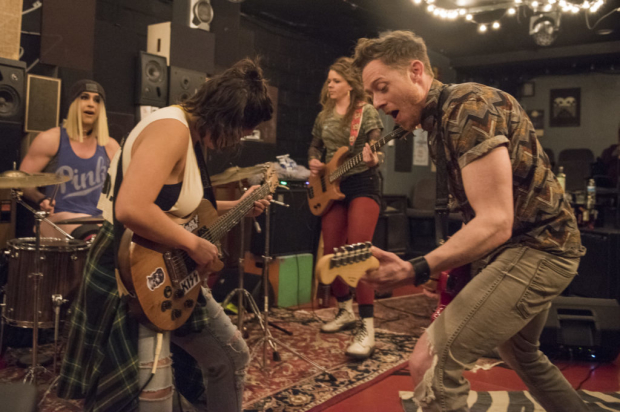 Before the beginning of Grant James Varjas's 33 to Nothing, now running at A Red Orchid Theatre, audiences are offered earplugs. If anybody thinks that they're a cute affectation, a wink to the play's rock-and-roll theme, they're soon set straight: 33 to Nothing begins with a bang, and as the night unfolds, the hits keep coming.
In a rented rehearsal room, a nameless band is led by keyboardist and lead singer Gray (Aaron Holland). Stuck in a stupor of self-pity and cheap booze, Gray is still in love with his ex-boyfriend, the band's guitarist, Bri (Steve Haggard). Lately, all of Gray's songs are about Bri, to the chagrin of guitarist Taylor (Amanda Raquel Martinez) and her wife, Alex (Annie Prichard), who plays bass. Rounding out the band is Barry (Jeff Kurysz), a drummer of middling talent but endless enthusiasm. The rehearsal plays out in real time, featuring a handful of catchy, fully realized pop rock songs, also by Varjas.
Gray has been spiraling for some time, we learn, but this particular rehearsal may be close to rock bottom. His beloved mother has died after battling cancer — a fact he learns by phone, since he abandoned her bedside days before. Heartbroken, unemployed, and mean when he's drunk, his bandmates are very nearly done with him. But for all his failings, Gray is a great singer and songwriter, and Holland injects every song with an impish charisma that complements his rangy and powerful voice. He shares a worn-down intimacy with Haggard, whose performance as a melancholy ex is understated but expressive. The rest of the band falls into a natural groove as they bicker and banter, with a particularly captivating turn from Martinez as Taylor, the punchy guitarist who has been friends with Gray since childhood.
Guided by music director John Cicora, all of the actors play their own instruments capably, and their backing vocals are on point. Joe Court should be commended for his perfectly scaled sound design, which fills A Red Orchid's small space without overwhelming its patrons. Eleanor Kahn's scenic and props design accents the rehearsal room with just the right amount of clutter to evoke years of love and disrepair.
Unfolding as it does in real time, Varjas's script is inherently static, but rather than compensating by overstaging, Tyrone Phillips directs with a light touch, keeping the action feeling organic. Phillips and his cast excel in creating a sense of history between characters. Much of the play's pleasure comes from watching these old friends and lovers get into the weeds of the music they love, whether they're debating the merits of famous gay front men or picking apart the minutia of a song lyric. That's not to say that 33 to Nothing is lighthearted. As Gray gets drunker, he alternates between languid self-pity and incisive cruelty aimed at his friends. He's had a lot of practice pushing away the people he loves, and this time he's succeeded.
The alcoholic, self-sabotaging artist is hardly a unique character type, and giving Gray a recently deceased mother and an ex-lover who's still within arm's reach is not novel, either. But a great artist can cover a tired old song and make it sound brand-new. Thanks to Holland's bravura performance and Phillips's intimate direction, this production of 33 to Nothing hits all the right notes.