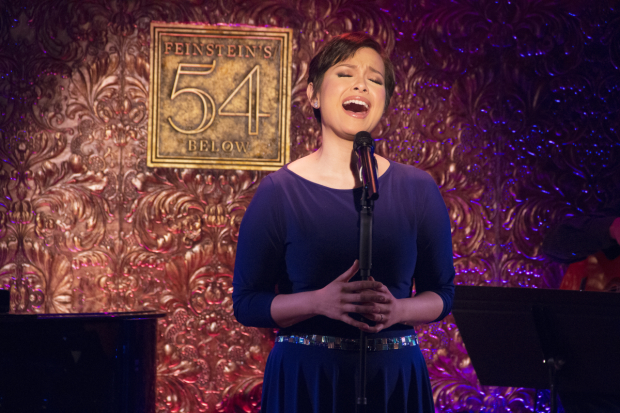 Lea Salonga enters Feinstein's/54 Below singing the Rodgers and Hart standard "Manhattan." It's a chipper, pleasant, and very traditional way to begin what turns out to be a surprisingly daring and emotionally challenging show.
Salonga recently starred in the Broadway debut of Allegiance opposite George Takei. A Tony Award winner for Miss Saigon who has been performing consistently (first in the Philippines, then the U.S.) since 1978, she can rightly be considered a Broadway veteran at the relatively young age of 45. This show marks her first residency at the Broadway supper club. "That is so cool to say: residency," she says, relishing the word.
The exciting thing about Salonga is her ability to bridge the gap between musical theater and pop. She sings a thrilling rendition of "I Won't Mind" from the unfinished Jeff Blumenkrantz, Annie Kessler, and Libby Saines musical The Other Franklin. In the song, she plays Lizzie, a woman who cannot bear children of her own and mothers vicariously through her godson. She performs the complete arc of the song, as if she were doing it on a Broadway stage. Even when she's singing One Direction's "Story of My Life," she's acting the song, exposing the internal world of her character through music.
Similarly, her interpretation of Paul McCartney's "Blackbird" (which she dedicates to the People Power Revolution in the Philippines) is bittersweet and heartfelt, giving new meaning to the lyrics "You were only waiting for this moment to arise."
While Salonga is renowned for her soaring Disney princess vocals (she gave voice to both Jasmine in Aladdin and the title character of Mulan), it's her attention to lyrics that really gives her performance heft. Her version of Mike Reid and Allen Shamblin's "I Can't Make You Love Me" (made popular by Bonnie Raitt) is sincere and heartbreaking. The lyrics belie the effect of the performance: Salonga really can make us love her using just her voice and sad eyes.
The evening is heavy on serious ballads, but Salonga does have us in hysterics for her delightfully subversive rendition of Robin Thicke's "Blurred Lines," in which she scrunches her face and sucks her teeth on the altered lyric, "You're a good boy."
Daring and unexpected song choices aside, the most impressive thing about this show is how completely exposed Salonga's voice is. She sings the first verse of Tracey Chapman's "Fast Car" with just the support of Jack Cavari drumming on the back of his guitar. Spare that song, she performs the evening without the aid of a percussionist. Music director Larry Yurman's simple piano and guitar arrangements draw all the attention to her vocals.
Longtime fans will be pleased to hear that Salonga's voice doesn't seem to have aged a day since her starring roles in Miss Saigon and Les Misérables. Her well-supported upper register is clear and resonant. This is a woman who regularly performs in symphony halls and large arenas, so seeing her in such an intimate setting is an unmissable experience.