Khris Davis and DeWanda Wise on Building an Intense Marriage Nightly in Fireflies
Actors Khris Davis and DeWanda Wise remember the first time they met. "There was a shoot that we did several weeks before we started rehearsals," Davis says with a laugh, "and that was our first meeting. Walking into a park and taking very intimate photos."
It was just the first example of diving off the deep end for the stars of Fireflies, an Atlantic Theater Company production written by Donja R. Love and directed by Saheem Ali. Love's new drama, the second part of his trilogy about the queer experience at significant points in African-American history, tells the story of Charles and Olivia, a couple living in the volatility of the Jim Crow South. Charles (Davis) is a charismatic preacher not unlike Dr. Martin Luther King Jr. Olivia (Wise), his pregnant wife, is the sole force behind Charles's success. But their marriage is threatened in ways we don't expect, and it changes both of them forever.
Davis (Sweat) and Wise (She's Gotta Have It) both knew this would be an intensely difficult experience. He had never performed a two-hander before. She hadn't done a play in four years. But they're getting through it together — and laughing offstage through the onstage tears.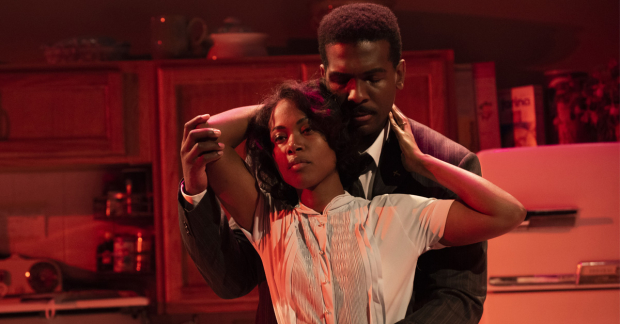 Without knowing each other before starting rehearsals, how did you go about building an onstage relationship for characters that have known each other their entire lives?
DeWanda Wise: I harassed him so we could have a couple of lunches because I needed to connect to Khris. I knew that was the only way that Olivia and Charles's marriage could feel like they've known each other their whole lives. That's really hard to fake. But it's partially built in the rehearsal process, creating a collective backstory. And as you're working on the play, it naturally unearths your personal point of view, and you get to know each other that way.
Khris Davis: I wanted to make the space as safe as possible. We're emoting so much in so many situations, and it could feel unsafe to go to those places with somebody that you don't really trust outside of the workspace. Just trying to make a space during the rehearsal process to really connect to each other was my way in.
Fireflies is obviously about fictional characters, but there are allusions to the relationship of Dr. King and Coretta. What kind of research did you do and what did that add to your performances?
DeWanda: I read a ton. Coretta's autobiography is very interesting to read through the lens of this play. When she talks about her point of view on Dr. King's infidelity, she shuts it down. She's like, "This is character assassination and it's not true." It's really wild to read that kind of ferocious protection of his legacy. And also…You can quote me on this. Dr. King was kind of trash. When they had the March on Washington, he'd be like, "Well, the wives aren't coming with us, so you can't." She was a trained opera singer, with a dual degree, a very educated woman, who was placed in the position of essentially being the mother of his children. The things you could tell she didn't feel empowered to say is very fascinating.
Khris: The thing about Charles is that there are so many Charleses, and we've gotten to see them onstage a lot. I was more interested in exploring the complexity of all the things that were happening in this individual's world, and how the internal conflict affects all of his choices. I could watch a video of Dr. King and go out onstage and emulate that, but who was he at home in the midnight hour, when he was talking to his wife while the kids were sleeping? That's the angle I came into it with.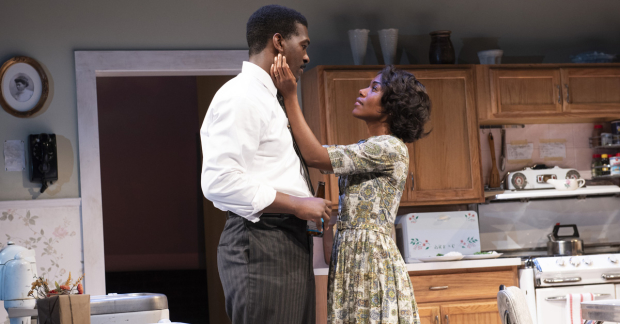 As actors, what is this play like to do each night? Is it hard? Is it fun?
Khris: Is it fun? No. It's painful stuff to unpack. It's not necessarily "fun" to break yourself open like that, and then heal yourself every night, but is it fun to be working with somebody so awesome? Yes. That's fun.
DeWanda: I call it "actor fun." It's a very needy beast, for sure. It requires a great deal of taking care of ourselves and each other. My dad came to see it, and I'm eloquently paraphrasing what he said: "I've watched a lot of TV and a lot of movies, but I've never seen anyone have to cry that long." The stakes and the given circumstances are Greek tragedy level. It not only requires both of us to go there every night, but it only just dives.
So you're really living and breathing it every night.
DeWanda: It's very moment-to-moment. I play around a lot. Sometimes Olivia is really pregnant. Sometimes she's more Southern. Sometimes she's real deep and sultry. In that vein, every show has its own comedown.
Khris: It definitely keeps you on your toes. We meet it where it's at. It is a lot of fun up there, sometimes switching up how country we can get…
DeWanda: How raunchy we are…
Khris: We're having too much fun with each other. Because once we dive into the realness, it's over.