Joan Allen's Lived Experiences Carry Her Through The Waverly Gallery
Joan Allen's performance in Lila Neugebauer's new Broadway revival of Kenneth Lonergan's The Waverly Gallery is instantly recognizable to anyone who's ever been a caregiver for an infirm family member.
In the play, Allen costars as Ellen, a busy New Yorker forced to adopt her elderly mother, Gladys (played by one of Allen's idols, the legendary Elaine May), as she slips further and further into dementia.
The notion of being a caregiver is a role that Allen — a Tony winner for Burn This and a three-time Oscar nominee — knows very well. In real life, she and her siblings spent several years caring for their own mother, Dorothea, as she devolved into dementia, and her case was a lot more pernicious than the one Lonergan portrays onstage.
"As I leave the theater, I hear so many people say, 'thank you,'" Allen says, "these 50-, 60-year-old women with tears in their eyes, saying they're going through this. The play captures that really well."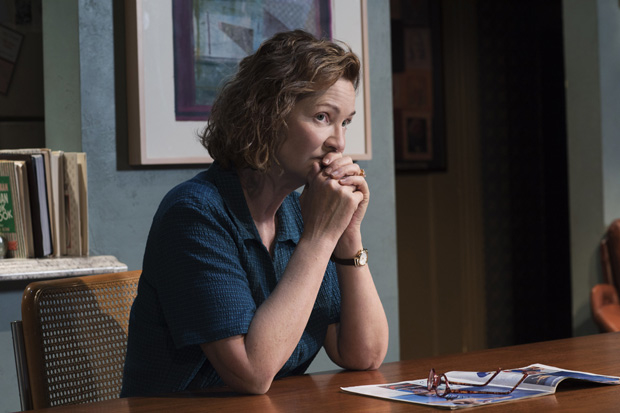 What was it about The Waverly Gallery that brought you back to Broadway?
I just thought the play was very beautifully written. I had gone through a mother having dementia in the last couple of years of her life. She was in a nursing facility in my little hometown area of northern Illinois, so I got to see a lot of other patients there in various stages of the disease. I had a firsthand exposure to it in a pretty big way.
So you lived this play.
Oh yeah. My mother had severe hearing loss, like Gladys, from her mid-80s on. She would get very depressed, because it's very isolating, so I empathized a lot with Gladys. But my mother's dementia was not like Gladys's. Gladys's is a gradual accumulation of forgetting things. My mother's was kind of like a psychotic break. Overnight, she became extremely violent and paranoid. For the last couple years of her life, she had to be sedated. I spent a lot of time with her. She lived to almost 97.
What aspects of your real experience did you bring to your performance?
Ellen is a very can-do kind of person. I love all the physical activity I have onstage, throwing away this, straightening that. That's very integral to her, and to carrying on. I can't fix my mother, but I can cook dinner. I had an advantage that Ellen doesn't have: Ellen is an only child. I have three wonderful siblings, and we all pitched in equally to help our mother.
Lila kept saying, "You cannot sink into the sorrow," and I found that to be true with my own mother. More than anything, you're trying to make the best of a horrible situation that you cannot control. You're doing a lot of troubleshooting, like looking at what her quality of life is and how to best keep her cared for. We can't change it, but what can we do to make it better?
What do you think the play gets right?
What I love about the play is that it shows how this affects a family, because it just pervades families, and caregiving is so hard in that situation. That's what's moving about it, too. Ellen is not a perfect person. We're trying our best and sometimes we fail. The point in the second act when I lose it with Gladys is very true. I remember losing it with my mom once or twice, where I had to get up and leave the room because it was so frustrating. Ellen makes no bones about Gladys getting on her nerves, but there is a tremendous amount of love and loyalty there, which is so very real. I think the play captures that really well.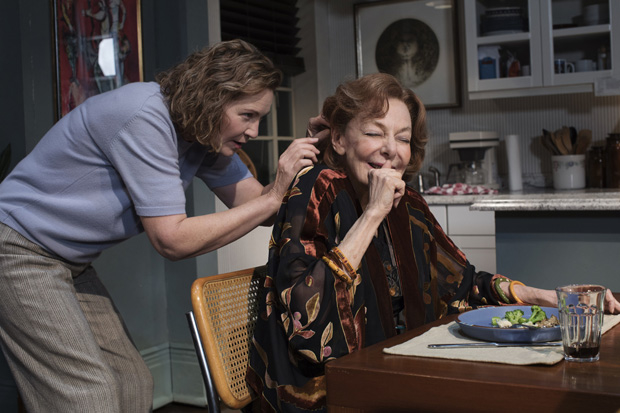 So many artists of your generation are enamored with Elaine May and her comedic work with Mike Nichols. Is that true of you, too?
I pretty much idolized her. When I was 20 years old and first with the Steppenwolf Theatre Company, we had an 88-seat theater in a basement and no money. We would try to do these little fundraisers, and a couple of the company members were from the wealthy suburb Highland Park and knew the local people. They'd say, "Mr. Wilson will open his house and invite six of his friends for $100 a pop if we do something." And one of the things we would do is Nichols and May routines. I would memorize her verbatim and we would perform to raise money for our little theater.
When this opportunity came up, I couldn't really believe it. She's extraordinary in every way, and so smart and hard-working and relentless in her pursuit of truth. I feel like there's a master class in front of me every night.
Have you told her that you would memorize her routines?
I did! [laughs] She smiled and said she was very flattered.