Interview: Sam Morrison Channels His Grief Into Comedy Show Sugar Daddy
Comedian Sam Morrison met his partner Jonathan at Provincetown's annual "Bear Week" and they fell in love while quarantining during the early days of Covid-19. Tragically, Jonathan ended up one of the pandemic's many victims, the illness claiming his life in 2021. So what did Sam do? He turned the experience into a standup show.
Like many people, Morrison finds humor in unexpected places, and comedy became his unexpected coping mechanism. Blending his personal tragedy with humor, Morrison's Sugar Daddy has become a hit at the Soho Playhouse, and is running through April 8. Here, he tells us about finding light in the darkest of times.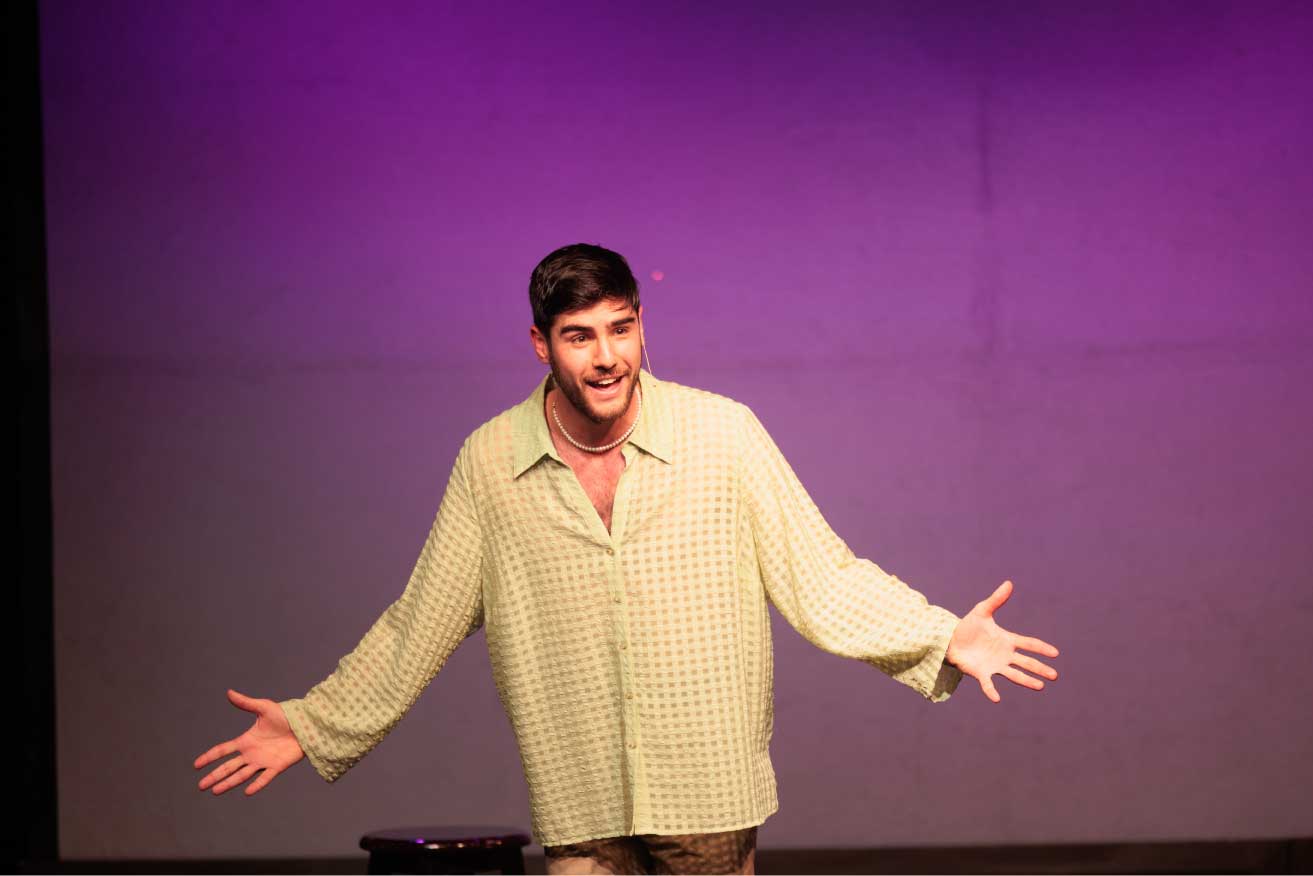 Grief is a touchy subject and not something that everyone can laugh at. Why did you decide to transform your personal tragedy into a comedy show of all things?
Grief has always been hilarious to me, albeit in very different ways at different times throughout the process. But even in the bleakest moments, there were laugh out loud hilarious moments. I knew it would be difficult to translate that on stage, and there was a lot of trial and error before I got my first grief jokes to work. Once I did, it truly felt unlike anything I had ever done before, and I knew I had to keep going. Also, when something like this happens, it is so all-consuming in all parts of your life. I'm a comedian that writes what I think about and this was all I thought about. Eventually, it actually felt more crazy to go on stage and not talk about it. Honest, vulnerable, challenging storytelling was always the kind of comedy I was a fan of and creating even before Sugar Daddy, so in many ways this felt inevitable.
As a self-professed anxious Jew who delves into a very personal subject, what part of your story were you worried that people would judge the most? How did you overcome that (or are you still working on it)?
I was extremely nervous and gave up on this project several times. My grief and my relationship with Jonathan felt so sacred to me, and I worried sharing that with others could taint it. Part of the journey of my growth and this show is sharing this story and talking openly about grief has made the process less lonely and the subject of death less uncomfortable, untouchable, and painful.
I think I'm learning the more I do the show, the more I have to let the story and art separate from me and stand for itself, meaning people will project their own lives onto the piece and derive their own conclusions, and it's all just as valid and meaningful as my experience. That's not only okay but the point of it all. People finding value and connecting the dots with their own experience, positive or negative, is the most humbling and rewarding part of this experience. Also, the support has been overwhelming and affirming. I didn't even know if people would laugh or enjoy something like this, let alone connect with it. People sharing their own experiences with grief and finding meaning in my story is the most special thing to me and the biggest motivator to keep going. I still have moments of anxiousness and doubt, but the more I do it, the more I'm affirmed this is the right thing for me to be doing in this moment.
What joke was the hardest to cut, and what joke were you most relieved to lose?
Almost every show, I try new jokes and cut jokes. I'm a religious fan of economy of words and narrative structure and the process of tightening the hour is never ending. I think my favorite joke I cut was this story about being peed on. It's one of the biggest laughs in the show but just didn't serve the story. I still get to do it in traditional stand-up sets.
What's the best off the beaten path P-town bar or restaurant that you can recommend?
Relish. About a 20 minute walk from the pier, and right along just the cutest row of houses. Grab the breakfast sandwich, sneak onto the beach, find a rock, and watch the waves. I wish was there now.
Would Jonathan have loved this kind of attention, or would he have demurred? What do you hope his reaction would be?
I think about this every time I write a joke and do the show. There are certain jokes I don't do because he wouldn't have liked. There are other jokes he wouldn't have liked but then I play out the conversation with him in my head and and pretty sure I would win the argument. Ultimately, Jonathan's support of my career and overwhelming unconditional love is with me every step of the way. He would be so proud of me and I'm lucky to have his spirit with me on and off stage.