Interview: Robert Lopez and Kristen Anderson-Lopez Put the Voices in Their Heads On Screen in Up Here
When you've conquered the stage and cinema, the only natural step is to get into TV. Married songwriters Robert Lopez and Kristen Anderson-Lopez, of Avenue Q (he), In Transit (she), and Frozen (they) fame, dabbled in that medium a little with their Emmy-winning "Agatha All Along" for WandaVision, but now, the Oscar winners are creating a full-fledged musical for the small screen. In Up Here, based on their 2015 theater project and cocreated for Hulu by Danielle Sanchez-Witzel and Steven Levenson, the Lopezes have crafted eight musical episodes that track a young couple (Mae Whitman and Carlos Valdes) and the Greek chorus of voices in their heads (played by Katie Finneran, John Hodgman, and Andréa Burns, Scott Porter, and others) in 1999 New York City.
You'd think that a couple as ensconced in all facets of entertainment as the Lopezes would know it all by now. But Up Here, which premieres today, March 24, represents a big step for them, and they were happy to drink it all in.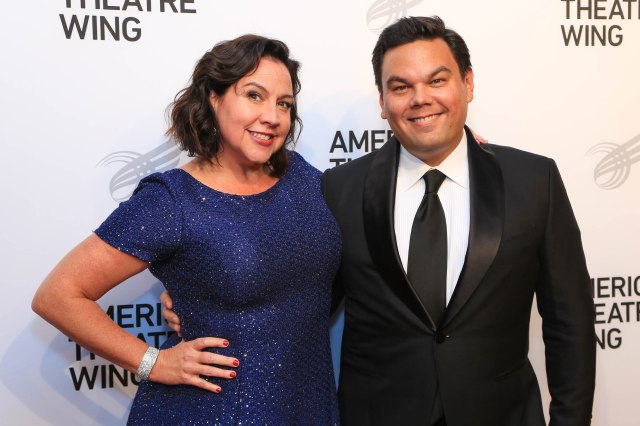 This conversation has been condensed and edited for clarity.
Where did Up Here come from initially?
Robert Lopez: The seed of the idea for the stage show went back a long time to when I really first started in the BMI workshop. They gave us a little crash course on stories that make good musicals, and the main takeway was that you need to pick a story that is set in the long ago and far away and have a main character that is larger than life and faces external obstacles and is very clear on his or her goal. That's very limiting in terms of the kind of story you can tell. I wanted to tell a story about an introvert in New York City like me. That's when it dawned on me, what if you set a show in the character's mind, and externalized the internal obstacles? Kristen and I met in the workshop, and she was the one who said to make it a romantic comedy, because when two soulmates collide, they really challenge each other.
Kristen Anderson-Lopez: They say that when you meet your soulmate, it's not that everything's going to be great. Actually, a soulmate holds a mirror to the part of yourself that you could grow into, and you can become your best self. There are these things that you want to bring out in each other, like wanting to be better, wanting to learn how to communicate more. That's why I thought it would be a great way to bring up conflict. We wrote that for several years, and as we were writing Frozen, we were workshopping Up Here at the Roundabout and we were given a production at La Jolla Playhouse with amazing Alex Timbers directing. That's when our world sort of changed, right in 2015. We got very busy with our Frozen Broadway show and Frozen 2.
When the pandemic happened, we got a call from Tommy Kail asking what we had for him. Bobby and I had always wanted to do a streaming series, to see if we could take this thing that we love called the American musical and do it as a series. We had just seen Fosse/Verdon, which Tommy and Steven Levenson did together, and we realized that they were the people who knew how to do this. When Tommy called, it was a no-brainer, and we pulled in Lev immediately, and we talked and talked and talked during the pandemic. We pulled in a very important collaborator, Danielle Sanchez-Witzel, who very much lives in the comedy sitcom television world. She brought in another element of expertise that we all didn't have to help break the eight mini-musicals that make up the bigger musical.
Is there any material from the stage version that exists in the TV edition?
Robert: We chucked everything about the stage show, the characters, the story. There's a little bit of musical material that overlaps. Some songs have the same music, some have the same hook. And thematically, there's some similarity, but there's almost nothing that survived.
Kristen: There's a song called "Please Like Me" that I realized we wrote for the very first workshop that shows up in episode seven. But we rewrote every lyric.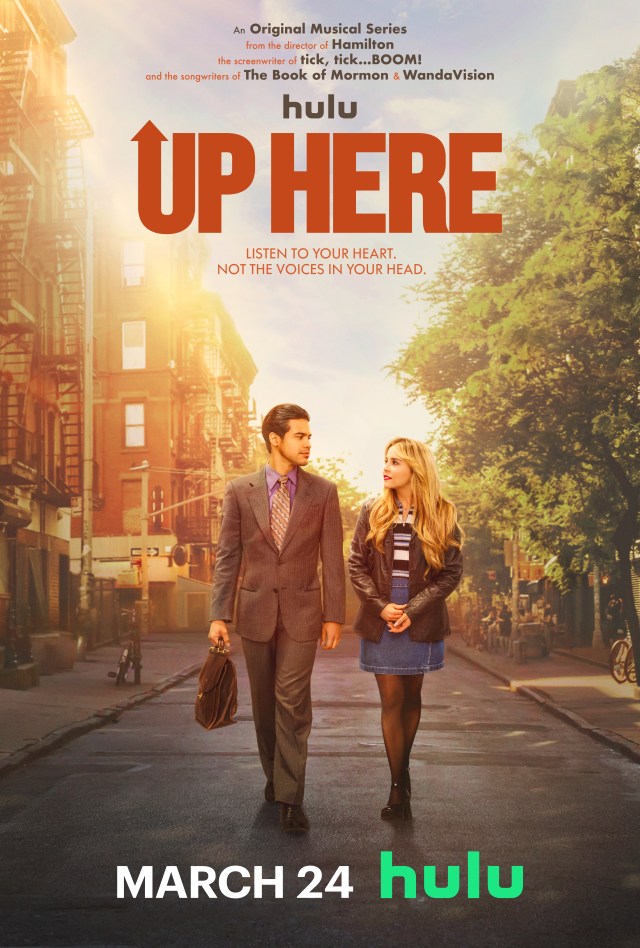 How does this experience compare to your other television works?
Robert: We have nothing to compare it to! We've never really done a TV show before, and we've always wanted to. And we got to take two of our favorite things, Broadway musicals and comedies on television, and find out where they overlap.
So when you're doing something like "Agatha All Along," do you just send in the song and then you're done?
Robert: Well, in "Agatha All Along," no one is singing on screen. It's a soundtrack moment and Agatha's there, but she's not singing. Our involvement was a lot less; Marvel knew exactly what they wanted and we worked with them to realize it.
Kristen: There have definitely been other songs we've done for television where we have been able to show up and be on the set — some things that are not announced yet that we've been far more involved with — and we were able to take so much of what we learned getting Up Here to exist. I would add that working in TV makes me love going to live musicals again, and then working live musicals makes me love going to TV. And we're very, very lucky that we never get to feel like we're stuck in one place. We get to keep growing and learning.
Robert: We're curious about all media. But our first love is Broadway through and through. That's how we learned our craft. The craft is always the same. Writing the song, character, going from point A to point B. We're bringing the Rodgers and Hammerstein-style to other mediums. The thing that changes is the how. How do you develop a musical in animation? That's a different answer than what you do in live action. In live action, you can do everything in post. There are various tricks that you can do on TV that you could never do on Broadway. We're learning as we go, and we're trying to amass a lot of knowledge so that we can work in any medium.