Interview: Krysta Rodriguez Talks About Playing Sally Bowles in the Berkshires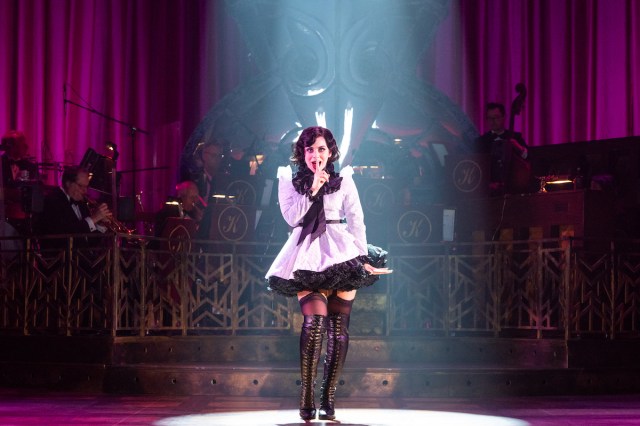 Over the past 20 years, Krysta Rodriguez has impressed audiences time after time, whether on TV in Smash and Halston, or on Broadway in such shows as Spring Awakening, First Date, and — just this past season alone — as a sharp-edged Cinderella in Into the Woods and the fiery Maya in The Collaboration.
Currently, she's knocking the proverbial socks off regional theater audiences as the troubled nightclub singer Sally Bowles in the Barrington Stage Company production of Cabaret (running through July 8).
TheaterMania spoke to Rodriguez about her longtime fascination with the role, her thoughts on Liza Minnelli, and her future career path.
This article has been condensed and edited for clarity.
Was Sally Bowles always on your bucket list?
Oh yeah, for as long as I can remember. The first time I saw the role in any context was when they did a revue in my high school, when I was a freshman, and as soon I watched someone doing "Wilkommen" and "Maybe This Time," I became fascinated with the show. In 2000, I saw it on Broadway for the first time with Susan Egan as Sally. She was from my high school and became a mentor of mine. I had never seen anything so raw and risky and grotesque. After that, I saw the Broadway production many times with many different actresses. I don't think I can name them all.
You haven't mentioned the famous movie version with Liza Minnelli as Sally? Why? You actually played Liza in the TV miniseries Halston.
Honestly, I only saw the movie when I was doing my research to play Liza in that show. I hadn't realized how different the film is than the play. And for whatever reason, it just didn't resonate as much for me as the show. I also want to note that one of my biggest regrets about playing Liza — who I never got to meet — was I didn't enjoy it as I should have because of "imposter fear." But I still love her and feel her in me no matter what I'm doing!
When you took on the part of Sally in this production, how did you feel you wanted to approach the role differently from anyone you've seen?
One source of freedom for me is that it's not the Roundabout production, so I don't have to fit that mold and I don't have to wear that dress. Instead, I read the original text, Christopher Isherwood's "Berlin Stories," where she's 20 and more of a child star turned adult and you don't know where she will land. I realized I can't play that Sally exactly. I acknowledge Sally is my age, almost 39, and she is trying to make a name for herself at this sex club. But she's not really being seen and she's frustrated. Yes, she might not have the privilege of getting out of the club, and she may have self-destructive qualities; she's at the point in her life when she needs the man and baby and success, but she still believes convention equals death.
How does your interpretation fit into this production?
While I think there's a version of Sally that can be played as someone who is always glamorous, this production finds her in as an often-homeless urchin who stinks of high heaven and picks up guy after guy. I love that she always lands on her feet, even though she's tragic. I think it works beautifully!
Do you have any rituals to get you into Sally's headspace and physicality every night?
I really like putting my make-up on, both before and during the show. One thing about this part is I have a lot of time in between my scenes, so I can go back to my dressing room and consider what my face looks like. I grapple with the question: "Who am I now?"  And then I make Sally a different person for every scene through my make-up!
You have had a very busy few months! Are you going to take a breather now?
I am always of both minds. Our business is so fragile and I want to take advantage of it when I can. So I usually jump on any offer; I am in grifter mode, taking what I can get. But I should learn to say no! Still, I would love to create a path of being someone who can perform on TV or in a basement and be equally happy. And most of all, I would love to create something new on Broadway. I think I would enjoy that more than being a small part of even the greatest show!