Interview: How Alex Timbers Helped John Mulaney Craft His Intimate Baby J Netflix Special
After two years of playing arenas, comedian John Mulaney recently debuted his latest standup special, Baby J, on Netflix. The 80-minute show — titled From Scratch during the live tour — is more intimate and serious than Mulaney's other works, detailing his drug addiction, the star-studded intervention that saved his life, and his subsequent trip to rehab. Naturally, it's piquant and hilarious.
At the helm of Baby J is Mulaney's longtime collaborator, Tony-winning director Alex Timbers, who led the taping of Mulaney's Kid Gorgeous special at Radio City and shepherded his and Nick Kroll's Oh, Hello to Br'dWAY. Baby J provided a new experience for Timbers, who worked with director of photography Cameron Barnett to create a film unlike regular comedy sets, more up close and personal than anyone's used to. The intimacy is befitting of a very personal story, and something the men are extremely proud of.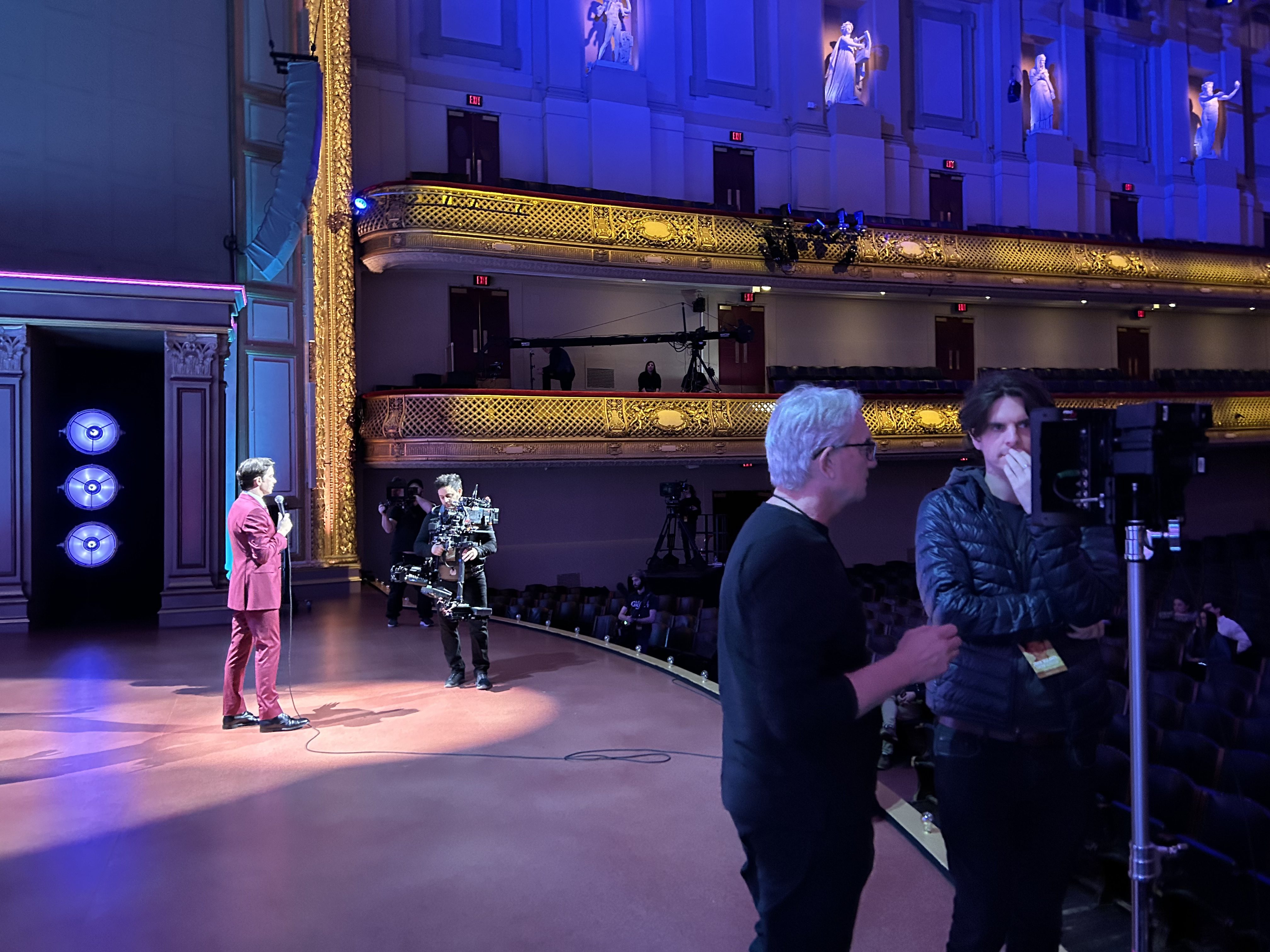 This conversation has been condensed and edited for clarity.
Having seen John perform what would become Baby J at Madison Square Garden, I was really impressed with the work you and he did to get to the core of the story for the Netflix special.
I would love to take credit for it, but it truly is him. He was touring for two years and he's an amazing writer, so he just kept distilling and concentrating and figuring out what he wanted it to be about, and getting the storytelling leaner and leaner. Obviously, this is a really personal, intimate story. He was very open during the post process of asking me and the editor what we can cut, just trying to streamline it. I know it's longer than a normal comedy special, but to me, it feels propulsive and tight.
As a director, where do you even begin when it comes to creating a special like this? How many times did you see him do it before you filmed it?
I saw him do it live once at the Garden, but we had a videotape of later performances, because he kept iterating and iterating up until the night we shot it. The first question for me was of how he wanted it to feel. Like, what is the tone? Does he want it to feel epic? Does he want it to feel intimate? It was a real choice to do it at the Boston Symphony Hall after playing arenas. That's a big switch up. I think he liked the character of the room and the audience-performer relationship there. Something about it spoke to him. We scouted it twice, going up to Boston and talking a lot about how it would feel different from his previous specials and how we could honor what he was up to.
Do you feel an extra level of responsibility knowing that the subject matter of the show is so personal?
Absolutely. I have a funny relationship with John, in that he's a collaborator and a friend, but he's also a bit of a hero of mine. I felt a lot of responsibility in wanting to make sure that we supported the material and showed it in the best possible way, but also had fidelity to what it was like to see live.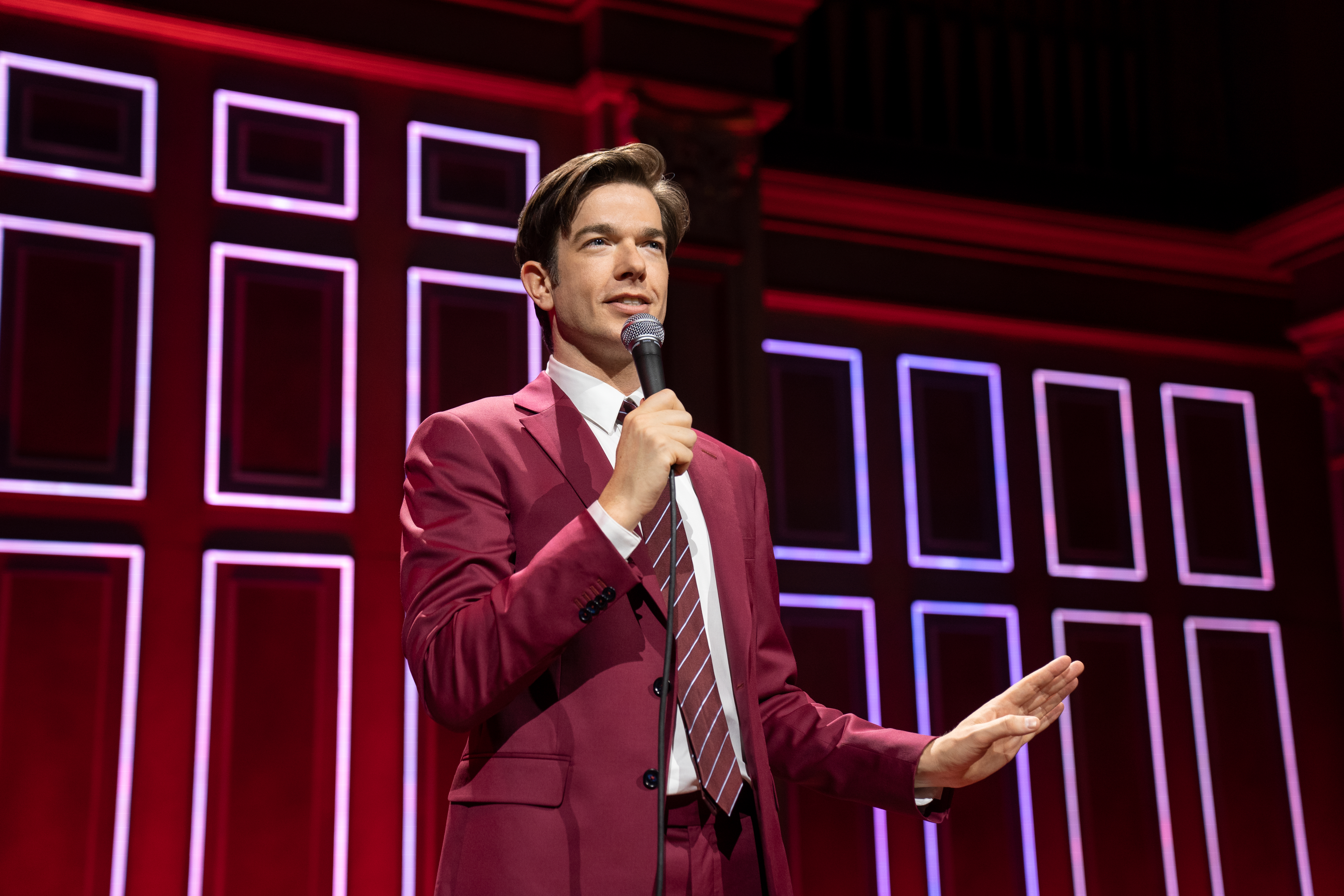 There's a lot of coverage in Baby J that you don't usually see in a comedy special: it starts in the middle of a story, there are a lot of tight close-ups.
That's always something with these specials: You're trying to capture what it was like to be in the room on those nights. We looked at all sorts of designs early on that got to the core of that intimate storytelling. We had a version with a thrust stage where he was going to be in the middle of the audience and we discarded that at the last minute.
We tried to cover it as much of a versatile way as possible. We shot three shows. The first performance focused on reverse shots and was an opportunity to get the camera operators dialing into what he was doing, because they weren't as familiar with it as any of us that had been working on it for months. The next two performances, we went closer and closer. On the third performance, we changed lenses and got even tighter. We did some Steadicam work on stage, which is sort of unusual for a comedy special. There are other sections where we linger with one camera while he tells the story, because that supports the dynamic. And then in the editing too, there's a lot of pace stuff because of how he builds his jokes and our wanting to support that with the cutting because that creates a rhythm, as well.
It does feel as intimate as something you'd see at a place like the Cherry Lane, especially compared to when I saw it live at the Garden.
It feels almost like a theatrical solo show. John loves the theater and he's a showman, so he was interested in having amazing theatrical designers like Scott Pask and Jake DeGroot in there and adding an extra dimension of theatricality to it. Our director of photography was Cameron Barnett; we did Kid Gorgeous together and a Ben Platt special also for Netflix. He did that beautiful Ronny Chieng special in the round at that restaurant, which is one of the most beautiful specials I've ever seen. He has a really cinematic eye and is very interested in dynamic camera movement. We were trying to get as close to him as we could, because no matter what lens you're using, the closer the camera is, you feel that intimacy. In contrast to Radio City, where we filmed Kid Gorgeous, every camera was over 100 feet away. Here, you feel more in the room with him and that was appropriate to the material.