Interview: Courtney Reed Talks About Soaring Back to Broadway as Satine in Moulin Rouge!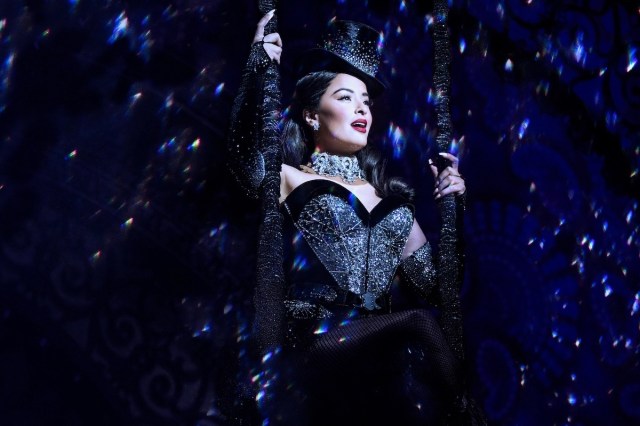 After originating the role of Jasmine in Broadway's Aladdin, Courtney Reed is once again soaring high above a Broadway stage, trading in her magic carpet for a swing above the Moulin Rouge. She originated the role of Satine in the first national tour and traveled the country with it for one and a half years; now she is once again lacing the corset of the Sparkling Diamond, the cabaret star and courtesan at the sexy Parisian nightclub, this time on Broadway. Reed, who also appeared on Broadway in Mamma Mia! and In the Heights, spoke with TheaterMania about literally swinging back into the role with the 10-time Tony Award-winning musical, this time taking on the Great White Way while planning her own wedding.
This interview has been edited for length and clarity and was conducted in accordance with current SAG-AFTRA guidelines.
You left such an impression with audiences when you stole their hearts as Jasmine. How does it feel to be back on Broadway after five years? New York audiences have missed you.
It feels really surreal. With everything post-pandemic you have a different level of gratitude going in, especially with this show, which has such a huge fan base. It's such a crowd-pleaser. Every time I come down on that swing I'm pinching myself. I can't believe I get to do this!
How does the community feel different? Has it changed?
The emphasis on a positive work environment is different now, more than it ever used to be. I think it's a really beautiful thing that there is a post-pandemic emphasis on being aware of mental health. Positive working environments weed out toxic energy, and that's a very important part of building community and joy.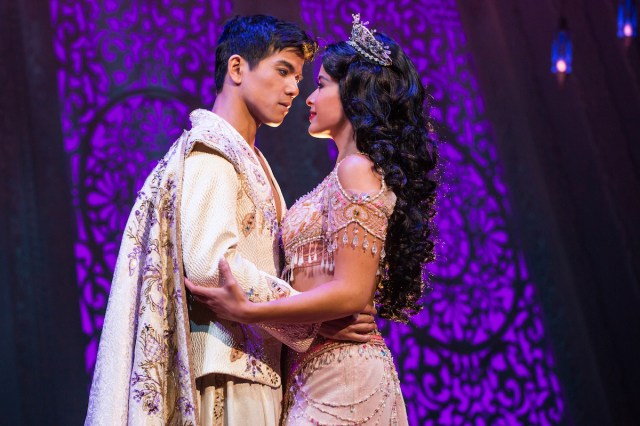 You obviously enjoy playing Satine. What is it about her that encouraged you to resume the role on Broadway?
Selfishly, as an actor, it is definitely a dream role in the sense that you get through a whole journey and an arc. I get to dive into my wheelhouse of comedy and drama. Growing up listening to all of these amazing divas and pop music [featured in the show], and getting to combine all of those elements into one show, is a dream come true.
How does the Broadway production differ from the tour? Is it like slipping into a well-worn…corset?
Some of the biggest changes are within the set design and the blocking. The passerelle is much different. Other than that, it's pretty much the same. I think it's a beautiful show and if it ain't broke don't fix it! There's so many companies worldwide, so I think they really stuck to what works.
There's starting to be a pattern in shows — you end up in the air at some point! Were you an old pro at being suspended in the air when you first learned how you would be making an entrance for the Moulin Rouge tour?
There are so many similarities between Satine and Jasmine. Satine is the older, broken version of Jasmine if Jasmine had grown up in the marketplace and not behind the palace walls. I was so comfortable on that carpet! There's a standard safety harness I would wear in both shows, and it takes a lot of practice to get used to it. When I started with Satine, I thought, "Well, I had four years of practice getting myself out of this safety belt and I haven't had any problems with it." My four years of flying on a carpet really helped.
Which aspects of yourself do you bring to Satine?
A lot! What's so fun is that Satine gets to be fun and goofy while putting on this persona as the Sparkling Diamond — that's her wall and her protection. She's not a very vulnerable person. That's the juxtaposition between Satine and Christian [currently played by Casey Cott]. Christian is very wide-eyed and innocent and hasn't seen the hardships of the world; she really has seen them. She has this hardened shell where she wishes that she could be more like Christian. I think it's really fun to put on that facade that she's this smoldering temptress, but who is also wacky. That's where a lot of the comedy comes in, because the audience knows that it's all an act. When the walls come down because Christian has inspired her, that's when more of Courtney Reed comes in.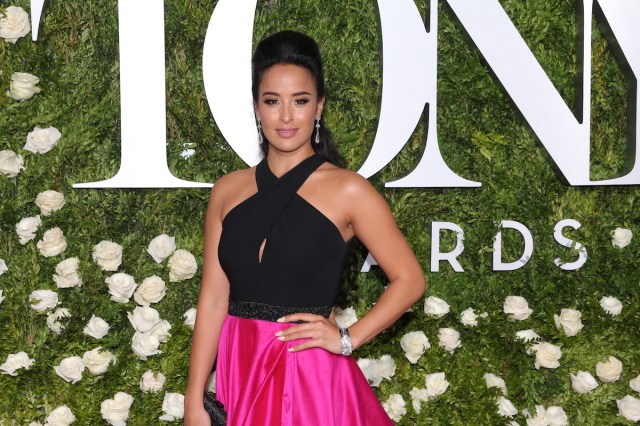 Since you were last in New York you also got engaged! What's it like to plan a wedding while doing eight shows each week?
Life is so crazy from being on the road, so the focus now has been on resettling. We haven't been focusing on the wedding at all! I think it will be something very small and intimate with an emphasis on family bonding. I'm old enough to know that I get to be the sparkling diamond every night, and though my wedding is going to be a beautiful day, it will be small and mostly centered around family.
In Moulin Rouge you get to sing some of the greatest hits of all time. Which is your favorite to perform?
All of the ones in "Elephant Love Medley" because there's so many hits. Satine gets to be so flirty with Christian. They run around the stage. He does all of these fun things to charm her, and it's such a blast of a time, especially when it ends with the epic climb on the Eiffel Tower. That's my favorite part of the show.
Satine keeps secrets throughout Moulin Rouge. Tell us a secret about yourself.
I'm obsessed with organization. If I want to really elevate my mood, I will just go to the corner of the house and organize it and make it more efficient and perfect. Aesthetically, I'm obsessed with making things look beautiful and orderly, so my biggest task right now is redoing my dressing room. I completely wallpapered it and redesigned it with the help of my fiancé. It's a full art deco theme with a lot of greens and pinks and deco lamps. I thought about creating a home organizing company during Covid. There was nothing to do so I thought, what do I love the most other than acting? Organizing.