Interview: Corbin Bleu Talks About the New Musical Summer Stock and the Fourth Season of HSMTMTS
As a young actor, Corbin Bleu started getting major attention with his star-making role as Chad Danforth in Disney's High School Musical series in 2006 and has gone on to garner even more fans thanks to his acclaimed Broadway turns in In the Heights, Holiday Inn, and Kiss Me, Kate.
This summer, Bleu is trading New York City for East Haddam, Connecticut, where he'll be starring as Joe Ross in the Goodspeed Musicals production of Summer Stock, based on the famed 1950 MGM film of the same name.
Bleu recently spoke to TheaterMania about the much-anticipated show (running through August 27), his recent return to the world of High School Musical, and hosting this year's Jimmy Awards.
This interview has been condensed and edited for clarity.
So, how different is the musical Summer Stock from the movie?
It feels like a whole new animal, even though we've borrowed some elements from the movie. It is still, first and foremost, a love letter to the theater; it's about this group of players who come to a farm to put on a show. So many numbers are how they get into farming through performance! We also still focus on how Joe and his partner Phil [played by Gilbert L. Bailey II] fight to get the show on its feet, and how Joe helps his eventual love interest Jane [played by Danielle Wade] find her inner performer.
But a lot has changed from the film, including some of the relationships. We have a brilliant new writer, Cheri Steinkellner, who has dropped in a lot of nods to why we love musical theater. We have Veanne Cox as Orville's mother, who is the new "villain" of the piece. And we've added a lot of music, such as "It Had to Be You" and "It's Only a Paper Moon," and we've switched around who's singing some of the film's songs, such as "Dig, Dig, Dig" and "Happy Harvest."
But the most important thing is that while we're still in the late 1940s, there are two Black actors playing the male leads – me and Gilbert Bailey as Phil – and it is definitely not color-blind casting; it's color-conscious. That means we're dealing with an interracial love affair, for instance. The racial element is an additional driving force, which I think is necessary, but the main story isn't about the struggle for racial equality. In the end, it's still a feel-good MGM-like affair.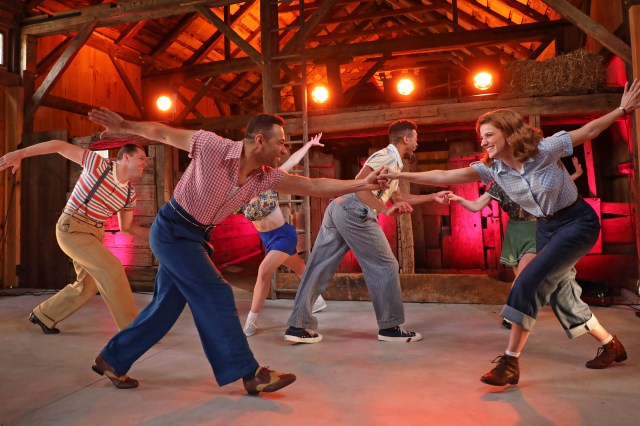 You've previously stepped into the figurative shoes of Gene Kelly, who originated the role of Joe in the movie, as well as Fred Astaire. How does that feel?
I am always aware these golden age icons from MGM have such a specific style and that they make what they do look easy. Of course, I want to bring that to Joe. But in the tap dance sequence, for instance, we also have a bit of Gregory Hines, even though I'm no Gregory Hines. And at the end of the day, it's me on stage, and I work hardest on finding my own characterization of these roles.
This is your first time working with Donna Feore, who is one of Canada's leading directors and choreographers. Tell me about your experience with her?
Donna is wonderful to work with, both as director and choreographer. I think the best thing about her handling both roles is we don't have to get everyone on the same page, because she is the same page. She's also really hands-on with the music; she fought to have a drummer in the room during rehearsals so we could find those beats while we created the choreography, not just insert them later. As she directs, she considers the movement of every scene, but also the story that we're telling through that movement! It's not movement for movement's sake, and I appreciate that!
Goodspeed isn't the easiest place to do a dance-oriented show, is it?
Yes, we're dealing with the confines of a very small stage, it's like dancing on a Chiclet. I am so impressed how vibrantly our cast can move on this stage. We're on top of each other!  I think we'd look great on a bigger stage, which is just one reason why everyone is focused on moving this show to New York.
What was it like to return to the High School Musical world in the third season of High School Musical: The Musical: The Series?
In some ways, the pre-production this time was more detailed because I was trying to play a fictional version of Corbin. Tim Federle and I spoke a lot about why he was a bit of dick. I wanted to dive in and do that, but we were trying to figure out where his arrogance came from. Ultimately, we decided it was him being jaded and numb from being famous, and how he had forgotten how to be a normal person. That might have been my life if I had different people around me!
You are back for the fourth season (beginning in August). What can you say about it?
Well, we shot the third season in Los Angeles at a camp, and while just being back in this universe was surreal, for this fourth season, we went back to East High. I had not been back there since I did the third film, and walking into that gym was just overwhelming! I literally cried.
Last month, you hosted the Jimmy Awards. What did you think about seeing these amazing high school kids performing?
I went to an arts high school in Los Angeles, where I was surrounded by incredible kids, but here, they've pulled the best of the best from everywhere, and each of these kids were jaw-dropping, inspiring, motivating. I see what's coming for me! Seriously, I was awed by the beauty of seeing the future of musical theater. With arts education funding being cut, to see these kids and talk to them and find out how important theater is to them and how they would not feel their sense of purpose was inspiring. Still, the one thing I did tell them is that while it's necessary to always be working on technique and preparation, it's equally important to remember the joy of performing while you're onstage. If you're not having fun, the audience is not having fun.