I'm Gonna Pray for You So Hard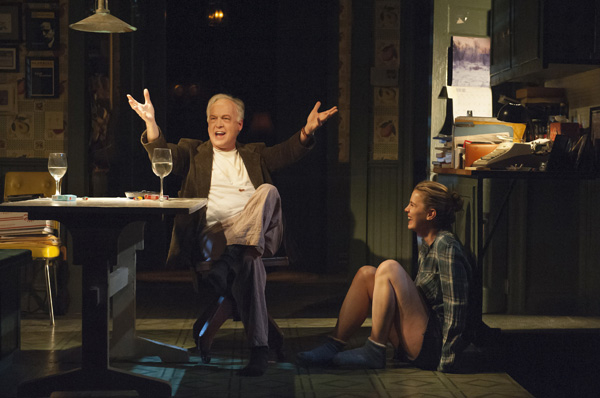 The daughter of a famous playwright pens a show that raises the question, is this autobiographical? That is both a plot point in Halley Feiffer's I'm Gonna Pray for You So Hard and what is actually happening at Atlantic Theater Company's Stage 2, where that show is having its world premiere. Feiffer, a writer and actress who last appeared at Atlantic in Ethan Coen's Women or Nothing, is also the daughter of cartoonist and playwright Jules Feiffer.
"No, but — see! That's not the point," howls Ella (Betty Gilpin), the fictional daughter of a fictional playwright, during an opening-night interview for her new solo show. "Whether it's 'autobiographical' or not is not the—" And really, she's right. While it first appears like another navel-gazing exercise in theatrical self-importance, I'm Gonna Pray for You So Hard is actually a brutal tale of human cruelty, especially as it is passed from one generation to the next. Its resemblance to specific people and real events is immaterial. We all leave the show with the uneasy suspicion that these emotionally stunted workaholics dangerously pervade our world.
Under the crafty direction of Trip Cullman, that sublime discomfort is a slow build from a relatively cozy place. Upon entering the theater, the audience is greeted by the raspy and soothing voice of Jonathan Schwartz, the septuagenarian radio DJ whose program showcasing the Great American Songbook has been a staple of New York weekends for decades. (Schwartz is the son of The Band Wagon composer Arthur Schwartz, and regularly refers to his father's influence.) Sound designer Daniel Kluger seems to be hinting at the peculiar neurosis of people who grow up around show business: They never fully recover.
We begin to understand why after watching the play's first few minutes, the first act of which is set in the overstuffed eat-in kitchen of an Upper West Side apartment (realized in exquisite detail by Mark Wendlend). Framed show programs hang opposite an overloaded kitchen counter being used as a desk. This is a writer's space. Since the centerpiece of the counter is an old typewriter, we get a pretty good idea early on what kind of writer lives here.
Pulitzer Prize-winning playwright David Bergenstein (Reed Birney) is midway through a screed against against theater critics. "They're all f*cking idiots," he shouts, among other less-printable epithets. (Feiffer has a keen sense of blue language and stinging invective.) It's the opening night of an avant-garde production of Chekhov's The Seagull in which his daughter Ella is playing Masha. They sit around drinking white wine and chatting about David's theatrical war stories, waiting for the review to hit.
Really, it's less a conversation than a sermon in which David is the preacher. Birney plays the quick-witted and vulgar playwright with remarkable agility. The words flow out of him as if he's making them up on the spot. David is clearly a man with a gift for language and a passion for storytelling. "You just need one voice — one voice — that's not in your own head — one person who says: You're it. You're a genius. You're gonna be a star," he dramatically tells his daughter. "And that's what I am for you, kid." In another life he might have made a brilliant dictator or charismatic cult leader; but he was born to Russian-Jewish immigrants in Brooklyn, so he's a playwright.
Reinforcing David's strange attraction, Gilpin plays Ella like a golden retriever. Her over-the-top reactions to his stories (which we suspect she's heard before) have the aura of children's theater; they're just so turned-up and unnatural. "Oh Dad — oh Dad…!" she exclaims with orgasmic glee as he insults her hated nemesis and costar — the one with the plumb role of Nina. They both snort a line of cocaine off his framed Drama Desk nomination and she beams, "Thankyousomuch. Thank you, thank you," like she's suffering from cirrhosis and he's just given her a new liver.
She's daddy's little girl and while David's self-aggrandizing "kindness" to her is disgusting to behold, his unkindness is even worse. He wants her to be a star and one gets the sense that he thinks some "tough love" is what will get her there. He kicks her while she's down, perhaps in an effort to propel her career into high gear. It seems like he doesn't really want a daughter, but a Sith apprentice.
Director Cullman orchestrates the dance between these two incredibly magnetic actors until we are lulled into the false security of a predictable rhythm. Then he pulls us out of it with a very disorienting scene change, in which the artificiality of the theater is laid bare. Ella is five years older and far more hardened than the little girl we first encountered. Her distinctive razor-sharp diction is the only recognizable carryover from the first act, but back then it didn't belong to Gilpin.
Superficially, I'm Gonna Pray for You So Hard is a tragicomedy about how we all inevitably transform into our parents. On a deeper level, Feiffer has created an incisive case study of a particularly American brand of meanness born out of the need to win at all costs. "When you start to think they're winning?! That's when you die," both characters exclaim at different points. After 90 minutes of their insanity, anyone could see the benefits of being a little kinder.