How Fran Drescher Inspired Her Nanny Producers Robert Sternin and Prudence Fraser to Write Under My Skin
If you religiously watched sitcoms like The Nanny and Who's The Boss?, then you probably recognize the names Robert Sternin and Prudence Fraser, the husband-and-wife producing team behind both of those long-running sitcoms. After years of toiling in Hollywood, Sternin and Fraser have turned their attention to the stage, bringing their comedy Under My Skin to New York's Little Shubert Theatre beginning April 5. Following what happens when a single mother and the CEO of a leading healthcare provider switch bodies, the play is partially inspired by the real-life cancer battle of their dear pal Fran Drescher.
TheaterMania spoke to the pair about what inspired the show, how the world of television is different from theater, and why a multi-camera sitcom like The Nanny wouldn't fly in the age of single-camera comedies.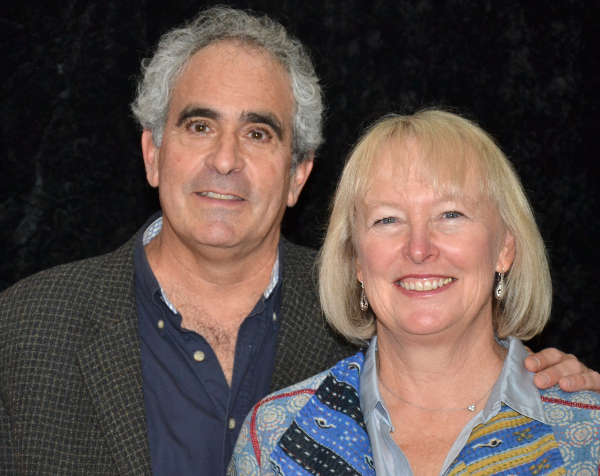 Tell me about the genesis of Under My Skin.
Robert Sternin: We were talking about the haves and the have-nots, and men and women, and we thought, What if a man and a woman from two walks of life switched places and fell in love by being the other person and finding out what the other person's life was like? But there was something still not there. We sort of came up with the idea. Fran Drescher, who's a good friend of ours, went through the whole cancer thing. We were talking about her experience with it, and we said, "This needs to live in the world of the CEO of a healthcare company who never thought of the people he's supposed to be caring about."
Prudence Fraser: Fran having to see eight doctors to get a diagnosis? She's a strong-willed woman, with money, and it took her eight doctors. Take a woman without that kind of balls, power, money, and she's out of luck. So we switched them and have the CEO of a healthcare company as a girl with cramps trying to find out why.
Robert Sternin: We were coming home from an evening at Fran's house and Pru said we should set our play in the world of healthcare. I said, "Is that going to be funny?" And she said, "You're going to get a man in gynecologist stirrups." And that made me think, OK, done.
Was New York always a goal for the play?
Robert Sternin: We started out, way back when, in the theater. I had gotten my MFA in playwriting thinking I'd be a playwright, so we always thought that if we could get back to the theater, that would be our goal.
Prudence Fraser: After The Nanny and not having the pressure of a weekly show, we started tossing around ideas again. We never thought we'd take it this far and go back to the pressure. [laughs]
What are the differences between working on a sitcom and creating a play?
Robert Sternin: You do a television show and every Monday, you start with nothing, and every Friday, you shoot it. But this, we've been in development for six years. You have time to really think about it.
Prudence Fraser: The rehearsal process is so luxurious. And the development process. In TV, you do it and boom, it's on.
Robert Sternin: But even after six years, you think the show is set. It's changed so much since [it started at] Pasadena [Playhouse]. Last week, we said, "Oh, that's a big laugh," and [director] Kirsten [Sanderson] said, "But what's the reality behind the moment?" The theater really does make you dig a little deeper and it's pretty enjoyable.
What do you think of the state of television today? The multicamera sitcom like The Nanny is extinct now.
Robert Sternin: I've gotten into the dramas like Homeland and Orange Is the New Black. I find that if I watch sitcoms, all I do is pick them apart.
Prudence Fraser: I think that everything is cyclical. The sitcom was dead in the eighties when we started, and then Cosby reinvigorated it. I think there's a chance the multicamera sitcom will come back. You take a show like Louie, that's multicamera, and it's almost The Honeymooners. It's an art form that will come around again. Today, it's not in vogue. The kids today are too hip to have a laugh track.