Holiday Inn Is Open for Business at Paper Mill Playhouse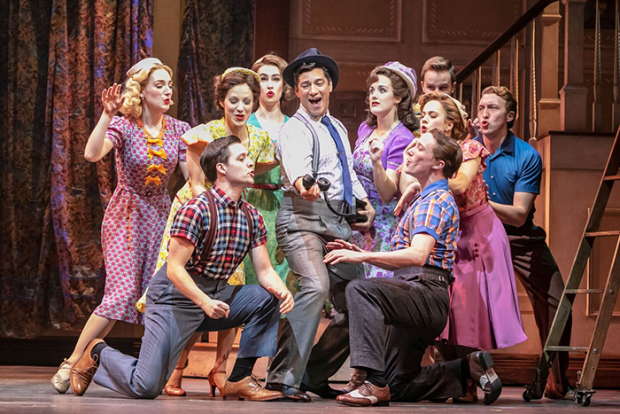 "If you're burdened down with trouble / If your nerves are wearing thin / Park your load down the road / And come to Holiday Inn." That about sums up the experience of Holiday Inn, the frothy Broadway musical that's made its way to Paper Mill Playhouse for the holiday season. Based on the 1942 film vehicle for crooner Bing Crosby and dancer Fred Astaire, it's a show that creates an idyllic version of 1946 America: a land without a hint of postwar fatigue and filled to the brim with joyful entertainers who tap and sing their way through every American holiday to the melodies of Irving Berlin. It's all showbiz fairy dust, but you can't deny the smile it brings to your face.
You could say the characters in the stage musical (adapted by Chad Hodge and director Gordon Greenberg) are even more benign than the ones in the original film. Rather than having Ted Hanover (Jeff Kready) steal the romantic affections of the beautiful Lila Dixon (a brief but excellent performance by Paige Faure) from his best friend and performing partner Jim Hardy (Nicholas Rodriguez), Ted just counters Jim's marriage proposal with a professional one. Jim dreams of trading in bright lights for simple living on a farm in Podunk (I mean Midville), Connecticut and wants his beloved Lila to join him (the dilapidated-turned-picturesque homestead is designed by Anna Louizos). Lila, not ready to give up her own dreams of stardom, leaves Jim alone in his bucolic money pit and hits the road with Ted. Fortunately, a lovely Midville schoolteacher named Linda Mason (Hayley Podschun) is his true perfect match — a Broadway-caliber singer-dancer who has also left ideas of stardom behind for the humble pleasures of the country. Of course, when Jim turns his farm into a holiday-only performance venue to earn money, Linda's talents catch a now-dance-partnerless Ted's eye and inspire him to steal her away to Hollywood.
The stakes are far from life-or-death, but that turns out to be perfectly fine for a production that hangs its hat on old-fashioned grade-A hoofing. The story is decoration for Denis Jones's spectacular choreography (the musical's sole Tony nomination during its Broadway run in the 2016-17 season) and the impressive ensemble stops the show more than once with it. The Christmas jump-roping in "Shaking the Blues Away" is particularly crowd-pleasing (garnished with the comedic stylings of Ann Harada as the estate's brusque handywoman, Louise), though Kready gets a stand-out Astaire moment of his own with the July 4th tap number "Song of Freedom."
Rodriguez lends a sultry voice to the role originated by Bing Crosby, but Podschun is the heart and humor of Jim and Linda's blossoming romance, tamping down the shticky 1940s Hollywood character embellishments (which were even more rampant on Broadway) and letting her beautiful soprano shine through. Add in some eye-catching Easter bonnets and a New Year's ball with all the frills upon it (dazzling costumes by Alejo Vietti), and your day at the theater is sure to be merry and bright.