Here Lies Love and Natasha, Pierre & the Great Comet of 1812 Break Lucille Lortel Award Records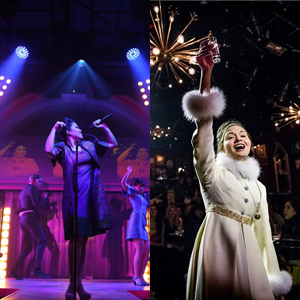 The Off-Broadway League has announced the nominees for the 29th Annual Lucille Lortel Awards, honoring the achievement of this season's off-Broadway productions. The Public Theater's Here Lies Love and Natasha, Pierre & the Great Comet of 1812 each received a record-breaking 11 nominations, surpassing the record of eight previously held by Urinetown and Abigail's Party.
The list of nominees joins the previously announced special award recipient, Broadway producer Robyn Goodman, who will be honored with the Lifetime Achievement Award. Richard Nelson has also been named the next inductee onto the Playwrights' Sidewalk in front of the Lucille Lortel Theatre. Nelson has had a long career both on and off Broadway and won a Lortel Award in 2000 for Outstanding Musical for James Joyce's The Dead.
The awards ceremony will be held on Sunday, May 4, at NYU Skirball Center, hosted by husband-and-wife actors Megan Mullally and Nick Offerman, who are currently starring in the New Group's off-Broadway production of Sharr White's Annapurna.
Take a look below for the complete list of this year's nominees.
Outstanding Play
Bad Jews
Produced by Roundabout Theatre Company
Written by Joshua Harmon
Domesticated
Produced by Lincoln Center Theater
Written by Bruce Norris
The Night Alive
Produced by Atlantic Theater Company
Written by Conor McPherson
The Open House
Produced by Signature Theatre
Written by Will Eno
Outstanding Musical
Fun Home
Produced by The Public Theater
Music by Jeanine Tesori, Book and Lyrics by Lisa Kron
Based on the Alison Bechdel book
Here Lies Love
Produced by The Public Theater
Concept and Lyrics by David Byrne, Music by David Byrne and Fatboy Slim
Additional Music by Tom Ganey and J Pardo
Natasha, Pierre & the Great Comet of 1812
Produced by Howard & Janet Kagan, Paula Marie Black, John Logan, Lisa Matlin, Daveed Frazier, Tom Smedes, Vertical Ent./Roman Gambourg/Lev Gelfer
Written by Dave Malloy
What's It All About
Produced by New York Theatre Workshop
Music by Burt Bacharach, Lyrics by Hal David and Others
Conceived by Kyle Riabko and David Lane Seltzer
Outstanding Revival
Good Person of Szechwan
Produced by The Public Theater and The Foundry Theatre
Written by Bertolt Brecht, Translation by John Willett
Hand to God
Produced by MCC Theater
Written by Robert Askins
London Wall
Produced by Mint Theater Company
Written by John van Druten
The Model Apartment
Produced by Primary Stages
Written by Donald Margulies
The Weir
Produced by The Irish Repertory Theatre
Written by Conor McPherson
Outstanding Solo Show
Buyer & Cellar
Produced by Darren Bagert, Dan Shaheen, Ted Snowdon, Daryl Roth, Martin Massman, Pat Flicker Addiss, Doug Nevin, Joan Raffe & Jhett Tolentino, Andrew Tobias, Rattlestick Playwrights Theater
Written by Jonathan Tolins
Performed by Michael Urie
How I Learned What I Learned
Produced by Signature Theatre
Written by August Wilson, Co-conceived with Todd Kreidler, in collaboration with Ruben-Santiago Hudson
Performed by Ruben Santiago-Hudson
Satchmo at the Waldorf
Produced by Long Wharf Theatre, Shakespeare and Company, Scott and Roxanne Bok, Roz and Jerry Meyer, Ronald Guttman, Shadowcatcher Entertainment, John LaMattina
Written by Terry Teachout
Performed by John Douglas Thompson
Outstanding Director
Rachel Chavkin, Natasha, Pierre & the Great Comet of 1812
Lear deBessonet, Good Person of Szechwan
Sam Gold, Fun Home
Alex Timbers, Here Lies Love
Moritz von Stuelpnagel, Hand to God
Outstanding Choreographer
Martha Clarke, Chéri
Marguerite Derricks, Heathers: The Musical
Danny Mefford, Fun Home
Annie-B Parson, Here Lies Love
Sonya Tayeh, Kung Fu
Outstanding Lead Actor in a Play
Steven Boyer, Hand to God
Jon DeVries, Regular Singing
Peter Friedman, The Open House
Taylor Mac, Good Person of Szechwan
Armando Riesco, The Happiest Song Plays Last
Outstanding Lead Actress in a Play
Tracee Chimo, Bad Jews
Diane Davis, The Model Apartment
Carolyn McCormick, The Open House
Laurie Metcalf, Domesticated
Andrus Nichols, Bedlam's Hamlet and Saint Joan
Outstanding Lead Actor in a Musical
Jeff Blumenkrantz, Murder for Two
Michael Cerveris, Fun Home
Jose Llana, Here Lies Love
Kyle Riabko, What's It All About
Conrad Ricamora, Here Lies Love
Outstanding Lead Actress in a Musical
Sydney Lucas, Fun Home
Ruthie Ann Miles, Here Lies Love
Alexandra Socha, Fun Home
Phillipa Soo, Natasha, Pierre & the Great Comet of 1812
Barrett Wilbert Weed, Heathers: The Musical
Outstanding Featured Actor in a Play
Carson Elrod, The Explorers Club
Philip Ettinger, Bad Jews
Russell G. Jones, The Call
Jeremy Shamos, Dinner With Friends
Fred Weller, Reasons to Be Happy
Outstanding Featured Actress in a Play
Hannah Bos, The Open House
Lynn Cohen, I Remember Mama
Lisa Kron, Good Person of Szechwan
Molly Ranson, Bad Jews
Sarah Stiles, Hand to God
Outstanding Featured Actor in a Musical
Heath Calvert, Nobody Loves You
Nick Choksi, Bunty Berman Presents…
Blake DeLong, Natasha, Pierre & the Great Comet of 1812
Noah Hinsdale, Fun Home
Lucas Steele, Natasha, Pierre & the Great Comet of 1812
Outstanding Featured Actress in a Musical
Uzo Aduba, Venice
Brittain Ashford, Natasha, Pierre & the Great Comet of 1812
Melody Butiu, Here Lies Love
Judy Kuhn, Fun Home
Shaina Taub, Natasha, Pierre and the Great Comet of 1812
Outstanding Scenic Design
Miriam Buether, Love and Information
David Korins, Here Lies Love
Mimi Lien, Natasha, Pierre & the Great Comet of 1812
Clint Ramos, Appropriate
Matt Saunders, Good Person of Szechwan
Outstanding Costume Design
Gabriel Berry and Andrea Hood, Love and Information
Clint Ramos, Here Lies Love
Anita Yavich, The Explorers Club
Paloma Young, Natasha, Pierre & the Great Comet of 1812
Catherine Zuber, Far From Heaven
Outstanding Lighting Design
Daniel Ionazzi, The Jacksonian
Bradley King, Natasha, Pierre & the Great Comet of 1812
Ben Stanton, Fun Home
Justin Townsend, Here Lies Love
Japhy Weideman, What's It All About
Outstanding Sound Design
M.L. Dogg and Cody Spencer, Here Lies Love
Clive Goodwin, What's It All About
Matt Hubbs, Natasha, Pierre & the Great Comet of 1812
Ryan Rumery, The Hatmaker's Wife
Christopher Shutt, Love and Information