Harvey Fierstein's Torch Song Returns to Broadway
The relationship of gay life to mainstream America oscillates between respectability and rage: the desire to assimilate weighed against the impulse to sashay away and build something entirely, fabulously different. Harvey Fierstein's Torch Song showcases both attitudes, although it leans toward boring respectability in the current Broadway revival at the Helen Hayes Theatre. Directed with minimal flair by Moisés Kaufman, it will likely interest the nostalgic and few others. This is unfortunate because Fierstein has written a piece that peers deep into the gay soul and discovers a universal struggle between love and fear.
Named Torch Song Trilogy during its original 1982 Broadway run (also at the Hayes), Torch Song is really three separate plays smooshed into a three-act format. Kaufman recognizes these individual components by placing the titles of each act over the stage in giant neon letters. Aesthetically, it makes sense for the first part, The International Stud, which takes place in various New York City gay bars in 1974. It opens in the dressing room occupied by Arnold (Michael Urie), a drag queen currently going by the name Virginia Ham. He's looking for a guy who knows what he wants, and he thinks he may have found him in Ed (Ward Horton).
Unfortunately for Arnold, Ed doesn't just want men: The second act, Fugue in a Nursery, takes place in the country home Ed shares with his girlfriend, Laurel (Roxanna Hope Radja). They've invited Arnold and his new lover, Alan (Michael Hsu Rosen), to spend the weekend. This thoroughly modern arrangement takes a turn toward retrograde when it seems that Ed is mostly interested in Alan (or making Arnold jealous through him).
The third act, Women and Children First! flashes forward to 1980. Arnold now lives with his foster son David (Jack DiFalco), a 15-year-old gay street kid who seems to be thriving in this new home. But when Arnold's disapproving mother (Mercedes Ruhl) comes to visit, the domestic harmony quickly devolves into trench warfare.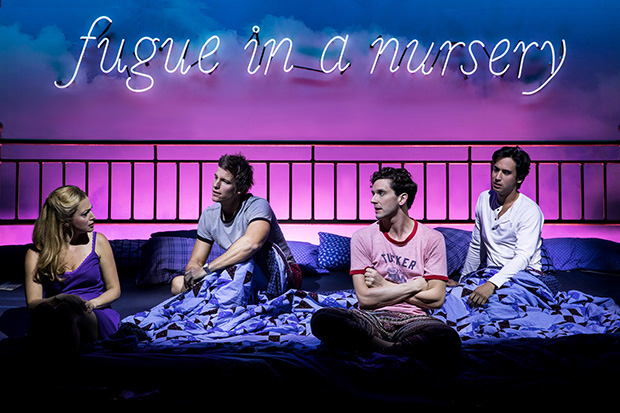 When this production played off-Broadway last year, I lamented that the neon placards hanging over the stage made Torch Song feel like an exhibit in a gay museum. That feels even truer a year later, and it need not be so, as proven by the revivals of The Boys in the Band and Angels in America that have both played on Broadway just this year. Following on the heels of those fresh takes on classic plays, Torch Song definitely feels like the Jiggly Caliente trash dress on the runway of gay drama.
Part of that comes with the hodgepodge of forms inherent in the piece: Act 1 is mostly confessional monologues, Act 2 is an expressionistic four-hander, and Act 3 is a naturalistic domestic drama. A director can tie these clashing pieces together with a bold vision, but that is exactly what is missing from Kaufman's good-enough staging. With the exception of one animated silhouette projected on the back wall in the opening moments, we never touch the smoky nightclub world from which this play derives its name.
While the Broadway transfer retains three of its off-Broadway designers, with suitable sets by David Zinn, period-appropriate costumes by Clint Ramos, and intimate lighting by David Lander (who impressively conveys the dark anonymity of a back room in a gay bar), the auditory world of Torch Song feels even thinner on Broadway (new sound design by John Gromada). Fierstein's script challenges a director to dream big, and the title promises something that is frustratingly never delivered in the two hours, 30 minutes it takes to perform this play: a real, live torch song.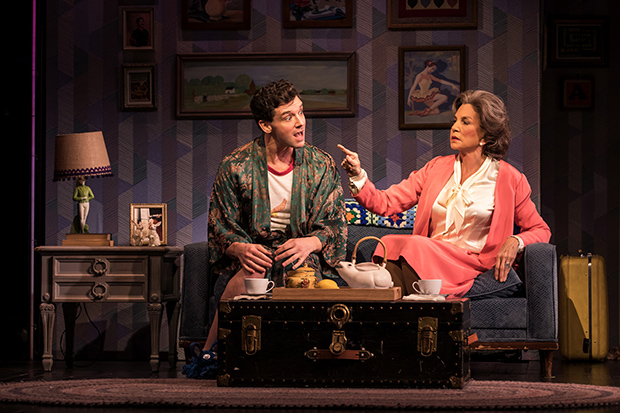 In lieu of one heartbreaking anthem of perseverance in the face of impossible love, we get plenty of fine performances to tell that story. Armed with his impeccable comic timing and Snagglepuss voice, Urie leads the cast with a big, gutsy portrayal of a man living on the pendulum between assimilation and rebellion. We notice the strong family resemblance when Ruehl's Mrs. Beckoff arrives in all her stubborn, pugnacious glory. Humor is the first line of defense for both mother and son, and it is passing into the third generation through DiFalco's aggressively sassy David, a young man who would rather be thought incorrigible than helpless. Wit comes in stealth attacks for Rosen's Alan, who is clearly a lot smarter than the vapid pretty-boy guise he puts forward. For Horton's scrupulously masculine Ed, it is something to be avoided entirely, lest he come off too queeny. In these characters, Fierstein has created an astute catalogue of gay male survival techniques, all of which are still recognizable.
If those well-crafted performances were in a riskier production, this revival of Torch Song might really grab hold of our collars and assert the play's lasting relevance. As it is, Torch Song feels like a curious antique gathering dust. This shouldn't be the case when so many gay lives around the world are still marked by the loneliness, rejection, and violence that Fiersten writes about. He also beautifully captures a shared persistence, evident today in the globally growing number of out-of-the-closet queers. In a way, we're all torch singers, crooning our truth in the face of huge obstacles.