Happy Talk Turns Susan Sarandon Into a Suburban Bloody Mary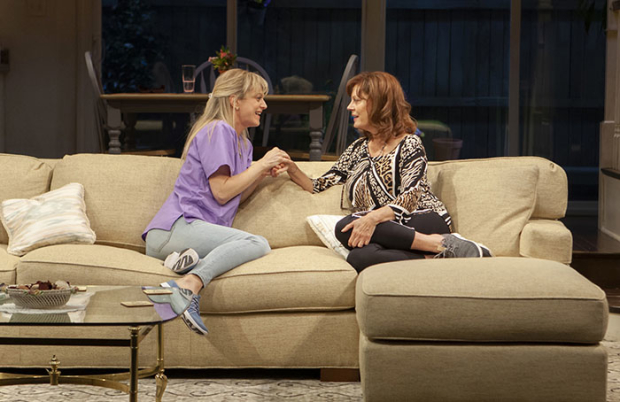 You can't spend a whole play hyping a racially insensitive production of South Pacific and never even give us a single tragic glimpse. That's only one of several missteps in Happy Talk, Jesse Eisenberg's latest contribution to the New Group following his 2015 production of The Spoils. Eisenberg correctly assumes that community-theater jokes are easy laughs in an off-Broadway theater, and you can't help but enjoy a bombastic character, played by Susan Sarandon, boasting about her own transcendent performance as Bloody Mary. But we're carefully taught for the duration of the play that when it comes to both comedy and characters, low-hanging fruit is all we're going to get.
Sarandon (in her first stage role since her 2009 Broadway turn in Exit the King) plays Lorraine, your typical small-town diva who believes she's God's gift to the Jewish Community Center drama department — and she performs it with all the Irina Arkadina-meets-Momma Rose egotism you could want. From her well-furnished suburban home decorated with posters of white-bread musicals like Joseph and the Amazing Technicolor Dreamcoat and The Pajama Game (set design by Derek McLane), she spouts tone-deaf comments ("they're what make me possible," she says about her South Pacific castmates) while talking breathlessly at her husband, Bill (Daniel Oreskes), who rarely looks up from his Civil War book to acknowledge her. She's floating in a world of community-theater celebrity, and he's in the depths of a battle with multiple sclerosis. Naturally, there's a bit of an emotional disconnect, as there is between her and her estranged daughter, Jenny (Tedra Millan in a well-acted, one-scene cameo) — a parody of a woke young woman who prefers the nonbinary name Darby, references Noam Chomsky, and isn't shy about expressing disdain for her self-centered mother.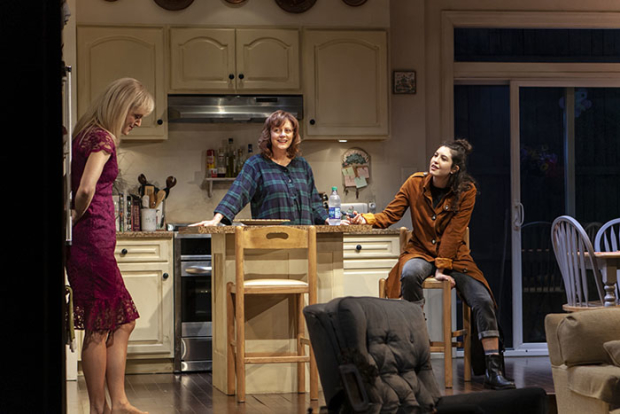 If only we had reason to care about these relationships. Eisenberg writes the majority of his play like a drawing-room comedy and uses that as leave to design Lorraine as the perpetual punch line to a single joke. We never even attempt to unpack Lorraine and Bill's marriage, or their relationship with Jenny. Those stay on the back burner while we follow Lorraine's developing bond with Ljuba (Marin Ireland), the perky Serbian home aid hired to take care of both Bill and Lorraine's elderly mother (we never meet her but she's represented by the nagging sound of a buzzer — sound design by Rob Milburn and Michael Bodeen).
In keeping with the South Pacific theme, Lorraine assumes the uncomfortable role of Ljuba's American savior, promising to find the undocumented caretaker an American husband to facilitate her citizenship so that her daughter, who still lives in Serbia, can come to the States. The lucky winner of Ljuba's hand (and her life savings of $15,000) is the JCC's Lieutenant Cable, the flamboyant, gay Ronny (an entertaining Nico Santos), who starts making regular visits to the house to build a photo history with his future bride.
At this point, it seems Happy Talk is about to venture into the tortured depths of hot-button immigration issues, but under Scott Elliott's direction, it mostly remains the same snappy comedy it was before — though with a brief respite for Lorraine to connect the dots between South Pacific's foolish portrayal of the Tonkinese Bloody Mary and Ljuba's similarly caricatured behavior (Ljuba apparently had no idea her accent didn't sound authentically American). It's a revelation that clearly wants to pull the lid off something, but exposing an unhealthy trope that you yourself are exploiting for laughs does not earn profundity points. Ireland is a reliably brilliant actor, but even she struggles to mine depth from these shallow waters, which clarify as much about the immigrant experience as "Dites-Moi" does about life in Polynesia.
Comedy comes to a screeching halt when Happy Talk takes a sharp left turn in its final moments (the details of which I'll refrain from spoiling). Shock is a valuable dramatic tool, but not independent from genuine insight and a fundamental shift in perspective. Your heart might beat a little faster for a moment, but after the dust settles, you'll just be scratching your head.