Good Grief Imagines an Untimely Death in Bucks County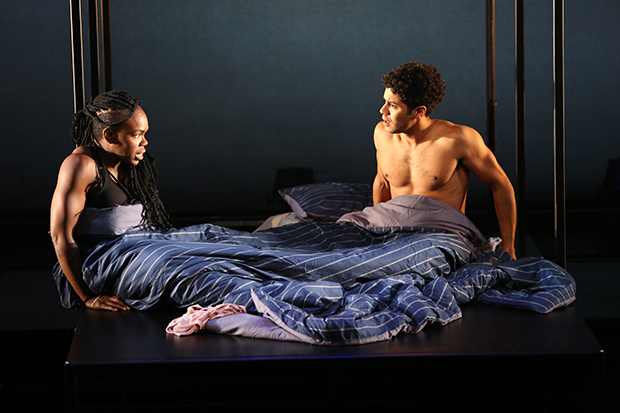 Death is a part of every life, but it still comes as a shock, especially when it arrives too soon. Ngozi Anyanwu's Good Grief is the story of a man killed in a car accident just as his adult life is beginning. It is told entirely through the memories of his best friend (possibly girlfriend), who openly admits to us that her recollections may not be as reliable as they appear. Anyanwu, who also stars in this New York debut at the Vineyard Theatre, has written a sensitive, if occasionally saggy exploration of grief and regret — and how those emotions shape our memories of the dead.
The deceased in this story is MJ (the irresistibly charming Ian Quinlan). He's been close to Nkechi (Anyanwu) since they were kids. Their friendship has evolved over the years to include benefits, but it's never been given an official label. And with MJ's death, it never will. Memories replay in Nkechi's mind of the times they were together, and the outpouring of grief following his death. "No God would make me bury my son," sobs MJ's mom (Lisa Ramirez) after the funeral. At least, she cries until Nkechi restarts the scene to show us how it really went down: Awkward silence punctuated by a stiff pleasantry. "It was a really nice service," Nkechi says to the bereft mother, who forces a smile and walks away. Anyanwu's unrestrained and imaginative style helps us to understand the chasm between life as it happened, and life as we wish it happened. It also provides the basis for rich performances.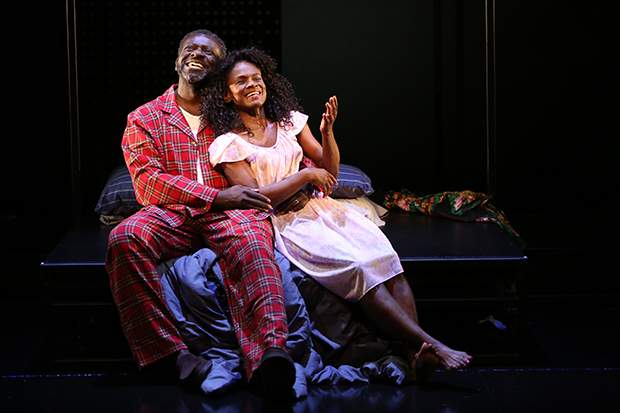 Oberon K.A. Adjepong portrays Nkechi's Nigerian immigrant father with teeth-sucking impatience. Shortly after MJ's death, he ever-so-sensitively decides that it is time for a driving lesson. "If you learn to drive I will get you a car," he coaxes his daughter, like a Nigerian Rod Roddy. He doesn't hesitate to show his disappointment when she doesn't take him up on the offer. Despite his gruffness, he shares genuine warmth with Nkechi's mom (Patrice Johnson Chevannes), the kind that can only be kindled by shared struggle. "We have suffered," he says with a big grin as he cuddles his wife. It's a bizarre word to smile through, but the thought is completely understandable: These two immigrants fought hard for their suburban American lives, so can we really begrudge mom for shopping at Whole Foods, or dad for screaming at the TV when watching his favorite football team (the Eagles, naturally)?
In a bit of casting wizardry, honest-to-God former Eagles cornerback Nnamdi Asomugha plays their son, a character simply named Bro in the program. He offers palpable fraternal love with a side of wisdom, all washed down with a forty. Asomugha mixes strength, silliness, and sensitivity in his portrayal of Nkechi's brother for a relationship that feels very authentic. Anyanwu has developed highly specific relationships with all of her characters, delivering a performance that is impressively unselfconscious for an author starring in her own play.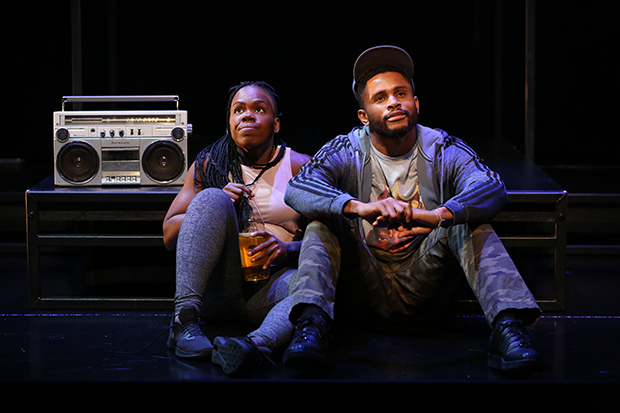 Director Awoye Timpo stages these nuanced performances within an occasionally clunky production. Jason Ardizzone-West's set has all the sterile whimsy of a modernist housing project: It's more suburban Paris than suburban Philly. Since the scenes come entirely from Nkechi's memory, we understand that the scenery need not be completely realistic; but it's depressing to imagine that this barren scaffolding represents the inside of someone's mind. Timpo bafflingly stages scenes behind the caging on the upper tier, forcing the first couple of rows to strain to see the action. Oona Curley at least mounts strips of light on this useless metal extravagance: They illuminate when Nkechi kisses MJ, like synapses firing through the brain, creating the spark of an indelible memory.
Unfortunately, Good Grief is unlikely to leave such a lasting impression. While heartfelt and well-performed, it is hamstrung by a lumbering production. It also doesn't say anything particularly revelatory about grief. A final scene that attempts to tie everything we've seen to ancient mythology feels more like a clever gimmick than a breathtaking conclusion. It's good, but not great.