God Said This Confronts Mortality and a Shrouded Family Legacy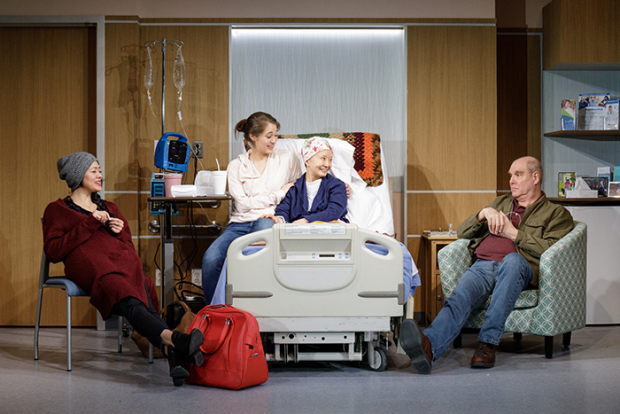 Leah Nanako Winkler takes great pains to eschew stereotypes in her new family play God Said This, now making its New York debut with Primary Stages at Cherry Lane Theatre. A weed-smoking Kentuckian can also be an avid reader; a self-absorbed city slicker can also be a concerned daughter; a petite Japanese immigrant can be a beacon of strength; and her burly husband bred on Southern machismo can be an exemplar of fragility. What do all of these paradoxes add up to? The answer is unclear. Of course, human beings don't need a reason to contradict their assumed "type," but with so much time spent driving home what these characters are not, we never quite get the chance to learn what, or rather who, they are.
That's presumably the purpose of a dysfunctional family drama: Throw incompatible relatives into a confined space and leave with a clearer picture of a family's circuitry. This particular family orbits around Masako (Ako, clinging to a sunny disposition as her primary matriarchal quality), the aforementioned petite Japanese woman, who finds herself in a Kentucky hospital awaiting her next round of chemotherapy (set designer Arnulfo Maldonado adds family photos and a few other homey touches to Masako's otherwise regulation hospital room).
The event morbidly inspires the first reunion in a biblical seven years between her recovering alcoholic husband James (Jay Patterson, who charms with his Southern drawl and inadvertent humor) and their two daughters, Sophie (Emma Kikue) and Hiro (Satomi Blair). It's mostly a reunion for the prodigal daughter Hiro (dressed by Jessica Pabst like a Brooklyn hipster), who — unlike her sister, who stayed in Kentucky, married young, and became a born-again Christian — is living her single-lady life in bustling New York City as an "account director, with, like, assistants and everything." Sophie leans on Scripture as she attends to her mother's physical needs. Meanwhile, Hiro distracts herself with an old school friend, John (Tom Coiner, containing multitudes as a stoner, scholar, and attentive single parent), with whom she can spend her lonely country nights getting high and avoiding her father, whose olive branch of peace is an invitation to look at his rock collection.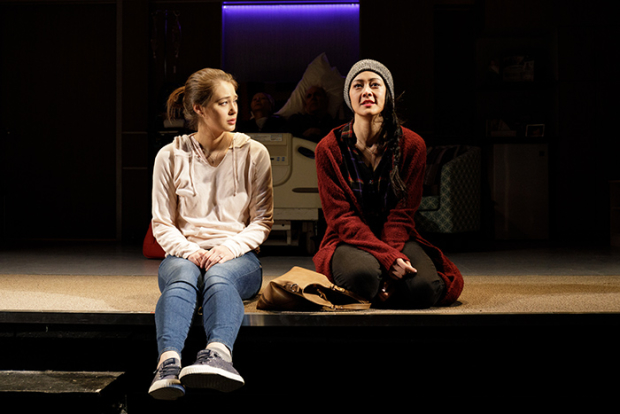 With everybody in one place collectively orbiting Masako's mortality, questions of legacy rise to the surface: How did James's alcoholism set the course for his daughters' lives? How does becoming a parent alter your values? How does cultural heritage define your story? These are all rich and complex questions to ask, but the answers we get are disappointingly trivial. Hiro and Sophie come to the mind-blowing realization that their parents were a couple before they had children, and aside from the fact that it wasn't an army romance, the story we get detailing James and Masako's meeting is dramatically sparse. John, meanwhile, forces Hiro to look to the future as he dreams about the picturesque farmland he'll one day own and pass down to his son — a thought that unconvincingly shocks Hiro into planning mode for her own family's uncertain future (including a clumsy comparison between Hiro's aversion to parenthood and Sophie's briefly mentioned fertility issues).
The scenes between John and Hiro are certainly the most entertaining (Coiner and Blair are both very good at deadpan humor), but Morgan Gould's direction makes the two of them more of a punchline than a genuine part of the broader story. A predictable romance is wholeheartedly rejected by making them a platonic-buddy comedy (John repeatedly confirms their friend status), but neither Winkler nor Gould ever choose a different direction for their relationship to grow — something all budding relationships need, not just romantic ones. John is similarly painted as one big surprising subversion of a cliché, but the clarification of his character stops before we actually get to his humanity and learn what made him that way.
The same goes for the others: Masako, whose reasons for coming to America in the first place are never explained; James, whose struggle with alcoholism is never fully mined; Sophie, whose path to Christianity remains foggy; and Hiro, whose life-changing decision to leave Kentucky is essentially taken for granted. Winkler's point is clear: Identity is complicated, layered, and never quite what you expect — especially when familial expectations are thrown into the mix — and digging into those layers can be both enriching and enlightening. It's disappointing to leave the theater confident that such depth is there and knowing that we were never given the opportunity to explore it.