First Look at World Premiere of Eve's Song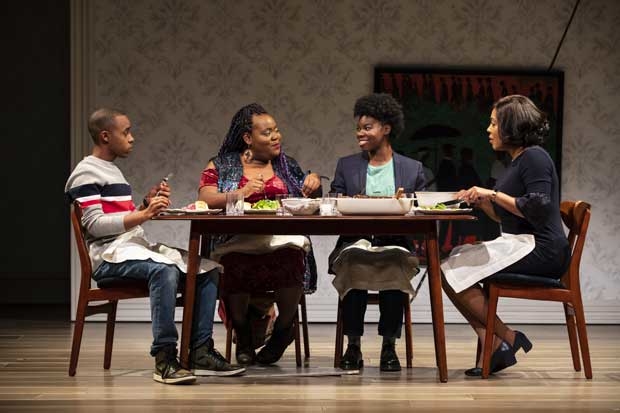 The Public Theater has released rehearsal photos from their production of Patricia Ione Lloyd's Eve's Song ahead of an opening night set for November 7. Jo Bonney directs the production, which runs through December 9 at the Public's LuEsther Hall.
The new drama is described as follows: "In the aftermath of a messy divorce and a daughter coming out as queer, Deborah is trying to keep things normal at home. But as black people continue to be killed beyond their four walls, the outside finds its way in, blurring the lines between family dynamics, politics, and the spirit world. How long can family dinners keep the dangers outside at bay?"
Eve's Song features De'Adre Aziza (Deborah), Karl Green (Mark), Ashley D. Kelley (Upendo), Vernice Miller (Spirit Woman), Kadijah Raquel (Lauren), Rachel Watson-Jih (Spirit Woman), and Tamara M. Williams (Spirit Woman).
The production features scenic design by Riccardo Hernandez, costume design by Emilio Sosa, lighting design by Lap Chi Chu, sound design by Elisheba Ittoop, projection design by Hana S. Kim, and movement direction by Stefanie Batten Bland.