Final Bow: The King and I's Ashley Park Says One Last Goodnight to Tuptim
After over 500 performances, Bartlett Sher's Tony-winning revival of The King and I takes its final curtain call this Sunday, June 26, at the Vivian Beaumont Theatre. Ashley Park has been with the production since day one as Tuptim, reluctant new wife of the titular King and Lun Tha's secret lover. Onstage she carries one of Rodgers and Hammerstein's bleakest plot lines, but her explosively upbeat energy offstage would never suggest any of the turmoil she has to live eight shows a week. Before she bids her 51-person backstage village farewell, she took a few minutes to reflect on her time in Siam, including a particularly memorable Halloween and a run-in with Michelle Obama's Secret Service.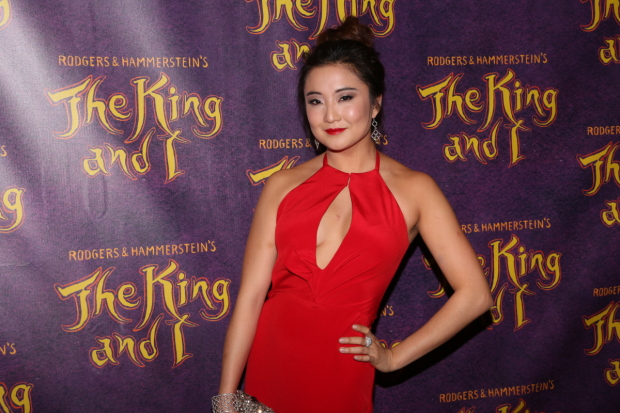 1. What is your favorite line that you get to say/sing?
These days my favorite thing to sing is "I will love being loved by you" [from "I Have Dreamed"]. The very end of "We Kiss in a Shadow" too. "Behold and believe what you see. Behold how my lover loves me." Singing Rodgers and Hammerstein lyrics — there's nothing like it.
2. Everyone loves inside jokes. What is the best one from your show?
Paul Nakauchi, he plays the Kralahome — the guy with his nipples showing the whole time — and he's amazing. But he's always having to run onstage and deliver news and so sometimes he'll be so out of breath or a line gets mixed up or dropped and we call them Naka-oopsies.
3. Every show experiences technical difficulties. What was the worst technical difficulty experienced during your show and how was it handled?
You know what's funny? Everyone says, "Oh my God that boat must have been crazy to tech." But actually the boat is moved by people underneath it. The actual moving of the scenery is done by people so we've never had to stop for that. The only time we almost had to stop the show was— You know those vines? In "We Kiss in a Shadow" I have these tassels [on my costume] and during previews, I completely got tangled in a vine. I was running towards Conrad [Ricamora] and all of a sudden I was like thrown backwards. We had to do the whole scene with me trying to get myself down from this vine.
4. What was the most "interesting" present someone gave you at the stage door?
A hometown friend who surprised me after watching the show.
5. Who is the coolest person that came to see your show? (You can't say your family!)
Michelle Obama came and that was fun. My first entrance is from the house, so I was up there with my dresser about to come in and I saw probably fifteen secret service guys in suits. So I'm about to go on and I'm standing between these two secret service guys and was joking with one of them in my Tuptim garb and was like, "Oh my God, who is here? Someone really important huh?" He's like, "Yeah, VIP." So after my first scene and I was about to get changed and an usher came down to the dressing room area to get water so I went to him and I acted as if I already knew who was there. I was like, "Oh my God that VIP. Can you believe it?" And he was like, "Yeah, Michelle Obama." So I was the first one to know. They didn't tell anyone in the cast. They didn't even tell Bart [Sher]. I completely tricked this poor usher.
6. What is your favorite memory with your cast of kids?
The most epic day was Halloween. All the kids dressed up and trick-or-treated. I was dressed as a flapper and Kelli was with her kids. And the boys ensemble dressing room — they are literally in a locker room — but they set up this haunted house. It was the most epic, scary thing ever. They completely transformed their room. The kids honestly — that's another thing that keeps me very happy and balanced. They're some of my best friends. I'm very close with the princesses. They have a spa and they take walk-in appointments. They're pretty good, too.
7. How would you describe each of your Annas (Kelli O'Hara and Marin Mazzie)?
Kelli: You know how people will say, "Oh that person is as beautiful on the inside as they are on the outside?" Well Kelli is one of the few people I know who can fully and truly be described as such. A profoundly generous scene partner — an honest and supportive friend — a rarity in that her humility, humor, and work ethic match her talent.
Marin: Marin is the sh*t. She is sexy and cool in ways that I didn't even know existed. There aren't words to describe the strength and spirit and warmth she exudes. She is as dependable and present onstage as she is in real life. A true powerhouse.
8. How do you refresh yourself after playing such a sad love story every night?
I had a hard time with that at first. I carried Tuptim in my body. I started to feel physical tension a lot, so I asked my ENT, "What's going on? Why am I feeling this way?" Because I'm such a light person in real life. So he was like, "At the end of each night, after you take out your pin curls and put on your normal clothes, say, 'Hi, Ashley. Goodnight Tuptim.'" It sounds so stupid, but taking the pressure off of performing her — really letting myself one hundred percent be her when I'm her onstage and then one hundred percent let go of her as soon as I step off the stage.
9. What is your favorite Rodgers and Hammerstein song to sing?
Well, my two favorite songs to sing in the shower that I always do as warmup for the show are "Mr. Snow" [from Carousel] and "I Could've Danced All Night," [which] isn't Rodgers and Hammerstein, but I also love My Fair Lady. I think "I Have Dreamed" and "If I Loved You" are my favorite Rodgers and Hammerstein love ballads.
10. What is your next dream Rodgers and Hammerstein role?
I definitely would want to try both Julie Jordan and Carrie Pipperidge. The complexity of those two women — that's the thing about Rodgers and Hammerstein. They're just so ahead of their time. These women are so smart and strong passionate…and obviously they have their flaws. And Tuptim is in a situation I would never be in. But it's so crazy how I feel like I can really explore parts of myself in playing someone like Tuptim and Julie or Carrie. So those two are definitely top of my list in terms of Rodgers and Hammerstein.