Final Bow: Nick Westrate Is Packing Up His Kimono and Going Home From Broadway's Casa Valentina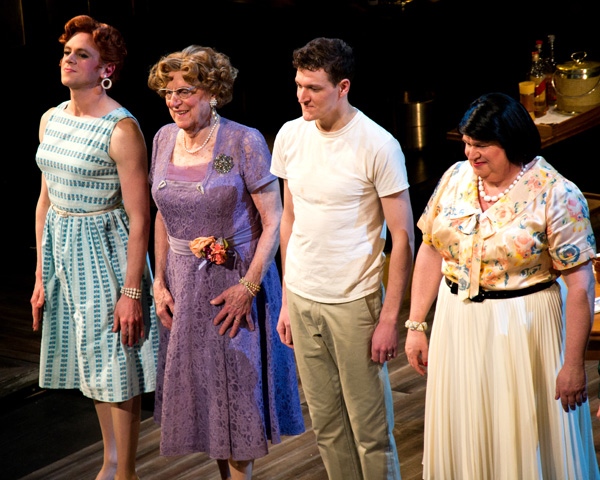 Every show ends sometime (unless you're Phantom), so before the cast takes its final bow, there are a few things we want to know.
Broadway has long played host to splashy musicals about glittering drag queens. Harvey Fierstein's Casa Valentina is not a musical, nor is its cross-dressing particularly flamboyant, making it something of a rarity on the main stem. Set in the Chevalier d'Eon, a Catskills resort for men who dress like women, Casa Valentina is about a less-fancy type of girl, the type who prefers to look like she's just standing up from a bridge table, rather than stepping off a stage in Vegas. Also, all of them are straight…or are they? When the politically minded Charlotte (Reed Birney) arrives from the West Coast to turn the Chevalier d'Eon into an advocacy group, many of the guests bristle. When Charlotte insists that this organization should necessarily exclude homosexuals, some openly revolt.
Drama Desk Award winner Nick Westrate plays Gloria, the first guest to really challenge Charlotte's assertion that the Chevalier d'Eon should be for heterosexuals only. In a blistering confrontation with resort proprietor Valentina (Patrick Page), Gloria questions the validity of rigid categories for gender and sexuality (an ironic conversation between two men in dresses and wigs).
Casa Valentina marks Westrate's Broadway debut in earnest (he understudied in the 2007 revival of A Moon for the Misbegotten). He spoke with TheaterMania about the technical difficulties, inside jokes, and vaguely inappropriate stage-door gifts that accompanied this incredible journey.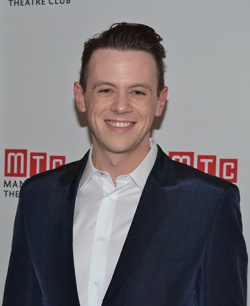 1. What is your favorite line that you delivered?
"How was I to know there were rooms in the basement?"
2. Everyone loves inside jokes. So tell us…
a. What is the best one from your show?
It would take me too long to explain, but my cast will enjoy me writing: "A SUMMER…"
b. Since there probably is one — what is the punch line of your cast's most unprintable inside joke?
Oh, I had better not answer this…It's a family show, after all.
3. Every show experiences technical difficulties. What was the worst technical difficulty experienced during your show and how was it handled?
When one of the posts from the WigWam [the resort's cabaret stage] wouldn't go back into the floor, and Gabe Ebert and Mare Winningham had to do a scene with a pole going up and down from the floor. Gabe was tempted to say, "Hey lady, is it just me or is there a pole moving up and down in your kitchen?" — but they just carried on like the consummate professionals they are.
4. What was the most "interesting" present someone gave you at the stage door?
A free massage coupon in the audience member's private home…Gloria gets folks excited.
5. Who is the coolest person who came to see your show? (You can't say your family!)
Constance Shulman, who plays my favorite character, Yoga Jones, on Orange Is the New Black. (She's also married to Reed Birney.)
6. How much have you learned about women's clothes, hair, and makeup over the last several months?
A whole lot.
7. Be completely honest: Who wears it best onstage?
Mare Winningham and Lisa Emery. Genuine girls do it the best.
8. Is there anything you would steal from your wardrobe and why?
The kimono I wear in the opening moments is mine…so I will be stealing that back.
9. What was the most memorable audience reaction you encountered over the run?
One time I got exit applause near the end of Act One. Tom McGowan told me I was insufferable for days after.
10. What will you do the moment the curtain comes down on the final performance of Casa Valentina?
I will embrace John Cullum who I stand next to in the bow. It has been one of the greatest honors of my life to work with this cast, but sharing the stage with him has been a special treat.