Final Bow: Last Words From Henry VIII's First Three Wives as Wolf Hall Ends its Broadway Run
Lucy Briers, Leah Brotherhead, and Tony nominee Lydia Leonard star in Broadway's Wolf Hall: Parts One & Two as Katherine of Aragon, Jane Seymour, and Anne Boleyn, the first three wives of the famously hard-to-please English monarch Henry VIII. In the play, which follows Thomas Cromwell's rise to become Henry's right-hand man, the trio of women are pitted against one another as each tries to gain (or maintain) the position of queen — while keeping a firm hold on her head.
In real life, however, Briers, Brotherhead, and Leonard are good friends. Since 2013, when all three starred in the Royal Shakespeare Company's Stratford-upon-Avon world premiere of Wolf Hall, they've developed a rapport that includes high-stakes bowling, a common distaste for Henry's "sh*t," and backstage "cigarette" breaks. As the women of Wolf Hall reach the end of their two-year association with the show (incidentally, a longer run than King Henry had with several of his wives ), TheaterMania held court with the queenly trinity as they took their final bows.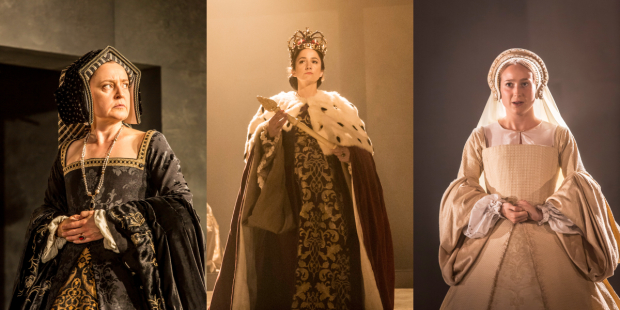 1. What is your favorite line that you delivered?
Lydia Leonard: "I have only a little neck; it will be the work of a moment."
2. Everyone loves inside jokes. What is the best one from your show?
Lydia Leonard: Katherine of Aragon, Jane Seymour, and I always have a fake cigarette break as we wait to go on for the execution.
3. Every show experiences technical difficulties. What was the worst technical difficulty experienced during your show and how was it handled?
Leah Brotherhead: I have an extremely quick change from Lady Worcester into Jane Seymour in which the big sleeves of my dress entangled themselves. I couldn't get my arms out of my sleeves and was going to have to go on without any hands! We ripped the sleeves just in time, and I went on still wearing [Lady Worcester's] jewelry. Close call!
4. What was the most "interesting" present someone gave you at the stage door?
Lucy Briers: I'm allergic to champagne and wine, so my agent usually sends me flowers for an opening night. This time she sent me a beautiful orchid, which has graced my apartment's sitting room ever since.
5. Who is the coolest person who came to see your show? (You can't say family!)
Lydia Leonard: Angela Lansbury!
6. Which of your costumes is your favorite and why?
Leah Brotherhead: My nightgown. It's always such a welcome break from a farthingale and a huge dress that engulfs anyone who tries to sit next to you backstage.
7. Which reference in the play do American audiences consistently miss?
Lucy Briers: American audiences always miss any references to Putney in West London. In the past it was a slum area, and now it is gentrified and very expensive. So, whenever Cromwell mentions how awful it is, a London audience found it funny.
8. What is your most memorable marathon theater-going experience?
Lucy Briers: The RSC production of Nicholas Nickleby. I was twelve years old and was mesmerized for eight hours of theater. Roger Rees has been one of my favorite actors ever since.
9. Which of the three of you (Lucy, Leah, and Lydia) would win in a game of Tudor Jeopardy?
Leah Brotherhead: Unfortunately, I think I would come out last! We've been doing this show for about two years and the research we did at the start of rehearsals seems a long time ago now! We went bowling as a cast the other week and Lucy and Lydia sure do like to win! I'd probably bow out and let them go head to head.
10. Which of you (Lucy, Leah, and Lydia) would survive the longest as wife of Henry VIII?
Leah Brotherhead: We are strong modern women! I don't think any of us would put up with his sh*t!