Final Bow: Josh Radnor Looks Back on Five Months of Gasps, Spit, and Fennel Salad in Disgraced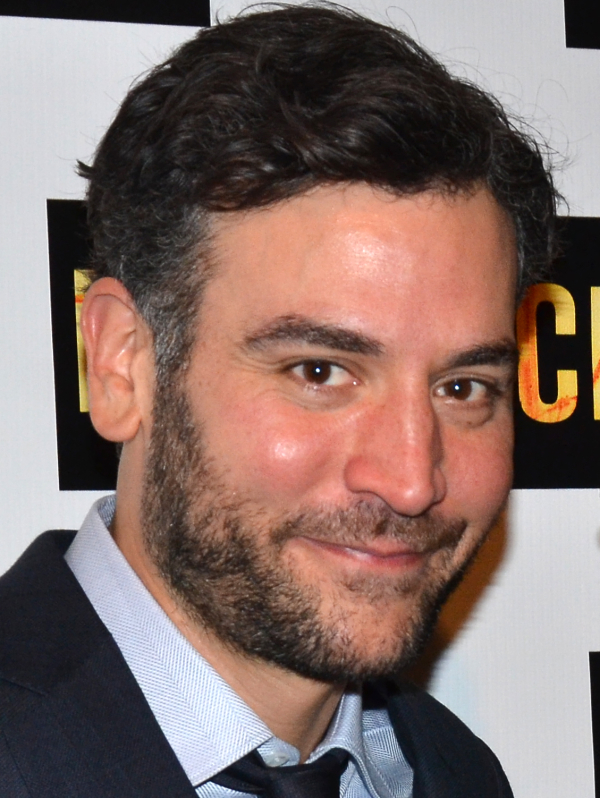 A few short months after ending his nine-season run as bachelor-searching-for-a-wife Ted Mosby on the CBS series How I Met Your Mother, Josh Radnor dove headfirst back to Broadway in Ayad Akhtar's Pulitzer Prize-winning drama Disgraced. It wasn't Radnor's first time on the Great White Way — he replaced Jason Biggs as Benjamin Braddock in the stage adaptation of The Graduate in 2002 — but this role was far more mature than both Benjamin and Ted.
In Kimberly Senior's production of Disgraced, Radnor plays Isaac, a Jewish art dealer who finds himself immersed in a pleasant dinner conversation along with Muslim-American lawyer Amir Kapoor (Hari Dhillon), Amir's artist wife Emily (Gretchen Mol), and Isaac's African-American lawyer wife, Jori (Karen Pittman), that turns into a violent, life-altering discourse about faith, terrorism, and religious pride.
It seems tame when described, but Disgraced, which ends its run March 1, has been known to elicit gasps and a whole lot more from its audience at the Lyceum Theatre. TheaterMania caught up with Radnor (who will star in the musical She Loves Me on Broadway in 2016) to discuss what it was about this provocative play that spoke to him, both as a human and an actor.
1. What is your favorite line that you delivered?
I have a bunch (embarrassment of riches):
— "Your Kraft Macaroni and Cheese?!"
— "They say an angel named Marami came down — in upstate New York — and talked to Joseph Smith."
— "Look, every religion's got idiosyncrasies. My ancestors didn't like lobster — who doesn't like lobster?! What's your point?"
— "There's not a lot to understand. They like her, they don't like him."
— ""F—king closet jihadist!"
(I also like getting to say the word "antipathy.")
2. Everyone loves inside jokes. What is the best one from your show? What is the punch line of an unprintable inside joke?
Karen [Pittman] and I always have a lot of fun offstage before we enter for the dinner-party scene. We sing songs to each other, and kind of flirt and bicker like a married couple. The best insider thing about the show isn't a joke, but a little tradition we started. Before the first preview we all huddled up to say "break a leg" or whatever. And I suggested we each say one or two things we were grateful for. Everyone thought it was so nice that we've continued to do it before every show. It's been so great, has really helped us all stay in a grateful mindset around this job (which, admittedly, isn't that hard, but it's nice to give voice to it).
3. Every show experiences technical difficulties. What was the worst technical difficulty experienced during your show and how was it handled?
Gretchen Mol is perfect in every way except for her abnormally small windpipe. A few times her fake port went down the wrong way and she had to cough out a couple of her lines. She somehow managed through it all to still be charming.
4. What was the most "interesting" present someone gave you at the stage door?
Honestly, I've received some of the nicest letters from people since I've been doing the play. Some are about the play but a lot are about the two movies I directed and what they've meant to people. I've been incredibly moved by many of them. And a girl from Japan sent me this gorgeous cut-out thing that's kind of hard to describe (even though I'm staring at it right now…) Oh, and last night someone sent me a full-on painting.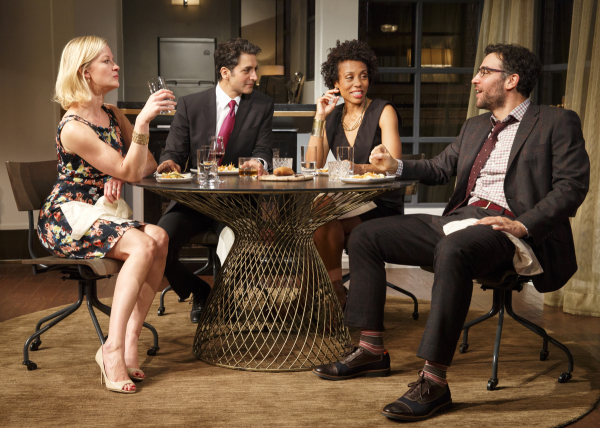 5. Who is the coolest person who came to see your show? (You can't say family!)
Four-way tie: Woody Allen, Shirley MacLaine, Wallace Shawn, and Hillary Clinton.
6. You'd been away from the New York stage for several years before taking on Disgraced. What was it about the piece that attracted you to it?
I read Ayad's novel American Dervish a few years ago and was blown away by it. I reached out to him — not even knowing he was also a playwright — and we became friends. So when your friend wants you to play a great part in the Broadway debut of his Pulitzer Prize-winning play you don't have to think about it too long. It's really everything I ever wanted to do in the theater: sharp, culturally relevant material written by a playwright I deeply admire, an amazing director and top-notch cast, expert designers, a great theater and engaged audiences…I mean, it really doesn't get any better than that.
7. What is the craziest audience reaction you experienced during the run?
There are a lot of gasps throughout, which is always fun for us. My favorite was a teenaged boy who was sitting in the front row house-left with his mom, and when Jory walked in on Isaac and Emily he shouted, "She caught him, she caught him!!" I had to really fight to keep a straight face. But that's what's so great about this play — it elicits audible reactions from people who probably came to the theater intending to stay quiet.
8. This play looks like it takes a lot out of you and your cast members. How do you unwind after the dinner scene?
Well, first I (spoiler alert:) wipe the spit off my face. It's a three-step process. I try to be pretty thorough, depending on how bad Hari let me have it. I sometimes feel like the audience is having a much more harrowing experience than we are. We're in a groove with the play, we're conditioned to do it every night, whereas the audience can sometimes feel like they've been punched in the gut. A lot of people just look like they need a drink afterwards.
9. What are you eating onstage?
A pretty bland combination of cucumbers, chick peas, fennel, carrots, and artichokes. Funny how we all have to eat it and go "ooooh, this is amazing," 'cause it's, you know, not. If I never eat another cucumber-chick pea-fennel-carrot-artichoke salad again in my life I'll be OK with that.
10. How hard will it be to switch yourself from dramatic mode to musical-theater star for She Loves Me? Have you sung before?
I'll have a nice long break in between the two — She Loves Me isn't until 2016. I don't think the transition will be too hard. Every project demands something different of you and I just try to step into whatever's being required of me. Obviously the two pieces are wildly different. It's exciting for me to go from one thing to another, especially after doing a television show and playing one character for so long. I started acting in high school by doing musicals, we had singing for three years in grad acting at NYU, I did a production of Company out in L.A. and a bunch of musical workshops and readings and benefits over the years. So yes, I've sung before. Don't worry!