Eve's Song Is a Haunting World Premiere From Patricia Ione Lloyd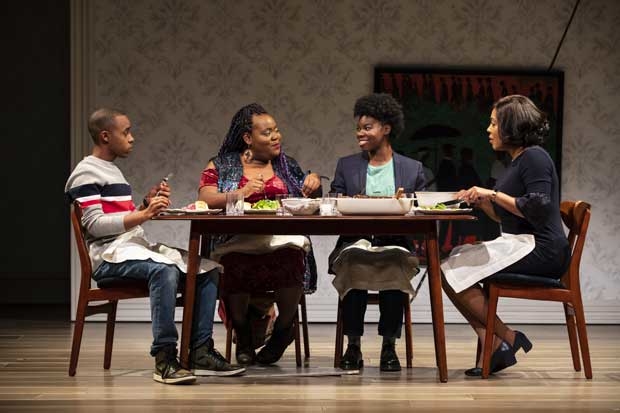 The new play Eve's Song, now playing at the Public Theater, begins as so many others do, with an upper-middle-class family sitting down to dinner. Deborah (De'Adre Aziza) and her children Lauren (Kadijah Raquel) and Mark (Karl Green) methodically unfurl their napkins with a flourish. They discuss their day. Brother and sister engage in playful banter. But there's something off, something simmering below the surface. It's a terror that's simultaneously localized to the Johnson family and the world at large.
Eve's Song marks the debut of playwright Patricia Ione Lloyd and tackles a lot of subjects: being black in 2018 America, being queer and black in 2018 America, being a queer, black woman in 2018 America, the very real violence and danger therein, first love, divorce, and the ancestral spirit world, to name a few. And it's a comedy — a very funny one at that. It'll also leave you shaken.
Deborah is the vice president of acquisitions for a big company. "I have always been meticulous and impeccable," she says about her work and life. "I have always excelled." When you're an African-American woman in a position of power, you have to be meticulous. And you have to be extra careful.
Well aware that wealth and status don't provide barriers when it comes to violence, Deborah, newly divorced, is worried about her kids. Mark, 14, is a very smart, very quiet kid. She doesn't know he's spending his nights watching news reports about the deaths of young black men like him. Meanwhile, Lauren, 19, has recently come out and started dating Upendo (Ashley D. Kelley), a socially woke activist who not only introduces Lauren to a world of fighting for justice, but also awakens her to the possibilities of finding her inner self.
As Deborah begins to feel like her life is splintering to pieces, cracks in the walls and floorboards of her home start to appear. So do the spirits of three female forebears who, we learn, have died senseless deaths. It all builds to a shattering, and more importantly, surprising, climax that's entirely unexpected. And yet, unfortunately, it's also entirely expected.
Aesthetically, the world built by director Jo Bonney looks very normal. The set (Riccardo Hernandez) resembles just about any dining room you've ever seen, with costumes (Emilio Sosa) straight out of the real world. But with simple modifications in lighting (Lap Chi Chu), projections (Hana S. Kim), and sound (Elisheba Ittoop), the tension increases exponentially. As in life, everything changes in an instant.
Each performance has its own haunted quality. Aziza wonderfully introduces us to that Type A mom for whom everything must be perfect, with hell to pay when its not. Green has some beautiful moments as a kid that's all too aware of what's going on in the world. Kelley brings bravado to the role of Upendo, while Raquel is just perfect as a young queer woman of color searching for her path. Vernice Miller, Rachel Watson-Jih, and Tamara M. Williams complete the company as Spirit Women, and each has a moving turn in the spotlight.
Lloyd displays a luminous voice, at once uproarious and melancholy, and loaded with the poetic lyricism of dramatic forbearers like Ntozake Shange, Lorraine Hansberry, and August Wilson. But this voice is all Lloyd's own. Not many people can weave a thread of humor into a play about violence against women in the African-American community, while making sure it also hits you hard in the stomach. Lloyd does both, and with the added attraction of making it feel like a credible, old-fashioned ghost story. Eve's Song is an exciting debut effort from a writer whose work should be blasted onto all of our radars.