Elaine May Returns to Broadway in The Waverly Gallery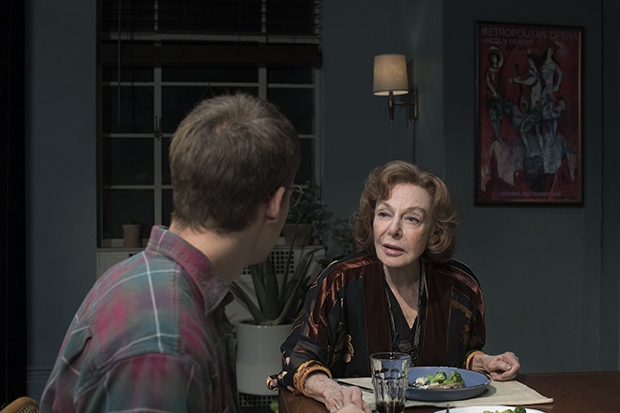 Is she forgetting her lines? I wondered that as Elaine May seemed to stumble over her words in Kenneth Lonergan's The Waverly Gallery at Broadway's Golden Theatre. The 86-year-old actor, director, and comedian repeats certain phrases multiple times within each scene. She reaches for others as one would reach for a can of soup on a high shelf, uttering lots of ughs and ahs in the effort. No, this is not another case of earpieces gone haywire on Broadway, but the slow build of one of the most realistic and moving performances on Broadway.
May plays Gladys Green, a New York attorney and activist who has retired to run a small art gallery on Waverly Place. Her grandson, Daniel (Lucas Hedges), visits her there with decreasing frequency. Despite her loquaciousness, Gladys has lost most of her hearing and her short-term memory is fading fast. This makes communicating with her a frustrating exercise in repetition. Her daughter, Ellen (Joan Allen), dreads the day that Gladys will have to move into the Upper West Side apartment she shares with her husband, Howard (David Cromer). But the arrival of an artist from Massachusetts named Dan Bowman (a guarded Michael Cera) presents Gladys with the opportunity for not just a new art show, but a new friend — one that she invites to live in the back room of the gallery, to the wary disapproval of her family.
This Broadway debut is actually a revival of a play that ran off-Broadway in 2000. Since then, Lonergan has become one of the most respected filmmakers in America, winning the 2016 Academy Award for Best Original Screenplay for Manchester by the Sea. Two more of his plays have been revived on Broadway in the past four years, both starring Michael Cera. My experience of these plays has never previously risen above tepid enjoyment, but The Waverly Gallery breaks that pattern. In what may be his best work, Lonergan sensitively shows how age diminishes even the most formidable of us. He also portrays the impatience of younger people in a way that doesn't cast judgment, but suggests that any of us could behave the same way — and many in the audience probably have.
As performed by Hedges, Daniel's narration feels more like confession. "I stopped going out to dinner with her because it got to be too much of an ordeal," he admits, adding, "She rang my doorbell so much I stopped answering it all the time." Traces of regret mark an otherwise resigned voice. That measured tone is miles from the shrieking he does when grandma wakes him up in the middle of the night for the third time in a week.
Ellen's reaction is similarly sharp when she explains to Gladys for the umpteenth time that she can't feed the dog (Allen's restrained performance occasionally gives way to rage). Cromer, Allen, and Hedges form a cohesive family of fast-talking, well-read, very funny, super-busy New Yorkers. They would rather not slow their ever-shifting, overlapping conversation to let Gladys in on the joke. In response, Gladys searches for other things to talk about: "Look at the dog. She's crying," she observes as her family talks about her as though she's not there. "She wants to come in here. Nobody's talking to her."
In spite of (or perhaps due to) the smile plastered on her face, May gives the most heartbreaking performance currently on Broadway. A lifelong social butterfly, Gladys is doing everything that used to win her friends and influence, but it's just not working anymore. "I don't understand what happened to me," she says incredulously. Gladys's decline is so believable because May wholeheartedly plays her valiant struggle against it. Her generation's can-do attitude got us through the Depression and beat back Hitler, so what's a little dementia?
Director Lila Neugebauer once again proves to be the master of subtle group dynamics, drawing out the subtext in Lonergan's script without beating us over the head with it. We fully feel and understand the complicated mixture of love, fear, and responsibility that governs this family's interactions with its matriarch.
David Zinn's multiple sets give us smart visual clues about who these people are, from Ellen and Howard's sagging bookshelf to the cozy confines of Gladys's apartment, which has barely an inch of unoccupied wall. Ann Roth's costumes give us a sense of time (the late '80s) while visualizing Gladys's emaciation (she practically swims in her last costume). Tal Yarden decorates transitions with projections of vintage New York. Set to Gabriel Kahane's contemplative and melancholic original music, they represent Gladys's long-term memory, devastatingly becoming darker and blurrier with each scene.
Despite her approaching senility, Gladys does what she does best until the very end: She talks. Will anybody listen? As her last lines spill out, memories relating to some of the most significant events of the 20th century glisten like gold in a sieve. The Waverly Gallery reminds us of just how much accumulated wisdom is lost with every human life, and how we're mostly too busy with our own lives to catch it as it falls into oblivion.