Dying City Exhumes the Private Truth Buried Under Public Grief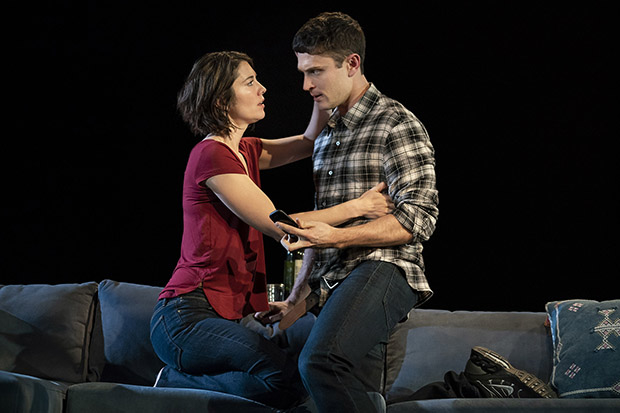 The rituals of public grief are so rote, they often feel like a performance. This is especially true when it comes to military deaths: the folded flag, the perfunctory words about heroism, and the "thank you for your sacrifice" to the surviving loved ones. But the feelings of the people who really knew the deceased soldier are often much more complicated than this gold-star kabuki can express. Through stilted small talk and awkward pauses, that's one of the themes that come through vividly in Christopher Shinn's quietly profound Dying City, now being revived at Second Stage Theater under the direction of the playwright.
It's about Kelly (Mary Elizabeth Winstead), a therapist who is living alone in New York City following the accidental death of her husband, Craig (Colin Woodell), while he was deployed with the army in Iraq. The scenes oscillate between January 2004 (just before Craig shipped off) and July 2005, when his twin brother, Peter (also Woodell), shows up unannounced at Kelly's Manhattan apartment. Determined to move on with her life, she now has to literally face the image of her dead spouse in the form of his identical twin.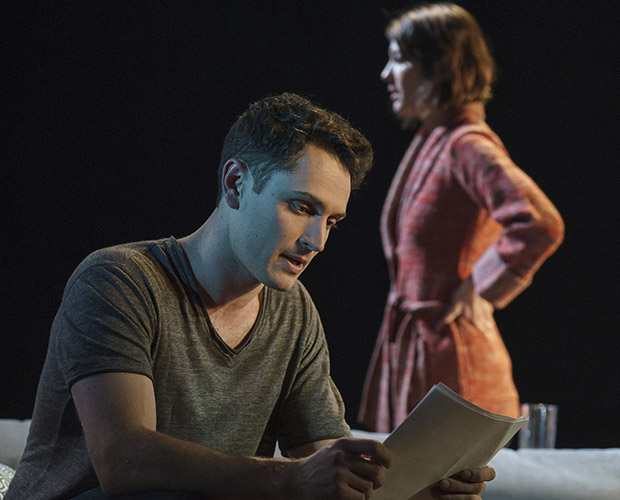 A gay actor who has just walked off in the middle of a performance of Long Day's Journey Into Night, Peter arrives bearing printed emails that Craig sent him shortly before his death. Kelly knows that she probably shouldn't read these private letters between twins, but being a therapist and avid fan of Law & Order, she cannot help but wonder if they will provide any clues about his mysterious death, and possibly even some closure on a painful chapter in her life.
The first New York production of Dying City took place at Lincoln Center in 2007, back when it wasn't a period piece. Shinn has done away with the rotating stage that was the most noteworthy aspect of James Macdonald's production, opting instead for the flat, rectangular expanse of Dane Laffrey's not-quite-naturalistic proscenium set. The heavy door surrounded by thickly painted walls immediately places the scene in New York, while the early 21st-century time period is conveyed by the presence of a flat-screen TV (from the era when only the screens were flat, fronting a fat posterior of electronic innards). Tyler Micoleau gives us a sense of both the natural and dimly artificial light in this tomblike space, while Bray Poor delivers the unsettlingly real sound of solitude in the city (the hiss of a radiator, the whoop of a police siren). Supportive of the text, unobtrusive to the performances, and slightly dull, this is very much a production directed by a playwright who wants total focus on his words.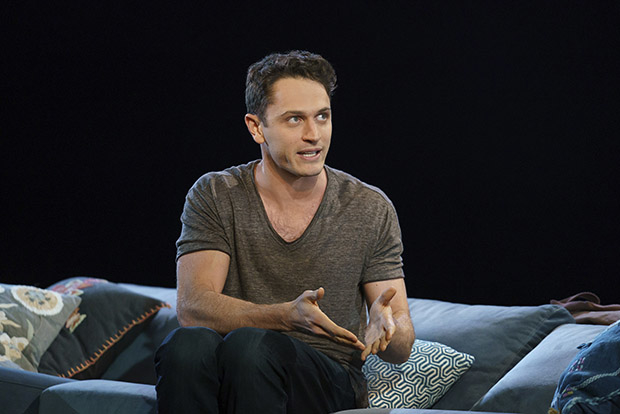 Luckily, Shinn has a lot to say, and much of it has appreciated in value over the last 12 years: During a conversation about Jon Stewart and Bush-era politics, Peter says, "Go to the Indiana State Fair — those are the people we need to figure out how to talk to. They're not going away, we can't just make fun of them." It feels uncomfortably prescient as we hyperventilate about yet another "worst-ever" Republican president, ushered into office on the votes of disgruntled Midwesterners. (The groans emanating from the off-Broadway audience in response to this line tell us that this attempted national dialogue is still a controversial project.) Shinn weaves the personal and political to create a rich tapestry of American life, complete with the ugly parts you wouldn't normally want to hang on the wall for everyone to see.
Shinn's script benefits from the performances of two excellent actors. Their halting, falsely polite speech might be mistaken for bad acting, but it's actually a devastatingly astute representation of the passive-aggression that pervades upper-middle-class American communication. Winstead adopts the poker face of a therapist, peppering her guest with questions that telegraph interest even when Kelly clearly has none. Woodell's tenaciously needling performance as Peter convincingly succeeds in breaking down her wall of propriety to the point that she is red in the face. Woodell fluidly switches between the two brothers, adopting a slight growl for Craig. Kaye Voyce's costumes facilitate this transformation: dull plaid for the straight twin, a V-neck for the gay one. It's a blunt method of distinction, but it's always clear which twin is appearing onstage — even when it is unclear which one is the bigger sadist.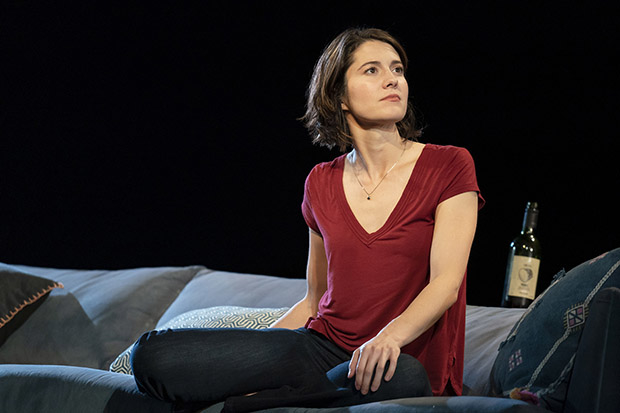 We get to hear some of the cruel things Craig said to Kelly before he left, and we wonder why Peter would want to dredge all of that up again. Is it because he legitimately feels like they could find closure together? Or is it because his own relationship and career are on the fritz, and misery loves company? Dying City makes a powerful argument that the best closure is often just to swim away from the wreckage of death and try not to get caught in the riptide of expected grief.