Cheerleader Horror Musical We Are the Tigers Stalks Laughs and Teen Screams
When you're in high school, extracurricular passions can engender a feeling that life or death hangs in the balance — but what if the stakes actually were life or death? Preston Max Allen imagines just such a scenario in his teen horror-inspired musical comedy, We Are the Tigers, now making its New York debut at Theater 80 St. Marks. This cheerleaders-in-a-basement screamfest is not a great musical — nor is it an unpleasant way to spend two hours and change.
As the sole author of the book, music, and lyrics, Allen can claim complete credit for this nonsensical story set to an energetic pop-rock score. We Are the Tigers is about the cheerleading squad at the exclusive Giles Corey High School (named after the Salem resident who was accused of witchcraft and crushed to death in 1692, later becoming a character in Arthur Miller's The Crucible). Riley (Lauren Zakrin), the team captain, is determined to move the Tigers beyond an embarrassing viral video of a botched routine that left Farrah (Zoe Jensen) with a concussion. With the help of her second-in-command, Cairo (Wonu Ogunfowora), Riley has invited the whole team to her parents' basement for a practice and bonding session. But when girls start dying off mysteriously, the surviving cheerleaders are forced to play defense against the stealthy stabber in their midst.
"Has anyone ever, like, seen Riley's parents?" one smart character asks midway through the second act of this adult-free affair. At least Allen is willing to poke fun at the massive holes in his script, which conjures memories of movies like Heathers and Jawbreaker. At one moment, it's the blackest of teen comedies, but then it attempts to seriously address issues of bullying and substance abuse, with each getting a song. The sincerity feels real, but it is never quite committed enough to veer into the realm of high camp. This makes We Are the Tigers the musical equivalent of a teenager who has learned how to protect her reputation by suppressing the weirdest aspects of her personality: It's not embarrassing, but it's just not that interesting.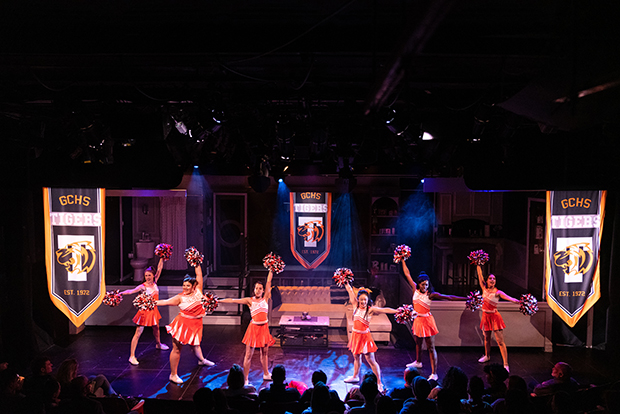 Allen's caffeinated rock ditties enter one ear, vibrate through your whole body, and exit through the other ear, never to be recalled. The up-tempo numbers all begin with a driving guitar beat (Allen is particularly fond of straight 16th notes) and progress through several minutes of clichéd inspirational lyrics like, "I don't want to settle / I don't want to sit back / And watch life go by / I don't want to settle / No, I just want to fly." The songs conclude with the actors wailing at the lip of the stage as Jamie Roderick's frenetic concert lighting shines directly in our eyes. All of this seems meant to instill a sense of excitement, but the returns diminish each time the trick is employed.
Despite middling material, several actors give excellent performances. Mimi Scardulla is hilarious as team mascot Reese. After we see how she moves, we begin to suspect that the other girls have excluded her from the squad proper because they can't handle the competition. Kaitlyn Frank gets some of the best one-liners as abstinent Christian Annleigh, and she delivers them all with a smack. Sydney Parra demonstrates the comic potential of small performances with her quietly incredulous portrayal of Eva Sanchez, a talented public schooler who was coaxed to Giles Corey with scholarship money. Watching her eyes as she tries to navigate around these eccentric rich girls is a delight.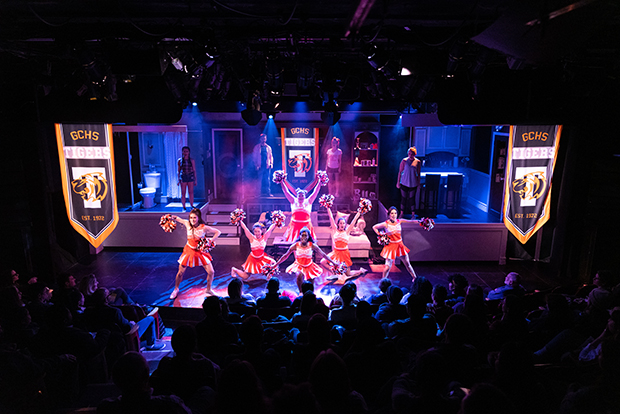 Director Michael Bello keeps the show chugging along at a steady clip, aided by Katherine Roarty's serviceable choreography, and somewhat hindered by Matt Franta and Brandon Pugmire's sloppy violence design. Ann Beyersdorfer's multilevel set is likely the most professional to ever appear on the stage of Theater 80: Decorated with dangly crystal chandeliers and shiny knickknacks from Pottery Barn, it immediately tells us about the tastelessly bourgeois world of the musical before it even begins. Costumer Heather Carey designs convincing teenage looks, although I wondered why the colors of the uniforms were different from those of the Giles Corey banners hanging on the set.
I laughed during We Are the Tigers, but not nearly as much as I'd hoped to. There's a truly crazy (and crazy-funny) musical lurking in here somewhere, but Allen would have to clear out some of the tall grass he's grown around the show to find it. Still, a musical like this could be a lot worse. The fact that it's not feels like a small triumph.