Broadway's Mike McGowan and Anastasia Barzee to Star in Kiss Me, Kate at the Old Globe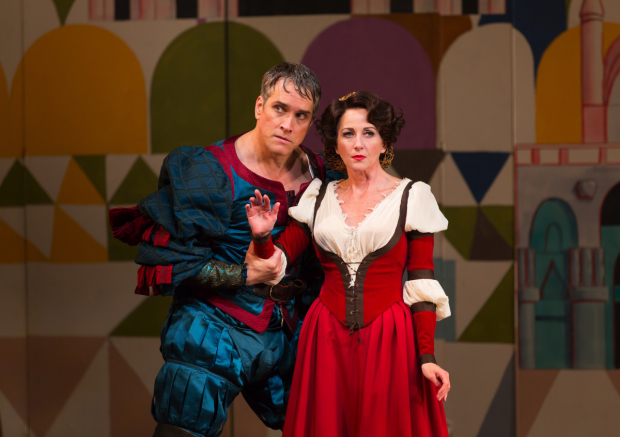 The cast and creative team has been announced for the Old Globe Theatre's presentation of Cole Porter's Kiss Me, Kate, a coproduction with Hartford Stage. Performances will run from July 1-August 2.
Directed by Tony Award winner Darko Tresnjak (A Gentleman's Guide to Love and Murder), the musical will star Broadway veterans Mike McGowan (Priscilla Queen of the Desert) and Anastasia Barzee (Urinetown) as former lovers and reluctant costars Fred/Petruchio and Lilli/Kate, along with Megan Sikora (Curtains) as Lois/Bianca, Tyler Hanes (A Chorus Line) as Bill/Lucentio, Tony nominee Joel Blum (Show Boat) as First Man, Brendan Averett (The Killer) as Second Man, and Tony Lawson (Les Misérables) as General Harrison Howell.
The company also includes Giovanni Bonaventura as Hortensio, James T. Lane as Paul, Barrett Martin as Gremio, Robin Masella as Momo, Shina Ann Morris as Venetia, Jane Papageorge as Becki Weckio, Wayne W. Pretlow as Pops/Priest, Mike Sears as Ralph, Michael Starr as Philip, Jeff Steitzer as Harry Trevor/Baptista Minola, Johnny Stellard as Nathaniel, and Aurelia Williams as Hattie.
Based on William Shakespeare's The Taming of the Shrew, the romantic comedy's famed score features a number of classic tunes including "Another Op'nin', Another Show," "Wunderbar," "So in Love," and "Brush Up Your Shakespeare."
The creative team for Kiss Me, Kate includes Alexander Dodge (scenic design), Fabio Toblini (costume design), Philip S. Rosenberg (lighting design), Jonathan Deans (sound design), Kris Kukul (music director), Max Mamon (associate music director), Jason Allen (wig design), Claudia Hill-Sparks (vocal and text coach), and J. Allen Suddeth (fight director).
"I started thinking about directing Kiss Me, Kate in 1990, when the influential album Red Hot Blue: A Tribute to Cole Porter introduced his smart and sexy music to a whole new generation," said Tresnjak. "After 25 years, I'm thrilled to finally get a chance to direct this supreme entertainment — a piece in which my two great theatrical passions, the plays of William Shakespeare and the American musical theater, come together."
For tickets and more information, click here.