Broadway Will Dim Its Lights for Philip Seymour Hoffman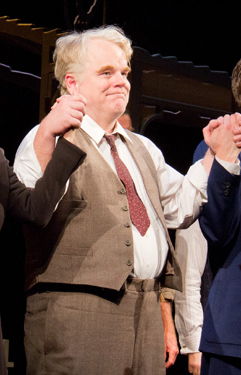 Broadway will dim its lights Wednesday evening for Oscar-winning and three-time Tony-nominated actor Philip Seymour Hoffman, who was found dead from a drug overdose on Sunday. He was 46.
The marquees of New York City's Broadway theaters will dim Wednesday, February 5, at 7:45pm in memory of the late actor and director whose stage work earned him high praise.
Hoffman starred in three Broadway productions throughout his celebrated career: True West, Long Day's Journey Into Night, and, most recently, Death of a Salesman. Each of his Broadway performances earned him Tony and Drama Desk Award nominations. Hoffman was also a longtime member of the Labyrinth Theater Company, directing and performing in several of its productions.
"Philip Seymour Hoffman, a three-time Tony Award nominee, was a true artist who loved the theatre," said Charlotte St. Martin, executive director of the Broadway League. "His prolific body of work encompassed various mediums including theatre, film, and television, and we'll always be grateful for his boundless and profound talent that he shared with us on the Broadway stage. Our thoughts go out to his family, friends, and fans."
Click here to read TheaterMania's obituary of Philip Seymour Hoffman.