Bob Saget Prepares to Put On the White Collar in Broadway's Hand to God
Eight years ago, Bob Saget made his Broadway debut as Man in Chair in the final stretch of The Drowsy Chaperone's run at the Marquis Theatre. "I did Drowsy [during] the Broadway strike," recalled the comedian and famed Full House veteran in a recent conversation. "I just stayed in town and drank a lot."
Saget's biting and more than occasionally raunchy sense of humor perfectly fits the bill for his newest Broadway pinch hit in Rob Askins' irreverent comedy Hand to God. "The whole play has my sensibilities," he says. And yet, he also confesses that the role of Pastor Greg (which Marc Kudisch will pass over to him on November 3) has a fair amount of Danny Tanner inside of him — just with a few more dimensions he can dig into for the play's final months at the Booth Theatre.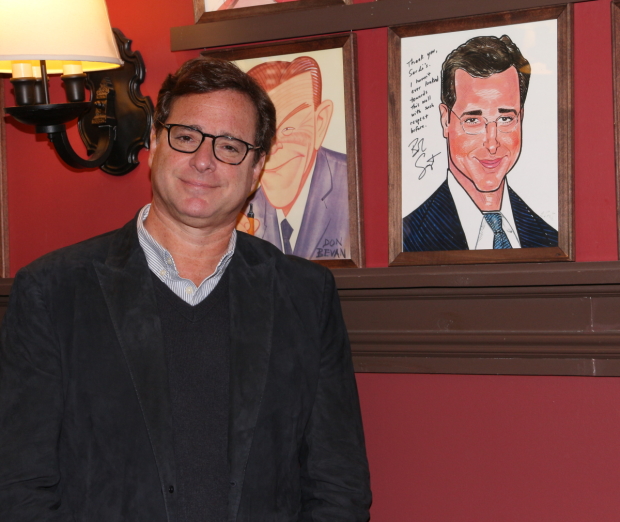 Welcome back to Broadway! Are you excited to be back onstage?
It's so much fun to act and to play completely different characters. I'm exploring Pastor Greg in my way. I saw Marc when I saw the play months ago, and it's just an honor. It doesn't get much nicer than…when you take over for somebody and they're that gracious.
Did you enjoy your debut experience in The Drowsy Chaperone?
It was a bittersweet wonderful thing to do closure on that show. And I'll be doing it on this show. I guess that's my pattern — I'm a closer… But this cast is just another level of talent. I just can't wait to do it. [It's] so well written. It's about the shambles the world is in, how we raise our children, how we go to religion to try to help us. And it's not by any means an anti-religious play. It's just about trying to survive — in this case [with] puppet therapy.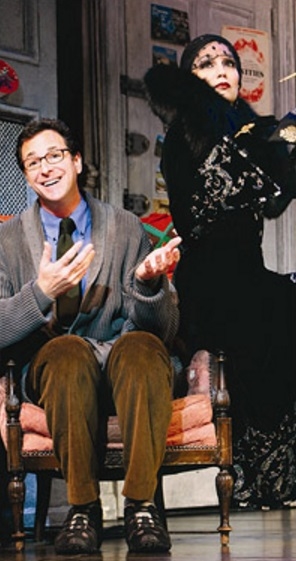 How have you been preparing for this role?
Just this week I was shooting an episode of [John] Stamos' show, because I never do anything without John Stamos. I was doing an episode of Grandfathered…and every night would end the same. I'd go home and get in my Jacuzzi, smoke a cigar, and run Hand to God. So I would go in and play this smarmy character trying to help [Stamos] go out and get women…and then I'd get to be Pastor Greg. So I'd go to bed feeling a little better…For me, it's a perfectly written play.
When you first saw the play, did you know you'd be joining the cast?
I had no idea. Kevin [McCollum] was also producing Something Rotten! and he said, "You gotta see my two new plays." I saw Something Rotten! in the afternoon, and he said to me, "I want to talk to you after you see Hand to God." He came back to the theater and he said, "What did you think?" And I said, "You know what I think." It just spoke to me on every level. It's how I see things. I had just finished a book Dirty Daddy, and it's about pain and it's about death and it's about finding humor in those moments — and that's the play. Tyrone, that little bastard puppet, speaks the truth. And when something devilish speaks the truth, that creates fear. Pastor Greg…also speaks the truth, his truth. He's not always the quickest, he doesn't have all of his chromosomes, but he's just a damn good man.
Are you basing your Pastor Greg on anyone in particular?
I've met a lot of ministers over the years…so it's just a composite of a lot of people. The thing that's attractive about them is their righteous indignation to be good even in the face of the most difficult. That's their job. Their job is to try to help people. Most people don't go to therapy. Most people use their church or their synagogue. Well, most people don't use their synagogue because most people aren't Jewish. Except in New York — and in the theater community. I should be Bar Mitzvah'd on this stage.
For your fans who know you only from television, is there anything you hope they learn about you as an actor after seeing Hand to God?
I'm not trying to teach anybody anything about me. They do say life is a constant audition, but I don't believe that anymore because I just don't care. I've read so many bad reviews about myself that I expect them. But I've also read wonderful things — [though] they say not to read [those] either, but I'm a little OCD. Who doesn't Google themselves? But I guess [Pastor Greg] is more Danny Tanner than anything else if you're going to look at the vast number of characters I've played…He's just a really, really good man… But that's a two-dimensional sitcom meant for fourteen-year-old girls. This is a [man] who is trying to find his way.
Do you like getting to dig into a new character?
I really love acting. People say, "Are you the guy on Full House? Do you clean at home?" I don't know why people don't know what acting is. I guess it's a giant compliment because they assume that I was that guy…[But] all I want to do is play the play. That's just love. It's very exciting to love to go to work.