A Second Helping from Smokey Joe's Cafe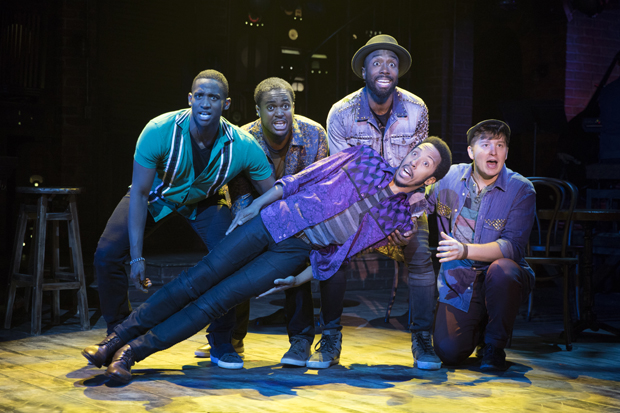 Disdain for the jukebox musical is one of the most clichéd critical positions one can take in the theater. For the unfamiliar, jukebox musicals are shows based around the music of a particular artist or songwriter. While critics tend to not take them seriously as art, they just keep rolling off the assembly line, a testament to their popularity. Celebrating the songwriting collaboration of lyricist Jerry Leiber and composer Mike Stoller, Smokey Joe's Cafe represents an early contributor to the trend, old enough to now merit its own major off-Broadway revival at Stage 42. It's a remarkably enjoyable affair thanks to a powerhouse cast and reimagined staging by director-choreographer Joshua Bergasse. It also helps that these are some of the greatest songs from the American pop repertoire, still capable of stoking teenage dreams and salving emotional wounds.
The original run of Smokey Joe's Cafe lasted from 1995-2000, making it one of the most successful shows of its kind. Revisiting it two decades later offers perspective as to why: It doesn't attempt to shoehorn the Leiber and Stoller songbook into a contrived plot (like the recently closed Margaritaville and the soon-to-open Head Over Heels). Nor does it use that catalogue to underscore a self-serving memoir of the artists (like Beautiful and Summer). Instead, it simply presents staged renditions of the songs completely untethered to a book, allowing them to tell their own stories rather than enslaving them to a throughline. It's a simple concept that works extraordinarily well.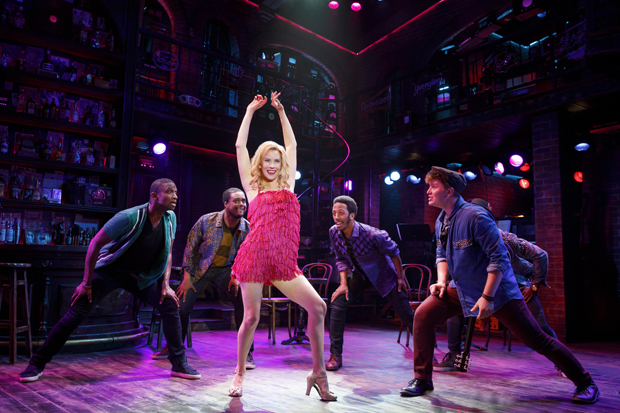 It lieu of plot points or characters, we get to focus completely on the performances, and there are some exceptional ones here: Wearing diamond bracelets over long magenta gloves, Dionne D. Figgins delivers a deliciously naughty rendition of the gold digger anthem "Don Juan." The astonishingly expressive Dwayne Cooper (better known to fans of RuPaul's Drag Race as Milan) sings the bass parts in ''Yakety Yak" and "Charlie Brown" with the kind of rich resonance one rarely hears outside of a recording studio (something made all the more incredible by the fact he never seems to stop moving). Emma Degerstedt dances like Ann-Margret in "Teach Me How to Shimmy." Meanwhile, Jelani Remy sings "Jailhouse Rock" in his pristine tenor while performing a dance that could double as an Olympic gymnastics floor routine.
Bergasse, known for his energetic choreography, pulls out all the stops for this show, leaving the performers in puddles of sweat. He occasionally risks detracting from the music: His staging of "On Broadway" is a little too manic for a song with such a driving, deliberate beat. Still, his hilarious pastiche on "Dance With Me" and his sensuous flamenco on "Spanish Harlem" are right on the money. In his direction of the actors, Bergasse has exposed the bloody, beating hearts of these songs, like the slyly devastating "Pearl's a Singer," which Alysha Umphress endows with dignity and stinging regret. As she reaches the stirring conclusion of this song about the faded dreams of a chanteuse, the lights of a hundred radios glow in silent vigil.
Those radiant radios are the contribution of lighting designer Jeff Croiter and set designer Beowulf Boritt, who has covered the upstage wall with giant floor consoles stacked side by side with smaller boom boxes, suggesting just how long this music has been part of the American soundtrack. The set itself takes the form of a trendy urban bar masquerading as a dive. It provides multiple levels for the performers and musicians, and it's also quite nice to look at. So are Alejo Vietti's costumes, which give a whiff of retro without going full period.
Most importantly, the show sounds great through Peter Fitzgerald's well-balanced sound design. Sonny Paladino's arrangements faithfully reproduce the original songs without the need for a giant studio orchestra: The excellent eight-member band is all we need. Music director Matt Oestreicher maintains a peppy tempo throughout this 90-minute show. Happily, he has (with a few exceptions) restrained the impulse toward vocal pyrotechnics that has only become more severe since the advent of American Idol. That's a good thing, because we want to hear the songs, not someone riffing around them.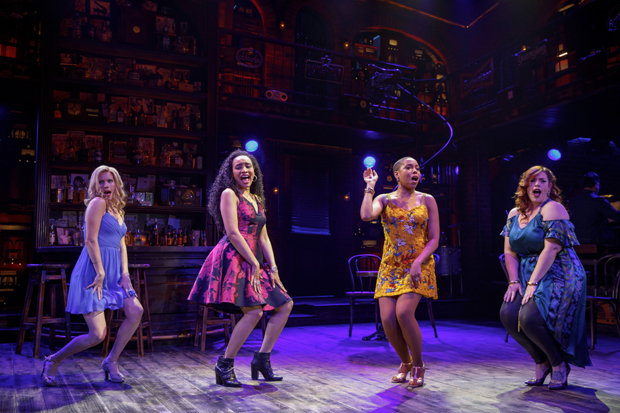 The jukebox musical is here to stay, but Smokey Joe's Cafe reminds us that there is a way to do it that minimizes cringes and maximizes smiles: by going back to the basics of the revue format that has been successful in the New York since the days of Ziegfeld.