A Close Look at a Controversial Topic in Downstate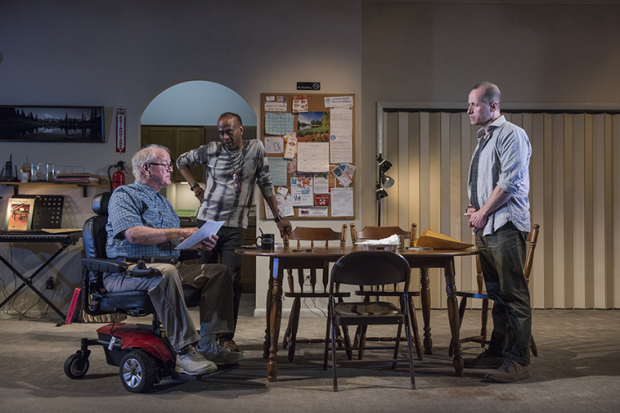 Steppenwolf Theatre Company opens its 43rd season with Downstate, coproduced with London's National Theatre and written by Steppenwolf company member Bruce Norris.
Set in a group home for sex offenders in southern Illinois, Downstate is focused on four men. Fred (Francis Guinan) was a piano teacher who raped two of his young students, and is now paralyzed from the waist down following a brutal retaliatory beating in prison. Fred is cared for by Dee (K. Todd Freeman), who carried on a sexual relationship with an adolescent boy, which he still insists was consensual and loving. The motormouthed Gio (Glenn Davis) is a lower-level, one-time offender: To hear him tell it, the girl had a fake ID and swore she was legal. Their fourth roommate, the silent, secretive Felix (Eddie Torres), sexually molested his own daughter.
These are not the men most theatergoers would choose to spend an evening with. There are plenty of plays digging into the psyche of common criminals, gangsters, murderers, even school shooters, but that morbid curiosity is rarely extended to sex offenders — even less so to those who prey on children. Norris does not necessarily take a sympathetic view of his characters, but even viewing them with curiosity may be enough to set audience members on edge.
Norris's script is an actor's dream, stacked with anguished monologues and subtly revealing dialogue. Directed at a slow boil by Pam MacKinnon, the cast is astounding. Tim Hopper is gripping as Andy, a man who has traveled downstate with his wife (Matilda Ziegler) to confront his abuser 30 years later. Whether he is seeking closure or vengeance is not clear, least of all to the conflicted Andy himself. Guinan is riveting as the seemingly docile Fred, and Freeman is provocative as Dee, a complex man hiding behind walls of rationalization and denial. Cecilia Noble gives a sympathetic performance as Ivy, the overworked probation officer who is pushed to her limit daily by the men in her charge.
While Downstate is an incredible vehicle for its actors, it struggles to be more than that. The residents of the group home are master manipulators, guarding their true selves so carefully that even the audience never catches a glimpse of what lies beneath. The dialogue onstage returns again and again to the idea of punitive justice — How much must these men be made to suffer once they've served their time? Are they incapable of reform? — but the actual action of the play fails to address these ideas, leaving them oddly abstract.
The design elements of "Downstate" are appropriately grim and prosaic. The group home is brought to life in all its uninviting glory by Todd Rosenthal's stained beige-on-beige set and Adam Silverman's flinty lighting. The cast is dressed in everyday streetwear by Clint Ramos.
We're currently overwhelmed with offstage narratives about what Norris, in his program notes, calls "sexual situations of questionable wisdom," which perhaps accounts for a fear of committing too strongly to one point of view on a topic that has become so controversial and ubiquitous. Whatever the reason, though it skirts close to saying something powerful, Downstate pulls its punches.