A Black Family Searches for Love in a Time of Terror in Fireflies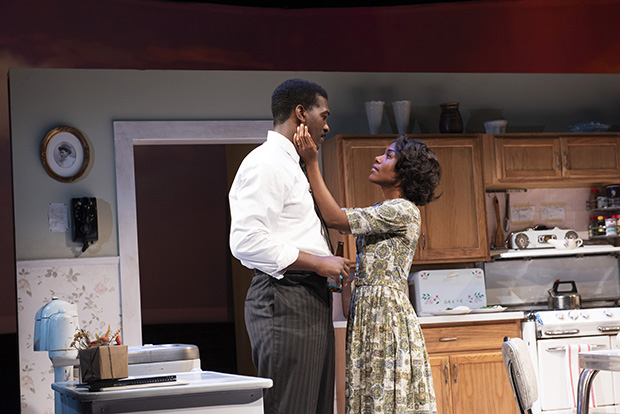 The much-derided Facebook relationship status, "it's complicated," is actually the most honest. It definitely applies to the central relationship in Donja R. Love's Fireflies, now playing at Atlantic Theater Company. A jaw-dropping and explosively dramatic two-hander, Fireflies is the second part of a trilogy that begins with Sugar in Our Wounds, Love's play about a gay relationship between two slaves at the height of the Civil War. Audiences need not have seen that excellent drama to appreciate this one (although those who did will be rewarded). Fireflies stands up on its own as a powerful tale of love flashing its light in the dark.
It's 1963 and Reverend Charles Emmanuel Grace (Khris Davis) is an important leader in the civil rights movement in the Deep South. The backlash to that movement has been fierce, with news of church bombings and murdered little black girls beaming into American homes over the airwaves. It is in this environment that Charles's wife, Olivia (Dewanda Wise), hallucinates the sound of explosions, knowing full well that a real one could eventually claim her or her husband. Olivia is the mastermind behind Charles's most soaring oratory, writing his speeches and coaching him on delivery. Yet Olivia's stealthy body language suggests from the very beginning that this is far from the family's biggest secret.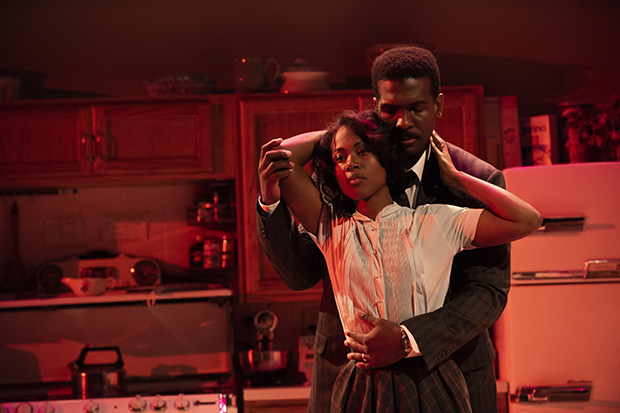 All cuddles and kisses, Wise and Davis convincingly play a young couple very much in love — or are they? While Davis's Charles is all suave male charisma (the kind that could get you to shout amen on both Sunday morning and Saturday night), there is something subtly standoffish about Wise's posture toward him. Her Olivia giggles and grins, but we're not completely sure she means it.
Director Saheem Ali artfully unveils the dynamics of this relationship so that we gradually become aware that this isn't the rock-solid couple they try so hard to present. When the secrets begin to spill out, it feels like water rushing over the top of a dam, an event that can only end in a catastrophic flood.
One of the vessels of that revelation, an anonymously sent package with audio proof of Charles's infidelity, would seem like high contrivance if it didn't hew so closely to real events. Olivia immediately suspects the FBI as the source of this all-American kompromat, a favorite tool of the Soviet Union employed under the pretense of protecting us from Communism. But a nefarious messenger doesn't make the message any less real, or hurtful. And then there are Olivia's secrets, which are even harder for Charles to understand.
Love intimately captures the personal strain that political forces can bring into a family, especially when that family isn't perfect — and which one is? The responsibility to community and cause exacerbates fractures that already exist, leading to an explosive domestic situation. Love also shows how small-l love, in all its strange and mysterious forms, can overcome those strains and pass into the next generation. Such survival in the face of centuries of state-tolerated (often sponsored) terrorism may be the overarching theme of the black experience in America.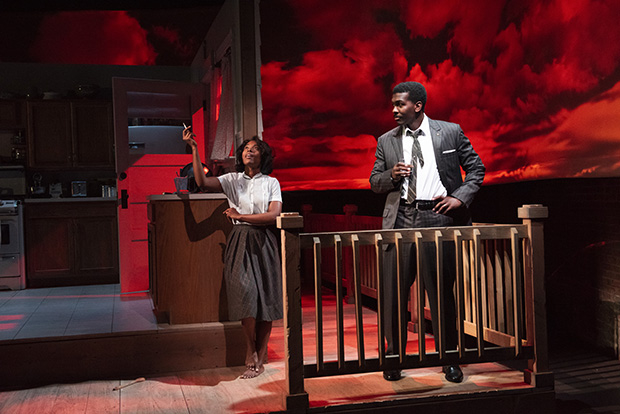 The program describes the location as "Somewhere down South, where the sky is on fire." Set designer Arnulfo Maldonado, lighting designer David Weiner, and projection designer Alex Basco Koch collaborate to make that vividly real with a cyclorama that surrounds the cozy kitchen where the entire play takes place. Created with careful period detail by Maldonado, their little house serves as flimsy shelter from the beautiful, burnt orange sunsets that are both magnificent and menacing. Olivia's flashbacks explode like fireworks in an already crimson sky, and Justin Ellington's unnerving sound design makes those imagined bombings feel unsettlingly real. At the same time, Ellington's original jazz compositions and the warm embrace of Weiner's lighting have the ability to transport Olivia and Charles to a secure place where they seem genuinely happy together.
Oh yes, it's complicated. Fireflies is a drama of extraordinary depth and complexity between just two characters. Love thrillingly crafts an intimate story that comes to feel cosmic in its enormity by the end. I can't wait to see the third installment.