7 Times Hairspray Live! Brought Us to Tears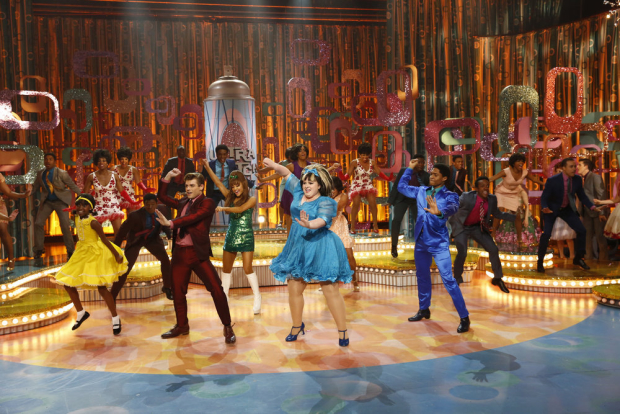 After months of prep, Hairspray Live! finally hit the airwaves last night on NBC and tore the proverbial house down. The stellar cast, led by newcomer Maddie Baillio as Tracy Turnblad, did justice to the beloved original musical, and then some — mining tears from so many different emotions we didn't even know we had about Hairspray. From hilarious new takes on old songs, to nostalgic reminders of the original production, here are seven reasons we spent last night crying like it's 2003.
---
1. Welcome Back to the '60s, Harvey
When Harvey Fierstein revealed his face from behind that sheet for his first scene, America collectively welcomed him back home to Baltimore where he belongs. Fierstein's Tony-winning performance as the agoraphobic laundress Edna Turnblad remains one of Broadway's most iconic, and yet all of us at home were deprived the catharsis of giving him his due entrance applause. So unless you sat there screaming and cheering at your television set (which I'm sure some people did), all you could do was tear up a little and watch his 2003 Tony speech on loop.
---
2. Kristin Cheno-fies "Miss Baltimore Crabs"
We all know Kristin Chenoweth is a comic master of musical-theater numbers, but she may have out-Chenoweth'd herself in Velma Von Tussle's showstopping "Miss Baltimore Crabs." Of course she gave the song her signature ham, and buttoned it with a glass-shattering note. But the cherry on top that had us laughing through our tissues was courtesy of choreographer Jerry Mitchell, who had a procession of gentlemen take turns giving Chenoweth a ballroom spin about six feet off the ground. And remember, that was the actress in a foot-tall wig and heels.
---
3. Chenoweth and Fierstein Have a Face-Off for the Ages
If Kristin wasn't hilarious enough on her own, put her face-to-bosom with Harvey Fierstein in a housedress and ignite the flame for the ultimate Velma-Edna smackdown. We experienced just a moment of this magic when the two stopped by Motormouth Maybelle's for a quick cat fight. If you laugh-cried at anything last night, it was Fierstein's menacingly throaty delivery of "Tracy, be a dear…and hold Mommy's waffles."
---
4. Return of the Tracys
Former Tracy Turnblad's Ricki Lake (from the 1988 movie) and Marissa Jaret Winokur (the 2003 musical's Tony-winning Broadway star) made the briefest of cameos during "Welcome to the '60s." As two of Mr. Pinky's makeover girls, they had just a few seconds to mug for the camera alongside Hairspray's newest Tracy, Maddie Baillio. And yet, it took only a moment to feel the torch being passed down to a brand-new star — and only a heartless fiend wouldn't get misty over that.
---
5. Ephraim Sykes Pulls Off Extreme Splitting
Hamilton veteran Ephraim Sykes slayed as Seaweed J. Stubbs, and joined forces with Ariana Grande as one of the hottest couples of the night. But the moment we all really paid attention was his insane jump-off-a-record-stand-into-a-split maneuver during "Run and Tell That." I personally cried some tears of vicarious pain for the man, but as they say…no pain, no gain.
— Hamilton (@HamiltonMusical) December 8, 2016
---
6. Jennifer Hudson Wins Hairspray With "I Know Where I've Been"
For a musical comedy, Hairspray packs a weighty punch with the power ballad "I Know Where I've Been." Jennifer Hudson wailed on the number, clearly feeling its timely message about the fight for racial equality, and the performance moved nearly every member of the ensemble to tears. NBC then followed it up with Coca Cola's multicultural "America the Beautiful" commercial — just in case its viewers weren't already a puddle of feelings.
— Hairspray Live! (@HairsprayLive) December 8, 2016
---
7. "You Can't Stop the Beat" End-of-Night Love Fest
If nothing else, last night reminded us all of just how phenomenal a musical Hairspray really is — a fact we were all keenly aware of back in 2003 when every theater nerd was playing the cast album on a loop. Its gut-busting closing number, "You Can't Stop the Beat," was likely the most-played track — and appropriately so, seeing as it may just be the most joyful five minutes ever put to showtune. Hairspray Live! did the song proud, finishing out the broadcast with a raucous dance party. The love was so palpable that even the Grinchiest viewer's tear ducts must have grown a few sizes.