5 Reasons Why Walt Disney World Represents the Future of American Theater
"Heresy!" you might be shouting at the screen while clutching your pearls and annotated copy of The Complete Plays of Eugene O'Neill. "Disney offers nothing but cheap amusement-park thrills!" Au contraire. Within the first day of a visit to Walt Disney World in Orlando, Florida, one thing becomes strikingly clear: Almost all of the attractions revolve around a story, often told in rigorously theatrical ways and with the use of live actors. None of the rides offer thrills for the sake of thrills. They're almost always using those tingles in your stomach to further the plot.
For instance: Yes, the Hollywood Tower of Terror at Disney's Hollywood Studios takes its audience up several floors and drops them down a haunted elevator shaft. While the rush of plummeting several stories would be thrilling on its own, here it is the climax of a tale about a haunted hotel from Hollywood's glamorous yesteryear. Before reaching the actual ride, audiences (yes, they're audiences) wait in a line that winds through the lobby of the hotel. Every design detail is carefully considered, from the costumes of the ride attendants (Disney calls them "cast members") to the decorations on the cobwebbed mantle, just as one would expect in immersive shows like Sleep No More or Then She Fell.
While few of the rides and attractions at Walt Disney World (WDW) come close to the length of a Broadway show, many of them do employ some of the same technology and methods, and often in far more experimental ways than one would encounter in your average Broadway house. Here's a list of five ways in which Mickey could be one of the most forward-thinking figures of the American stage: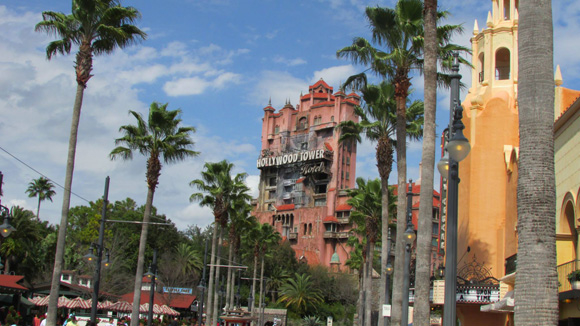 1. Disney is a leader in olfactory design.
We're accustomed to visual (costume, lighting, set) and aural (sound) design, but olfactory design (smell) is the next frontier in theater. Innovative downtown troupe Theatre Mitu regularly burns incense before the audience enters the house. Audra McDonald recently admitted to wearing a special perfume for when she walks through the audience of Lady Day at Emerson's Bar & Grill. WDW uses olfactory design in several of its attractions, including, revoltingly, It's Tough to Be a Bug. This 3-D film/immersive show based on A Bug's Life actually bombards the audience in the (blessedly short-lived) smell of insect stink. When it comes to telling a story, why limit yourself to just two senses? Of course, with sound design recently eliminated as a Tony Awards category, we're probably going to be waiting a long time before a scent designer is given the highest honor on Broadway.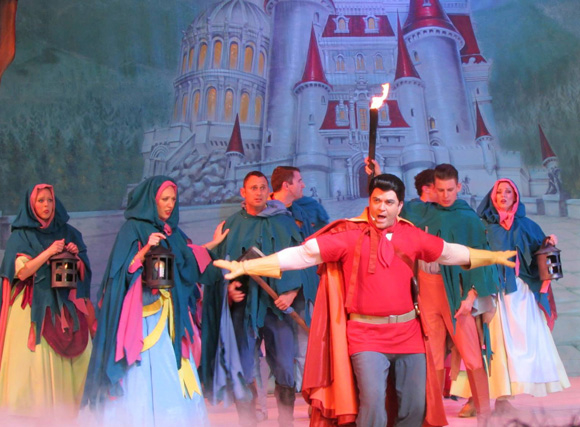 2. WDW offers frequent and convenient show times.
While most shows in New York City offer one performance per day (sometimes two on Wednesdays and Saturdays), shows at Disney World offer at least six performances a day (and sometimes once every hour or half hour). Of course, the run times rarely exceed 30 minutes. Voyage of The Little Mermaid at Disney's Hollywood Studios features a mixture of live actors and puppets doing a 17-minute version of Alan Menken and Howard Ashman's The Little Mermaid. It performs every 25 minutes during peak hours. Can you imagine being able to schedule Broadway around your life, rather than having to schedule your day around curtain time?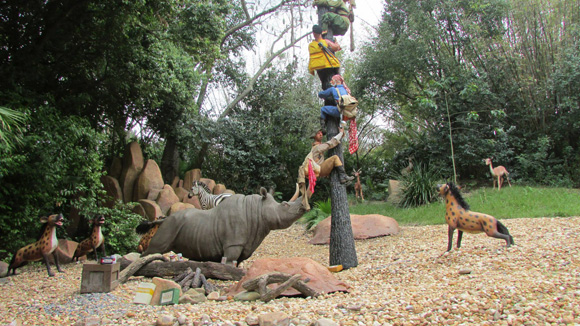 3. Shows and attractions feature integrated human-animatronic casts and comedians.
It's true: The robots are coming to take your job. (That applies to you, too, actors!) Disney has long employed animatronics in their rides, most famously in It's a Small World and Pirates of the Caribbean. What is less remarked upon, however, is how they include real human actors in many of those animatronic attractions. The Great Movie Ride, which takes audiences through animatronic re-creations of classic movie scenes, also features two human actors: a tour guide and one mysterious hitchhiker. Similarly, The Magic Kingdom's Jungle Cruise employs real-live joke-telling tour guides to steer you through the deepest, darkest jungles of the world (that just happen to be full of fakey animatronic animals and natives). Thanks to the work of the hilarious comedians in the cast, it's one of the funniest attractions in WDW. While robots are great, they just can't connect with audiences in the same ways a real human can.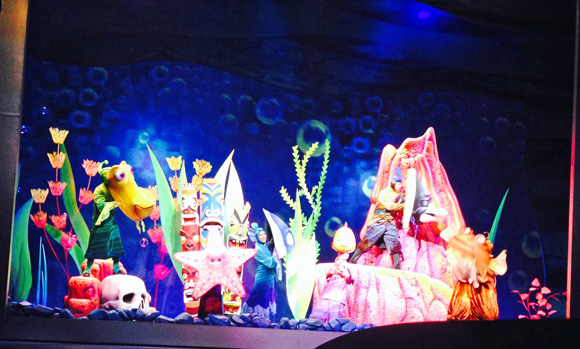 4. The attractions run on young talent and upcoming artists.
With that last point in mind, if you're going to hire real actors, you might as well have really good ones. Plenty of now-famous actors, including Steve Martin, Wayne Brady, and Michelle Pfeiffer, got their start working in Disney parks. Disney regularly holds professional auditions for replacements in their long-running park shows, like Beauty and the Beast — Live on Stage and Finding Nemo — The Musical. That cultivation of young talent isn't just limited to the performers. Disney contracted Robert Lopez and his wife, Kristen Anderson-Lopez, to write Nemo (a 40-minute musical adaptation of the popular Pixar film) back in 2006, eight years before the two won the Academy Award for the song "Let It Go" from Frozen. The show still plays to full houses, six times a day, at Disney's Animal Kingdom.
5. Audience interaction is essential.
Sleep No More, Here Lies Love, even Shakespeare : The future of theater is increasingly interactive, inviting audiences to participate in the story as never before. While it could reasonably be argued that every attraction at WDW is interactive, Disney is always finding new and unexpected ways for the audience to participate: Monsters, Inc. Laugh Floor in Tomorrowland asks audiences to submit jokes while waiting to enter the theater. It then uses that crowd-sourced material in the show. Using digital puppetry (in which a computer-animated image is manipulated real-time to accompany a live voice), the attraction takes the form of a live stand-up comedy show, including a healthy dose of audience back-and-forth. You could find yourself quite literally having a conversation with a cartoon on a screen. It's incredible, and definitely confirms WDW's status as the most magical place on earth.