5 Questions With Rachel Bloom About Bringing Crazy Ex-Girlfriend to Radio City
To mark the end of her four-season TV series Crazy Ex-Girlfriend, the show's creator and star Rachel Bloom is going out with a bang in the form of two live concerts at Radio City Music Hall. The May 14-15 shows will feature Bloom and most of her TV costars performing songs from the hit CW musical comedy-drama, along with stand-up bits and a whole lot of surprises. The experiences, she says, will be a lot like watching the concert they televised as the show's final episode. Except longer. And "significantly dirtier."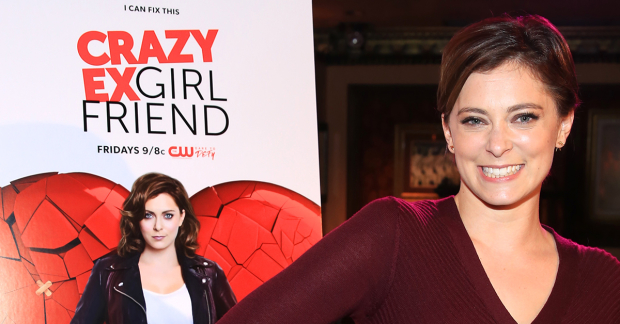 1. How did the Crazy Ex-Girlfriend concert tour series come about?
I come from live performance. The songs that I did online before Crazy Ex-Girlfriend were also in my live shows, which are basically a hybrid of stand-up and songs. In between seasons of Crazy Ex, I wanted to go back to doing live performances, and we started implementing the Crazy Ex songs. I did San Francisco Sketch Fest and I invited Gabrielle Ruiz and Vinny Rodriguez to do it with me. That was really fun. The next year, we did a live show at Largo in LA. We were having so much fun that I thought we should just do a tour. We did that tour last year, and we wanted to end with one more thing. Everyone is getting jobs, so we couldn't do another full tour, but a way to heighten what we did is, of course, Radio City Music Hall.
2. Tell me about the structure of the Radio City shows.
It's similar to the concert that we aired as the final episode of Crazy Ex. It's stand-up bits where we play ourselves, going into songs. The difference is, this is longer, there are some new songs that we've never done onstage, and this is significantly dirtier than what you would see on our show, because we can be. I would say, there are a couple of moments towards the end that are R-rated. I would recommend this show for, you know…not children. [laughs]
3. As a theater geek yourself, what's it like to know that you're headlining at Radio City Music Hall?
I've been so focused on planning the show and deciding on the set list and writing new stand-up bits that I didn't have time to bask in the coolness. The work takes most of my mental energy. But the other day, we went to Radio City and I saw in person Crazy Ex-Girlfriend and then my name on the marquee, and that…I took five minutes to appreciate it. It's amazing. I just feel really fortunate.
4. Crazy Ex-Girlfriend changed your trajectory. What has the whole four-year experience been like on a personal level?
It was whiplash. We had the pilot with Showtime. I spent a lot of time being nervous about that. Showtime basically said we were going to series, and then they said never mind. I thought I had a dead show. We met with the CW and they said they'd consider it for the summer, maybe. And around this time four years ago, to the date, I got a call saying that we're being considered for the fall, and that we'll either know tomorrow or we'll never hear anything. And then we got picked up.
I've been playing emotional catch-up. But if you had told me that I was going to have a musical show on television about deconstructing stereotypes and mental health, that I co-created and starred in, and that I would be doing it live at Radio City? That's like a parody of my dream. You know? It's unbelievable.
5. What do you want your next project to be?
I want to be in stuff that I want to watch. That's my criteria, and that goes for everything — film, TV, theater. When my reps ask what I want to do next, I say, "Good stuff that I'm proud to be in."