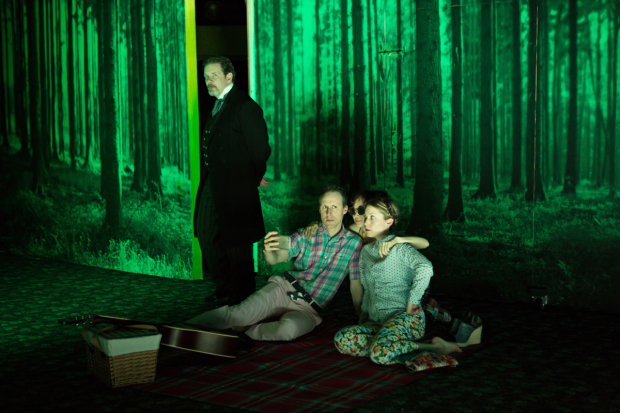 Do we really want to see how the sausage gets made? Like an annoying fly you can't quite swat, this questions buzzes around the world premiere of Anne Washburn's 10 out of 12 at Soho Rep. Our contemporary theatrical landscape is overpopulated with plays about actors and playwrights. They often take on a narcissistic, self-aggrandizing quality. Unlike the glitzy Broadway revival of It's Only a Play (set at an opening-night party), 10 out of 12 takes the distinctly unglamorous form of an extended technical rehearsal off-Broadway (the title refers to the 12-hour workdays that theater-makers put in during tech week; two hours must be devoted to breaks as stipulated by Actors' Equity). The result is occasionally as soporific as it sounds, but no one can accuse the playwright of presenting a false or romanticized version of the stage. 10 out of 12 is steadfastly, almost unsettlingly real.
None of this will surprise those familiar with Washburn's work, which is always scrupulously researched (as in the case of The Communist Dracula Pageant) and highly inventive (Mr. Burns, A Post-Electric Play). Washburn has uncannily captured the cadence and chatter of the theater in tech: an endless stream of lighting cues, a fair amount of awkward flirtation, and an obsessive discussion of the unhealthiest foods. Certainly, she has sat in enough to know the nerdy banter and technical lingo. This play is the culmination of a decade's worth of notes Washburn took (undoubtedly bored out of her gourd) during the 10 out of 12s for her many plays.
We enter the space to the sight of assistant stage manager Jamie (Leigh Wade) vacuuming the set's busy carpet. Stage manager Molly (an appropriately weary Quincy Tyler Bernstine) is preparing to call the actors for what promises to be an arduous day. This is particularly true with a director as prone to whims and doubts as Elliott (Bruce McKenzie, dry as the Gobi desert). The cast features downtown legend Paul (Thomas Jay Ryan) and Jake (David Ross), a young hunk on the verge of a career breakout. Eva (Sue Jean Kim) has a murky and undefined relationship with both, as actors do. Everyone is fidgety and playful, regularly snapping photos for social media: These actors are really good at playing actors! Scenes play all around us with cast and crew moving between the house and stage, as they would in an average tech rehearsal.
Washburn and director Les Waters have ingeniously opened an additional stage by putting every member of the audience on headset, making us privy to the secret conversations of the show's designers and crew. This is not only formally challenging and technically daring, but exceedingly well-executed. Waters' production keeps us looking and listening in several directions without overwhelming us with stimuli. This is not the unbridled chaos of Noises Off, but it's clearly a big mess everyone is doing their best (particularly poor, judicious Molly) to contain.
By all indications, the play-within-a-play they're mounting is the so-bad-it's-good flop of the season. It's a costume drama that seems to hinge on the intersection of 19th-century maritime life and sadomasochistic desire (with perfunctory homosexual undertones). Oh, and for some reason there are glow-in-the-dark monsters. The entire experience of appearing in this schlock opposite younger (and likely richer) Jake is triggering an epic midlife crisis for Paul, although one suspects it has been long in the making.
This turns out to be a blessing since it is the only thing keeping 10 out of 12 from turning into a massive snooze-fest. Giving the standout performance of the show, Ryan is intense as Paul. His movements are as erratic, unpredictable, and cringe-worthy as they would be in real life. He makes us want to run and hide in the bathroom. Prone to writing his own lines and purchasing his own costumes, he is every director and stage manager's worst nightmare.
Other than that, the proceedings mostly consist of an expected parade of rocky scene transitions (the incomplete plywood realness set is by David Zinn), lighting adjustments, and last-minute costume alterations (perfectly ridiculous and impractical hoop shirts by Ásta Benie Hostetter). Sound designer Bray Poor offers an authentic array of overloud stray cues and lighting designer Justin Townsend gives us a crash course in just how much of a difference there is between 50 and 30 percent intensity off a lekolite.
It's not pretty or exciting, but any true fan should understand how the theatrical bratwurst is stuffed. At very least, 10 out of 12 ought to be required viewing for all Tony voters, whose inability to understand the basics of sound design led the category to be jettisoned from the awards this year.
Despite its lack of glamour, 10 out of 12 is still completely self-involved. It might alternately be titled The Passion of the Thespian. The air of martyrdom is so strong, with two characters literally bleeding for their craft by show's end. Putting on theater is certainly preferable to shoveling coal, but in Washburn's telling, this most collaborative of art forms (in which one must rely on the human frailty and good intentions of others) can feel just as Sisyphean.