Sailing Down Big River With the Original Producer and the Critic Who Panned It
"When you're out of town," says Jack Viertel, "a couple of bad reviews can really help you. If you get rave reviews for a show that isn't finished, it's very hard to get the creative team to do any work."
In 1984, Viertel was a theater critic at the Los Angeles Herald-Examiner who wrote a negative — but constructive — review of the new musical Big River at the La Jolla Playhouse. By 1987, Viertel would become the creative director of Broadway's Jujamcyn Theatres. And it was all thanks to this pan and the show's intrepid producer, Rocco Landesman.
Landesman currently serves as president emeritus at Jujamcyn, while Viertel, the organization's senior vice president, doubles as the artistic director of New York City Center's Encores! series. The two theatrical titans sat down to discuss Big River, Roger Miller and William Hauptman's Tony-winning adaptation of Mark Twain's The Adventures of Huckleberry Finn, the show that changed both of their lives.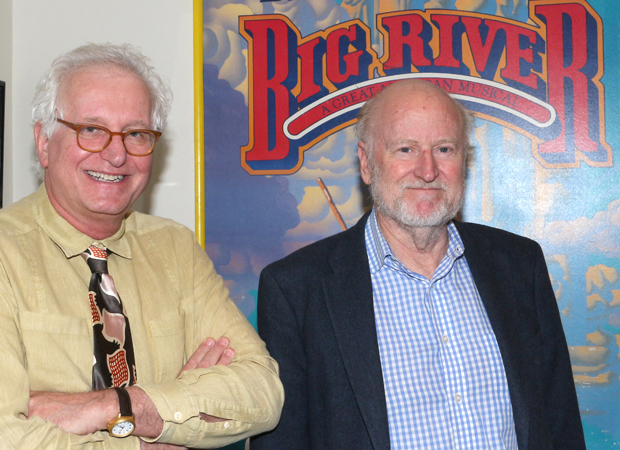 The Boys
There would be no Big River without Roger Miller, the country music singer-songwriter perhaps best known for the Grammy-winning hit "King of the Road."
"I was a Roger Miller fan," says Landesman. "I had long felt, and my then-wife Heidi, as well, that there was an unexplored affinity between country music and Broadway music. Country music is all about the lyrics and storytelling and character, and so are Broadway shows. Those two genres are very close, and it had never been done — Oklahoma! isn't a "country musical" in any stretch of the imagination."
Landesman's ultimate country musical proved to be a story about a journey. "Huckleberry Finn is the greatest journey novel that's ever been written. It's a country story. And Roger Miller's big hit is "King of the Road." It seemed like a natural thing to put them together."
In 1982, the Landesmans went to see Miller in concert at the Lone Star Café. It took Miller some time to agree to write the show, but eventually he did. Landesman commissioned Hauptmann, a playwright and his classmate at Yale, to adapt Twain's novel for the stage. By February 1984, it was onstage at the American Repertory Theater (A.R.T.) in Cambridge, Massachusetts, directed by Des McAnuff.
Worlds Apart
Everyone working on Big River had a degree of inexperience. Miller had never written a score for a musical, while Hauptman had never written the book for one. McAnuff had never directed on Broadway, while Landesman and the producers had never produced anything. But when you're unaware of what's impossible, that's when magic happens. After the run at American Repertory Theater, where it only had seven songs and was subtitled "A Play With Music," the show landed at La Jolla Playhouse in San Diego, where McAnuff had recently taken over the position of artistic director. The expanded version, featuring a dozen new tunes by Miller, received mostly positive reviews.
Except by Viertel.
Neither he nor Landesman remembers what the review specifically said, but the comments were consistent: Big River needed to be darker, recast, and have "a musical direction that could flatter it and show it off to its best advantage," Landesman says. The original band, made up of the famous Red Clay Ramblers, were let go, and Broadway pros including orchestrators Steve Margoches and Danny Troob and musical director Linda Twine were brought on.
As for the book, "There were always problems with it," Landesman says. " It's not Bill Hauptman's fault. The problem with Huckleberry Finn is that it's the greatest American novel ever written for two-thirds, and the last third is Tom Sawyer without any of the real hard-hitting and darker significance of the original."
With that work addressed, Big River moved to Broadway in 1985 where Miller, Hauptman, McAnuff, lighting designer Richard Riddell, and scenic designer Heidi Landesman all took home Tonys for their work. Rocco and the producing team were also honored with the Best Musical trophy.
You Oughta Be Here With Me
But the story doesn't end there. Cut to June 1987. Landesman, recently named head of Jujamcyn, one of the three Broadway theater chains, placed a call to Viertel, who had since given up criticism for good to become the dramaturg at the Mark Taper Forum. Viertel still remembers the details.
"You had asked me to come down to San Diego to look at Into the Woods, which was a job interview but I didn't know. I think you wanted to get to know if I was someone you would want to hire or not, but you didn't tell me that. And then in July, I remember him asking me if I wanted to come work for him. I was completely flabbergasted."
It was the review of Big River, which made Landesman think Viertel was an obvious choice. "I don't think I would have been interested in Jack or subsequently hired him if he wasn't smart, and the review reflected that."
It was a once-in-a-lifetime decision, but one that Viertel entered with trepidation, having set his family's roots down in Los Angeles. "I called different friends of mine who worked in the theater to find out what they knew about Rocco, and I was warned that although he was great and smart and a lot of fun to be around, he had a short attention span and moving three thousand miles was something I should do at my own risk. In our conversation though, it became clear to me that wasn't actually the case. Rocco was committed to Jujamcyn and turning this company around, and that was all I needed to know."
It was during his first meeting with Landesman in New York that Viertel saw the finalized '"Big River'' for the first time, three years after it opened at the Eugene O'Neill Theatre. "I called Des McAnuff from underneath the O'Neill marquee to tell him how unbelievably impressed I was by how he turned the show around," Viertel recalls.
Waitin' for the Light to Shine
To this day, as Landesman is quick to point out, "Big River" "remains the only successful country musical," and one that paved the way for other nontraditional songwriters, a list that has grown to include the likes of Paul Simon, Sting, Cyndi Lauper, and many others, to come to Broadway.
Both men are emotional when they think about the Encores! production, in which Lear deBessonet directs a cast including rising young Broadway troupers Nicholas Barasch, Kyle Scatliffe, and Lauren Worsham. "Rocco said at the read-through, 'You really know you've gotten old when you're going to an Encores! of a show you produced,' " Viertel reflects.
"It's true," Landesman interjects. "To watch around the room as the show was being read reminded me of when I saw the presentation of songs at A.R.T. To see their recognition of the joy and the value of it was very moving. This is my first show, and my favorite show, and the whole reason I have a career in the theater."
And in a very deep way, it is for Viertel, too.