5 Questions With August: Osage County Star Julia Roberts
To celebrate the soon-to-be-released film adaptation of Tracy Letts' Pulitzer Prize-winning drama August: Osage County, TheaterMania is spotlighting members of the cast and creative team in an ongoing series. First up is Julia Roberts, who plays the role of Barbara Fordham.
For this Academy Award winner, Barbara is one of her most draining roles to date. The eldest daughter of the emotionally unstable Violet (Meryl Streep) and Beverly (Sam Shepard), it's a role that requires the actress to abandon her ever-present sweetheart persona to fully embody this dry, embittered Oklahoman. TheaterMania quizzed Roberts on her attraction to the material, her take on the role, and precisely what it's like to fight Meryl.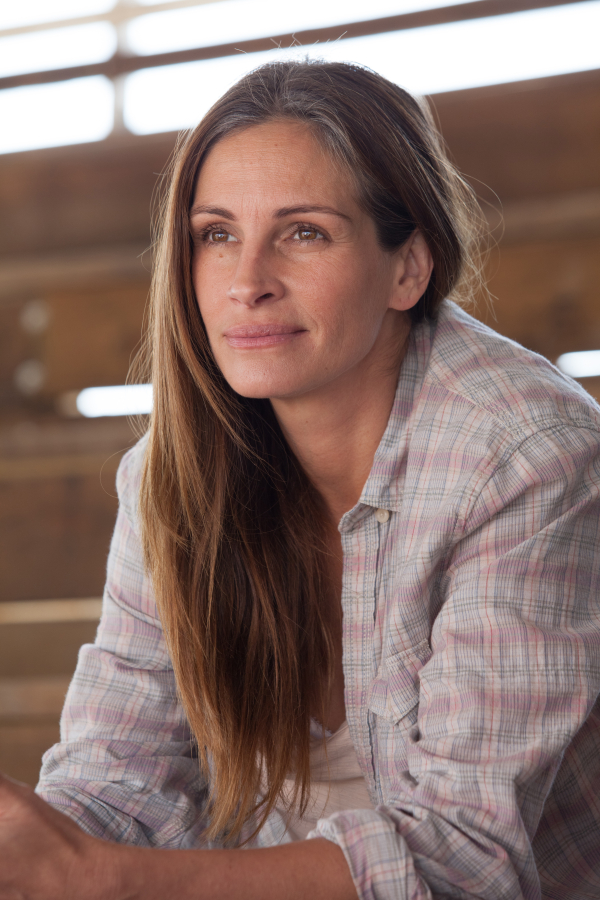 1. What attracted you to August: Osage County?
The idea of Meryl playing Violet. You have to have that anchor, as the play did, someone as Violet who is just rooted so uniquely as this person. That's the only way the rest of us, particularly Barbara, make sense, to have Violet be so exacting.
2. Your portrayal of Barbara is so different from how originator Amy Morton played her on stage. How do you view the character?
I saw [Barbara] as so supremely damaged, first by her parents and now by her husband. Her soldiering on in this sense of nothing ever getting healed or solved, she just keeps going. I think a lot of people can relate to that. It won't get you very far very fast, but I think a lot of people do it.
3. One of the climactic moments of the play is the second-act dinner scene, where the entire Weston clan sits down to a brutal post-funeral meal. Was that scene as difficult to shoot as it looks?
We were, as a group, very prepared for it. We had rehearsed a lot together after work prior to shooting it. When they had first scheduled it for four whole days, [our director] John [Wells] thought the first day would be just rehearsing it. Because we were all off-book as we sat down to rehearse, he just said "okay, let's get started." We did it in…three different sections…over the course of three days. It was really fun to watch it unfold — this behemoth of a scene.
4. The end of that scene gets really physical, with you and Meryl going head to head in combat. Did you do your own stunts?
We did. Meryl and I did all that. I guess we had people standing by if things got really ugly, which, according to the poster, things did get really ugly. That is a mess.
5. Had tackling Meryl Streep ever crossed your mind before?
Maybe at a cocktail party, but not like that. [laughs]
Watch a video trailer of the film August: Osage County below: