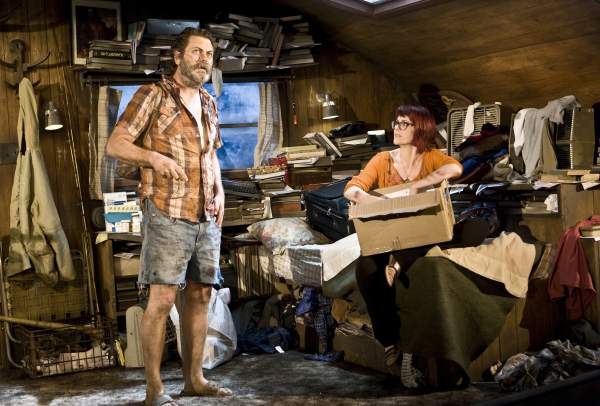 A big messy trailer sits on the stage of the Acorn Theatre. Little black ants crawl through a jungle gym of Hungry Man frozen-dinner packages. Wooden shelves sag under the weight of stacks of books. Through the filthy, frostbitten windows of this shabby abode, you can see a spectacular view of the snowcapped Rocky Mountains. This is the home of a poet named Ulysses, and the set for Sharr White's Annapurna, now receiving its New York premiere in a production by The New Group. Much like its setting, there's something breathtakingly beautiful behind this play, but to see it you have to get through a lot of muck.
This two-hander stars real-life husband and wife Nick Offerman (Parks and Recreation) and Megan Mullally (Will & Grace). Ulysses (Offerman) is a cowboy-poet living in self-imposed exile in Paonia, Colorado. Emma (Mullally) is his ex-wife, now on the run from her second marriage. Their son, Sam, hasn't seen his father since he was five years old, when Emma took him and ran. While Sam sees his dad as a hero, Emma can't help but remember Ulysses as an abusive drunk. When Emma shows up at Ulysses' trailer two decades later, he wonders why. Considering the foul state of things in the trailer, we all wonder why.
Offerman and Mullally excel in cracking open the ambiguity of this incredibly complicated and painful relationship. Their rapport and chemistry is that of two people who still share a lot of affection (maybe even love). They also drive each other crazy. True to his name, Ulysses has spent the last ten years composing an epic poem called "Annapurna," named after an unforgiving and dangerous Himalayan mountain. (It's really about Emma.) Offerman and Mullally lend a specificity to this relationship that makes everything seem very real.
Unfortunately, that realism isn't always the most interesting thing to watch. The play tends to meander, stopping to focus on minutiae that do little to push the plot forward. Extended conversations about money and groceries will lead many in the audience to think about their own shopping lists. It's like sitting in on a couple's counseling session: thrilling when the sparks fly, but a lot of the time you'll be bored out of your gourd.
While White presents the first few moments of interaction between Ulysses and Emma with a series of comically short scenes, this quickly cedes to one very long talky scene. Director Bart DeLorenzo attempts to mitigate the stasis by giving Mullally plenty of stage business: unpacking, counting money, cleaning up, making a sandwich. Watching this onstage is about as exciting as it is when you do it in your own home.
Thomas A. Walsh's aforementioned set design is captivating in its detail, with household items exploding out of drawers and real running water. It could be an installation at MoMA. Ann Closs-Farley's costumes tell us plenty about the characters before they ever tell us with their words: Emma's thick-rimmed glasses framed by dyed red hair scream urban intellectual, but a silky violet robe she dons after leaving the shower lets us know that she's comfortably settled into bourgie suburban middle age. Ulysses, on the other hand, is "defiantly impoverished," wearing torn-up jean shorts and plaid, when he's wearing anything at all (the first few scenes offer copious "backal" nudity).
White gives us plenty of insight about the nature of their love, doomed by circumstance and poor decisions. Emma, especially as portrayed by Mullally, captures the web of contradictions that comes with being both a mother and wife. The stellar performances, however, are not enough to hold our attention for the full 90 minutes. You'll be glad to leave behind the trailer and its inhabitants when the show is over.