The Illusionists Are Back on Broadway, but Where's the Real Magic?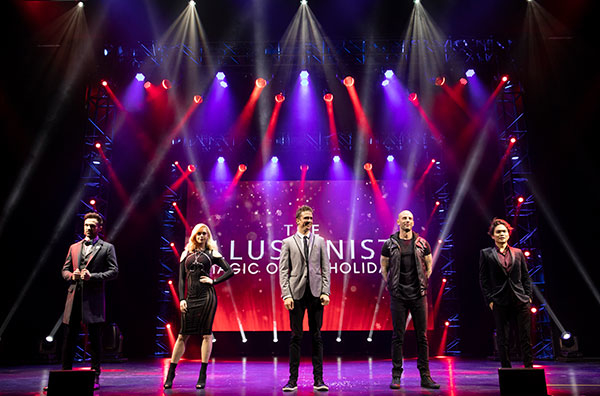 You know you've seen too many Broadway magic shows when you think to yourself, "I've now seen three different people swallow razor blades in this exact same theater."
OK, Teller did it in 2015 with sewing needles. But the act is essentially the same now — the artist ingests multiple life-threatening items and regurgitates them as a necklace — and has been since Houdini took it out of the sideshows and popularized it in the early 1900s. For the experienced magician, it's simple sleight of hand, literally one of the oldest tricks in the book. For the experienced audience member, if you've seen it once…
The same can be said of The Illusionists, now in its fourth season of bringing schlock magic to gullible New York families, and earning buckets of money in the process. This year's show is subtitled Magic of the Holidays, but it's certainly not holiday-themed, and it's definitely not magical. With the exception of "Futurist" Adam Trent, all of the performers are making their Broadway debuts this year, and they lack as much personality as their warmed-over routines, many of which have been done in other shows, to a much greater effect.
As in years past, Neil Dorward's production combines the aura of a chintzy Las Vegas stage show with the forced suspense of a televised talent competition (three of the acts have been seen on America's Got Talent, while two come from Britain's Got Talent). Evan Jolly's musical underscoring is designed to get your hearts pounding, while Paul Smith's lighting is intended to disorient. At least Angela Aaron's costumes are more demure now with dress outfits replacing the Canal Street-meets-grungy-BDSM-club look of previous iterations.
But the demureness of the outfits extends into the performances. "Manipulator" Shin Lim, this year's America's Got Talent champion, is clearly skilled at sleight of hand, but he doesn't have the showman skills he needs to sell small-scale card tricks to an audience of 1,500-plus in the cavernous Marquis Theatre. Trent trots out his LED-screen dance routine for the third time, and it hasn't changed since his first run in 2014. He also does the old "Let's destroy your iPhone in a blender and then have it reappear inside a melon" trick that Penn & Teller did at the Marquis in 2015. They made it reappear in a fish instead.
Chloé Crawford ("The Sorceress"), the lone female performer, swallows her razor blades like the professional she is, but then promptly disappears. "Grand Illusionist" Darcy Oake pulls doves out of his vest, but the only thing we wonder is if we're supposed to be impressed by that (after all, The Ferryman offers the same thing with bunnies). On the other hand, "Deductionist" Colin Cloud, a forensic scientist turned mind reader, is a real charmer, especially when his audience participants aren't the sharpest of razor blades. Two guest appearances by the synchronized LED dance troupe Light Balance are more filler than filling.
But that seems to be the MO of The Illusionists, a show that gets less and less impressive with every new iteration. They lure in the less-than-savvy, do the bare minimum, and get a standing ovation. Somewhere, the ghost of Houdini is hanging his head in disappointment.